Why You Should Consider Teaching English in Vietnam Right Now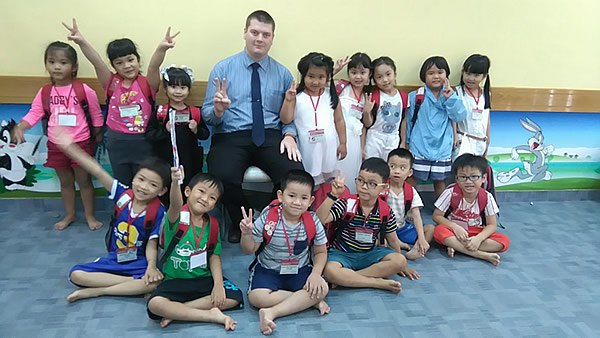 Teaching English to children in Vietnam is a common option. The author is here at the Sam VUS School. Photo © Sam Bedford.
Expat English teachers in Vietnam enjoy high salaries, a low cost of living, and the chance to travel throughout Southeast Asia. If you're thinking about moving to Vietnam to teach English, do it this year. You might not get another chance.
Why Teach English in Vietnam?
Vietnam has a thriving expat community made up of thousands of English teachers. Some are recent college graduates. Others come in search of a great location for early retirement.
Younger teachers use Vietnam as a base to travel in Southeast Asia. Budget-airlines connect with the countries including Thailand, Malaysia, Myanmar, South Korea, and Japan. The opportunities to travel inside the country and enjoy cultural immersion are endless due to the warm, friendly, and hospitable nature of the Vietnamese. Teach a class of adults (usually university students) at a language center around Lunar New Year, and at least one will invite you back to their hometown.
Travel aside, Vietnam has more opportunities for English teachers than the rest of Southeast Asia. Navigate the obstacle course-like layout of a busy road and you'll count four or five language centers within 500 meters of each other. And the building under construction further down has a sign outside enlisting students for their soon-to-be-opened school. English teachers, with time, earn a decent salary. With the low cost of living, you'll often have twice the disposable income compared to Thailand or Taiwan.  
First-time teachers can land a job at a prestigious school with just a degree and CELTA/TESOL. In comparison, higher paying positions in the Middle East or Singapore ask for years of experience and a more formal background in education. At the very least, you'll need a Master's even to have a shot. In Vietnam, turn up with a CELTA/TESOL and you'll have the choice of where to work.
Finally, you can build your nest egg or retirement fund faster in Vietnam than back home. After a year, you'll probably have a more stable position at a reputable school. Then it's possible to save $1000 (USD) each month while living a comfortable lifestyle. Western couples typically rent a condo and go out a few times each week. During the busy periods and with a smattering of frugality, they can save close to $3000 between them in a single month.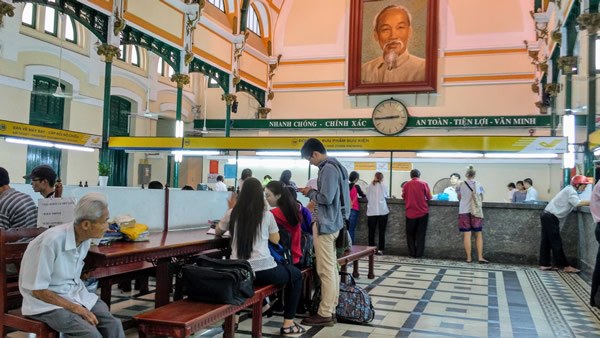 A normal day at a Saigon Post Office. Photo © Sam Bedford.
Why Right Now?
Over the last five years, Vietnam has experienced a flood of English teachers. The market is on the verge of oversaturation, which means fewer positions and lower salaries. Sit inside the teacher's room at any language center and you'll hear the old pros who've spent the last two decades in Vietnam complain about getting fewer hours than five years ago. Some veterans start to look for a second job.
Oversaturation hasn't happened yet. But it will in a year or two. If you've ever considered teaching in Vietnam, do it this year. The longer you wait, the more competition.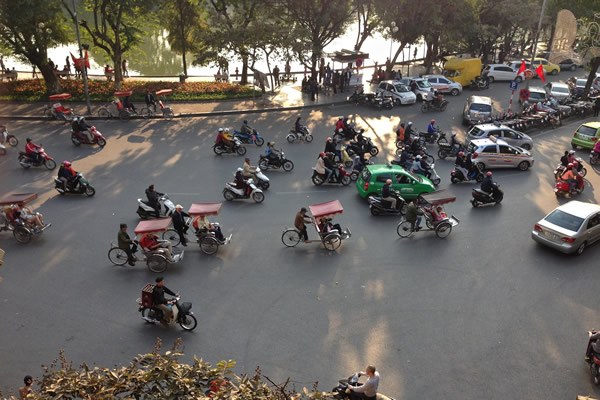 Typical traffic in lively Hanoi.
Where to Teach in Vietnam?
Most English teachers start in either Ho Chi Minh City (formerly Saigon) or Hanoi. Several schools from nationwide chains to smaller neighborhood mom-and-pop language centers fill the streets. Newer teachers with little experience might face more competition in big cities than in rural areas, especially when it comes to stable and higher paying jobs. You'll find a mix of English teachers in both Ho Chi Minh City and Hanoi. Most are younger first-time teachers, while others are middle-aged to older expats.
Popular medium-sized towns and cities include the likes of Da Nang, Vung Tau and Da Lat. However, few opportunities and half of the long-term expats dreaming of working there make it unlikely to land a position straight away. If you do manage to land a job, you'll enjoy a more laid-back lifestyle. Teachers usually consist of long-term expats in these parts of Vietnam. Many have married a local and have started a family.
The easiest way for new teachers to get a teaching position is in rural areas. Tiny towns with a single school out in the provinces rarely attract the experienced. Out there, you can embrace rural Vietnam while building experience, and with less stress and pressure. But expect a lower salary and a less professional outlook on the teaching profession. You might find a handful of older expats in rural areas with their Vietnamese spouses.
If you have a CELTA or TESOL certificate, apply for a position in a more rural area for a month or two. Be flexible. Get experience. Then find a longer-term position with a school willing to proceed with your work permit. Once done, you will have the option to live in the mountains or wake up near the beach.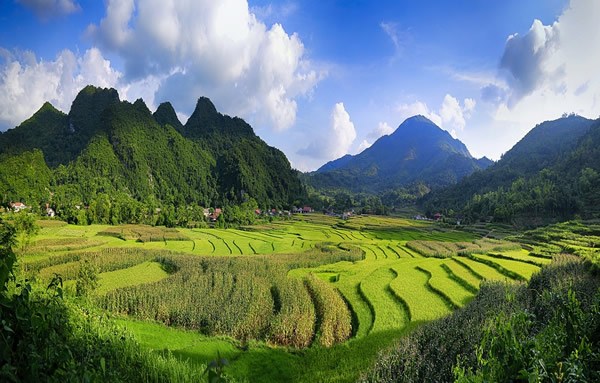 The rice fields in a valley amid the mountains of Vietnam.
Pros and Cons
Vietnam is among the planet's most popular destinations for expats, but teaching English in Vietnam isn't always fantastic. And it doesn't work out for everyone. Balance the pros and cons to get an idea if living in Vietnam is right for you.
Pros
High disposable income and the potential to save
With time and perseverance, most teachers earn between $1500 and $2000 each month after tax in the cities. You can live in a comfortable apartment and have an active lifestyle for less than $1000. All this includes eating out most days at local restaurants. Single English teachers have the potential to save between $500 and $1000 each month. Double this if you're a couple.
Easy to make friends with the Vietnamese
Sit in a roadside restaurant and people will inevitably start a conversation to practice their English. Adult students occasionally invite their teacher out after class. Younger teaching assistants (often university students) are always keen to chat. It's easy to make friends and develop an active social circle that's not exclusively other expats.
Relatively easy to find a job
Gone are the days when you could fly into Vietnam on Monday and start teaching by Friday. But you should get something within a week or two. Most CELTA/TESOL courses in Vietnam guarantee to find you a job upon completion.
Cons
Awkward working hours
Teachers often work both mornings and evenings, and almost certainly on weekends. You might only work part-time hours, but you might not have the day to yourself.
Noise and pollution
Vietnam is developing at breakneck speed. New building sites appear daily. Add the roar of the traffic and a constant haze of pollution. In rural areas, this is less of an issue. Be aware if you're sensitive to noise or have respiratory problems.
Racism
Life in Vietnam can involve dealing with their version of racism. If you look like a native English speaker, that's good enough. If you don't, they won't entertain hiring you regardless of your qualifications and experience.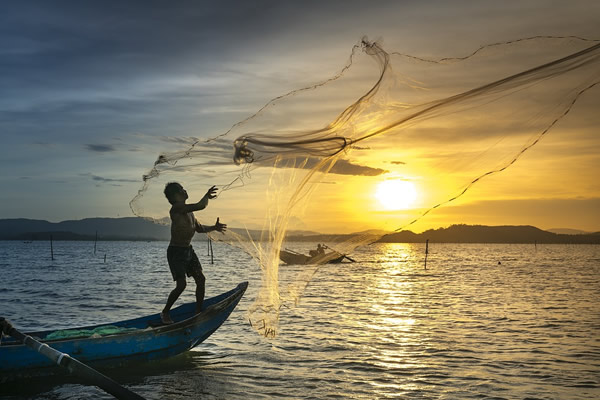 Fishermen at sunset.
Resources for Teaching and Living in Vietnam
Reputable Language Centers and International Schools
Other Helpful and Cool Sites
Glassdoor gives insight into working conditions and salaries. Search for your school before signing a contract.
Search Facebook for "Vietnam Teaching Groups" and you will find a dozen or so private groups. Use these to find jobs and get support.
Ho Chi Minh City Highlights has everything you could want to know about living in Saigon. This includes where to eat, drink craft beer and a directory full of practical information.