Inside the Teaching Assistant Program in France
A Candid View of a Great Opportunity for Americans with TAPIF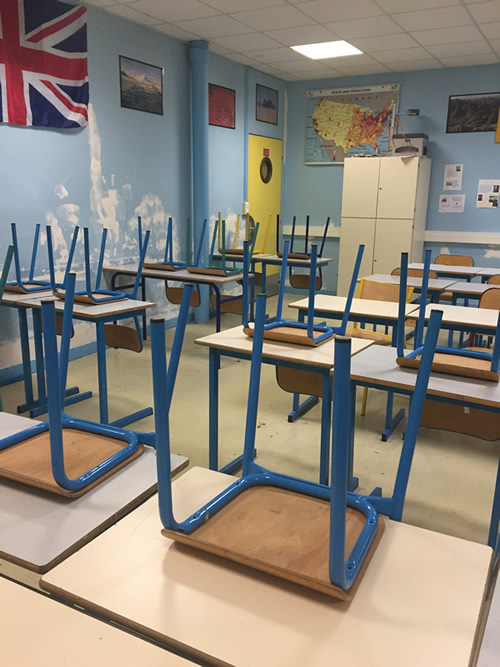 A typical classroom in France while on the French Assistant Program.
I'd heard whispers about the Teaching Assistant Program in France, more commonly referred to by the acronym TAPIF, while studying abroad in Nice. I wasn't entirely sure what it entailed. I forgot about the program until my senior year in college, when, like many of my friends, I had no idea what I wanted to do after graduation. All I knew was that I wanted to put my French major to use so I wouldn't lose my language skills. I knew that I didn't want to be stuck earning minimum wage in an entry-level job. To be honest, I was afraid of being an adult in the real world.
While I tried to figure out what I wanted to do for the rest of my life, spending a gap year in France seemed more and more tempting. With encouragement from my senior-year French professor, who told me, "Hopefully the TAPIF experience in France helps give you the confidence to speak in front of people. Honestly, you could do anything you wanted," I submitted an application and kept my fingers crossed.
What is TAPIF?
Sponsored by the French Ministry of Education, the Centre international d'études pédagogiques, and the Cultural Services of the French Embassy, TAPIF's goals are two-fold: to introduce native English speakers to French classrooms, and to grant young Americans the opportunity to develop and strengthen teaching, language, and cross-cultural learning skills. Approximately 1,100 spots are available, but entry into the program grows more competitive every year.
Assistants work just 12 hours a week, but that doesn't include the time you spend lesson planning or waiting for your next class. The short workweek is both a blessing and a curse: all that free time will feel liberating after college, but on the other hand, boredom may become your worst friend. Sometimes teachers will ask if you're willing to work extra hours—unpaid, of course—but as long as the teachers aren't exploiting you as a confused foreigner, you'll be grateful to spend some of your copious free time helping out. Flexibility is necessary—some teachers would ask me to help out five minutes before their class, and while I had a fixed schedule, I rotated between teachers, which led to confusion on both ends.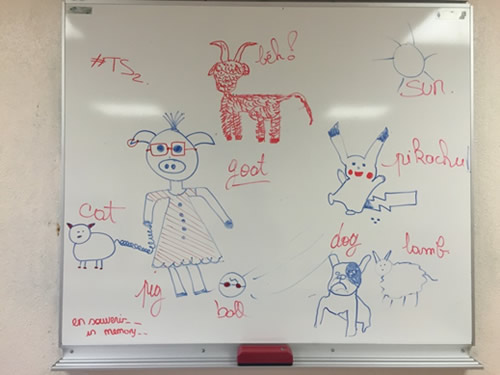 Student artwork labeled in English.
What Do Teaching Assistants Do?
You'll be placed in up to three schools, at either the primary level or the secondary level. Contracts last for seven months, from October 1 to April 30, and include eight weeks of paid vacation—two weeks in October, December, February, and then April. Rest assured, if October 1 is a Saturday or Sunday, you will not begin your assistant duties on the weekend.
Speaking of duties, they vary depending on the school(s) you're assigned to and the teachers for whom you work. I worked at two different high schools, Lycée Paul Claudel and Lycée Pierre Méchain in Laon, a small town in the school district of Amiens in the French region of Picardie.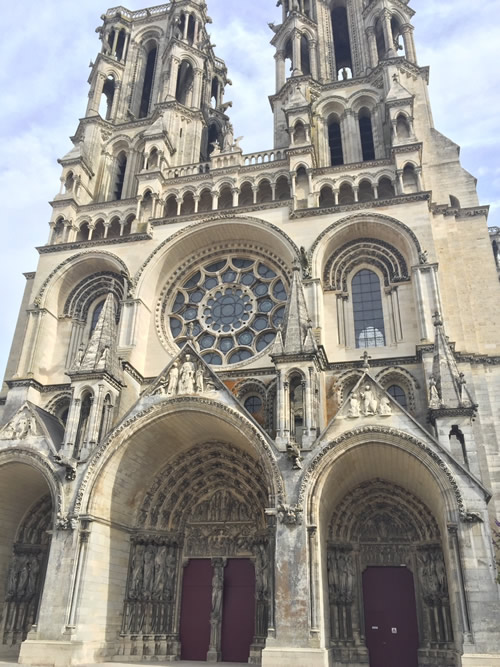 Laon's famous cathedral.
You might lead entire classes, teach smaller conversation ones, design educational games, or give presentations about American culture—anything from your hometown to feminism to Thanksgiving.
Who is Eligible?
You don't need a TEFL, TESOL or CELTA certificate to get into the program, which is one reason TAPIF is so popular among new graduates. However, you have to fulfill the basic eligibility requirements. In order to apply, you must be:
A citizen or permanent resident of the US
A native English speaker
Between 20 and 35 years old (The program is aimed towards young adults in order to grant them work experience)
In the process of completing at least three years of post-secondary education (Most assistants do TAPIF right after they've earned their bachelor's degree)
Proficient in French (You do not need to be a French major or minor, but you must have a working knowledge of French, or a minimum B1 level. French skills are necessary when it comes to communicating with students and teachers and filling out a flood of documents.
If you meet all the eligibility requirements, applications open in October and are generally remain open until January 15, though the deadline is often extended to January 31. You must apply through the online platform on the TAPIF website.
The application, which is almost entirely in French, consists of:
Biographical and academic information
Work experience
A personal statement, written in French
Two recommendations
A non-refundable $50 application fee
€810 stipend per month net
Location
On the application, you have to rank your top three choices for an académie, or school district. Since I had studied abroad in the southern city of Nice, I decided I wanted to experience the north and chose Strasbourg, Amiens, and Orléans-Tours. I was placed in Amiens, one of the least requested académies, and sacrificed the sun for proximity to Paris. Keep in mind that while the most of the académies in metropolitan France are named after capital cities, the chances that you'll be placed in a major city are slim—most assistants end up in surrounding cities or towns, or even tiny rural villages.
Where in France Can a Teaching Assistant Go?
Keep in mind, these listings are not geographically accurate. The académies differ from the 13 official regions of France.
Île-de-France: Paris, Créteil, Versailles
North: Lille, Amiens, Reims
East: Nancy-Metz, Strasbourg, Besançon, Lyon, Grenoble
South: Aix-Marseille, Nice, Corse, Montpellier, Toulouse
West: Rouen, Caen, Rennes, Nantes, Poitiers, Bordeaux
Central: Orléans-Tours, Dijon, Limoges, Clermont-Ferrand
Overseas: Guadeloupe, Martinique, Guyane, La Réunion
I Was Accepted! Now What?
Congratulations! It's early April, and you know the school district where you've been assigned, as well as whether you'll be teaching at the primary or secondary level. Unfortunately, you won't get your actual school assignment(s) until the summer. On the positive side, you can start preparing for your adventures in France. Airfare to and within the country isn't covered, and you'll need money before you start receiving your stipend, so save up before you arrive. I got lucky and still had some Euros remaining from when I had studied in Nice, but still brought along about $2,000 to be safe.
Look up your nearest French consulate, because you'll need to book an appointment for a travailleurtemporaire visa. The visa will be free, but depending on your consulate, you'll need a whole host of paperwork and documentation. Find the official French Facebook page for your TAPIF year so that you can discover who else will be in your school district, or read the multitude of TAPIF blogs by past and current assistants. Collect snapshots of your American life: postcards, tourist brochures, recipes, and photos of your family, friends, pets, hometown, and college. Most students have never been to America, and in smaller towns, some have never even visited Paris, so such personal photos and information you bring will be of interest.
By June or July, you should hopefully hear from your prof référent, your main teacher who will act as your line of communication and fountain of advice. Both of mine told me about housing, assistant duties, and the city of Laon itself, and were more than willing to answer any questions. Once you arrive in France, you'll have to set up a French bank account and get a French phone number. If you luck out as I did, your prof référent will walk you through the process.
Salary
Your monthly living stipend amounts to approximately 790 Euros after taxes, which doesn't sound like a lot, but is livable if you avoid Paris. Most assistants qualify for subsidized housing through the Caisse nationale des Allocations familiales (more popularly known as CAF), though I was lucky and received free housing because I lived in a little studio at my high school's internat, or boarding school. (I had to buy housing insurance, but it only cost 57 Euros for the entire year through my bank.) Budgeting is key—buy from the 99 cent and sale sections at grocery stores, walk instead of using public transportation if possible, and look into cheap travel options such as hostels or a apartment rental such as an Airbnb when you do take your vacations.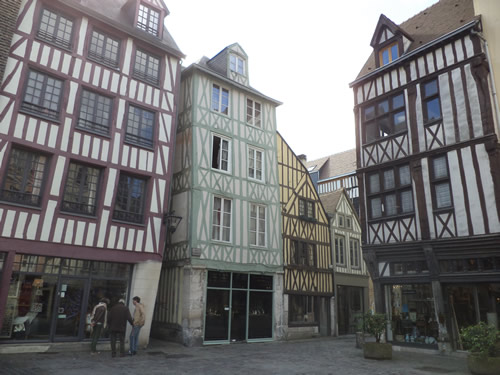 Sightseeing in Rouen.
Teaching and Teachers
No two TAPIF experiences will be the same. So much depends on the school in which you're placed and the teachers with whom you work. Some will be supportive, while others won't. I had one teacher who invited me to go ice skating as well as to lunch with his family, while another took advantage to learn an American accent by having me read worksheets aloud.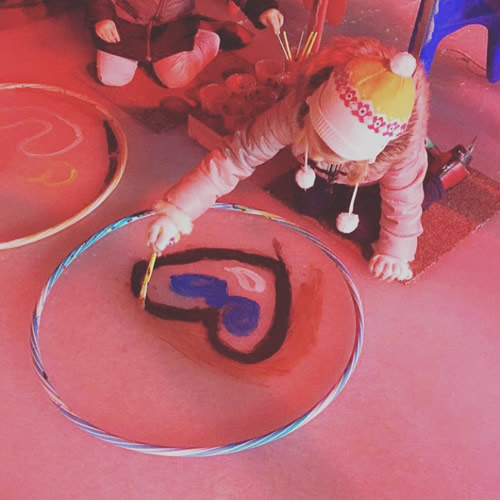 Ice skating—then ice painting—with a teacher and his daughters.
My duties were as varied as my teachers:
designing and teaching conversation classes
helping the students with writing and speaking assignments
coming up with group activities
grading oral presentations
researching and teaching a topic alongside a teacher
giving presentations about American culture
Since I worked at each school every other week and rotated between 14 different teachers, I never got to know any of my students on a personal level, but their enthusiasm still made me smile and laugh.
Teaching Tips and Resources
Think back to when you were in school. What did you like most, lectures or engaging activities? Since I worked at the secondary level, these sites are geared towards middle and high school assistants, but there is some primary-level advice scattered in these lesson ideas!
Improving Your French
Your French can improve by leaps and bounds, no matter where you're placed. Teachers are willing to listen and patiently correct you until your French flows smoothly. Students will often also teach you slang. If you're assigned to a small town like Laon where few people speak English, you will have little choice but to speak French. Even in larger cities where there are more Anglophones, being culturally and linguistically immersed in French will habituate you to speaking the language exclusively outside of the classroom. Don't worry if you make mistakes─it happens. I spent a year abroad in Nice, majored in French, and still told one of my colleagues that American cheese is disgusting because it has too many preservatives (condoms)instead of conservateurs (preservatives).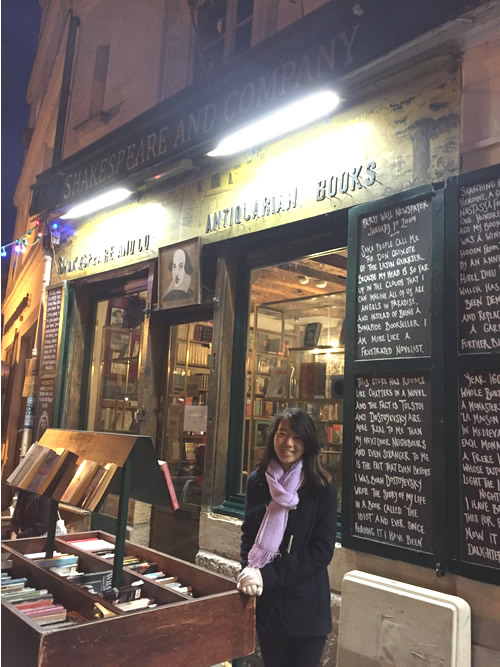 The author in front of the famous Parisian bookstore, Shakespeare and Company.
Is the TAPIF Experience Worth It?
I'll be honest, TAPIF isn't always paradise. Some classes will make you want to bang your head against the wall, like the ones where students deliberately laugh at the teacher when she gets angry at their behavior. Other times, you'll want to scream at the entitled teenage boy who, when asked how many people participated in the Women's March on Washington D.C., replied, "no one."
I complained to all my friends about the seemingly endless free time that the 12-hour work week granted me. Particularly in smaller towns, you may feel trapped and bored at times. If you live in the north, the long, gray winters might introduce you to seasonal affective disorder.
But the pros outweigh the cons. I saw so much of the world and met 26 incredible assistants, as well as some amazing teachers. I know that I would not have had this experience if I'd ended up settling for an entry-level job that I would have most likely ended up hating back home. What other job would've allowed me to travel to 5 countries and 19 cities?
Spring break in Howth, Ireland
Even if, at times, you don't think you're making an impact because there are no visible results, trust me, you are. While waiting for my plane home, I sobbed in the airport because I'd let my senior students add me on Facebook, and one of them said, "You were an amazing assistant. We are so lucky that we had you! Thank you again, and I hope you'll make a safe trip back to your family! Good luck for next year!!" If it hadn't been for unexpected personal circumstances, I would've probably renewed my TAPIF contract for my optional second and final year, but this time in the sun-soaked south of France, Martinique, or Guadeloupe.
Conclusion
After seven months of living and working abroad, TAPIF taught me that I could do anything that I set my mind to do, including speaking confidently in a foreign language, navigating French bureaucracy, and traveling alone. I currently work at an elementary school through City Year AmeriCorps, where I never get bored, and I applied to numerous graduate school programs. In the fall, I'll be pursuing a French PhD at Cornell. But graduate school doesn't have to be your only path. The international experience you gain through TAPIF opens all sorts of doors, to all kinds of jobs. All you need is the willingness to try.