Guide to Sex and Love Abroad for Women
The Golden Rule is to do What You Normally Enjoy Doing
By Marina Wolf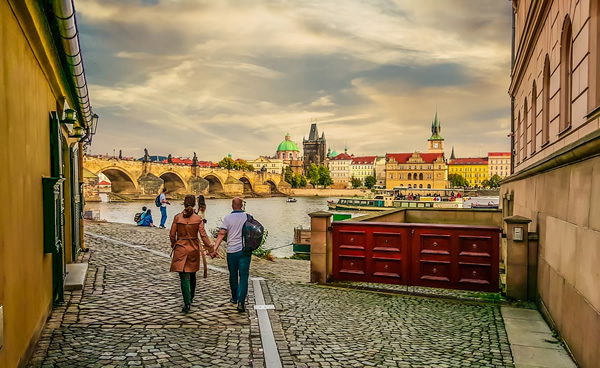 A couple in Prague.
You're two weeks into your summer abroad, minding your own business, when an interesting human specimen crosses your path. If you're smart, you already know enough of the other person's native tongue so that an invitation to coffee won't get you into trouble for proposing an unspeakable act with a hand trowel and an alligator. But whether it's almost as shocking just to propose a coffee date is something that you shouldn't guess about.
The fact is that sex and love are problematic in every culture, but how they are problematic varies greatly from country to country. And when you throw in linguistic challenges, the potential for disappointment or disaster goes off the charts.
Crossed Signals
Amy Kidd Raphael, Overseas Program Manager at Univ. of Pennsylvania, recalls the story of a U-Penn woman who had just started dating a Spanish man. Being from the U.S., the young woman couldn't understand why all the young Spaniards dated in groups. Three weeks later she figured it out when her boyfriend wanted to bring her home to meet the family—as his prospective wife!
In the orientation sessions Raphael facilitates for students, primarily women going abroad, she emphasizes that talking with other people in the culture is the best way to discover the norms for sexual behavior: Is sex appropriate on the first date, or is it something you do only when you're married? Is it okay to hold hands on the street? Where is it acceptable to go for dates?
Travelers shouldn't assume that dating has the same significance as it does at home. Another of Raphael's group participants talked about a relationship she was in during her six-month stay in Japan. They had never even kissed, yet both parties knew that it was a romantic involvement. "That's just the way it is in Japan," says Raphael. "They were definitely in a dating relationship, but there was nothing physical."
Safety Rules
However different the culture is, certain elementary rules of safety are always in order:
Tell someone you trust where you are going and when you expect to return.

Try to figure out in advance how you can get back. Take whatever contact numbers and coins you need to make a call or use public transportation in case you end up stranded somewhere.

Go out in groups, at least until you've really gotten to know the person you're interested in.

Be aware of how much you drink, and try to designate someone in the group to keep track of everybody.
Think about your own limitations and boundaries before you go out, so that you can enforce them in a few short words: No, we are not going back to my hotel room. Yes, let's go on a picnic. Practice saying no in several different ways. Decide what elements would have to be included in an activity for you to agree to it.
"You may end up making a mistake and embarrassing yourself, but that happens no matter what you're doing abroad," says Raphael. "If it has to do with your safety, then that should come first."
Sexual Behavior
This is no time to get shy or evasive with yourself about just how sexual you think you might be in your host country, because the truth is you just never know. Whatever method of birth control you use, bring enough to last your stay, and bring condoms as a necessary disease preventative. Bring a bagful—party-colored, ribbed, glow in the dark—and give them away if you don't use them. (You should be able to get some basic ones for free at student health centers or AIDS/HIV education centers.) Remember, in some countries a well-made condom is a rare and beautiful thing.
Marriage Proposals
In countries where conditions are such that emigrating is a legitimate career step, you won't even have to date someone to receive a proposal. My first time in Russia I was asked to marry twice; during my third visit, after I had come out as a lesbian and was living with my girlfriend, I got three proposals.
Marriages abroad are performed according to the laws of the host country, which usually involves obtaining all kinds of documentation, followed by a lengthy waiting period. Blood tests and translations of results may also be required. Our State Department has information about every country's marriage laws and can provide certain types of necessary documentation.
A word to the wise about "fake" marriages: You can get away with it. But verification interviews can be grueling—up to two weeks if there is something suspicious, says one source at the U.S. State Department—and the price is high for both parties if you get caught. If you can figure out any other way to help your "betrothed" accomplish his or her objectives, try it first.
Making Contacts
If all of this hasn't frightened you into leaving the key to your chastity belt in the hotel safe, congratulations. Getting out there and getting some companionship (or whatever) can greatly enrich your living abroad experience and lead to long-term relationships that you'll treasure.
Where to go to meet people is something to check out with your local contacts. One cliched but still valid guideline is to do what you'd enjoy doing anyway, the idea being that you'll meet other people who enjoy doing it too. Go to concerts, lectures, or performances that regular folks might attend, staying away from tourist traps, of course. Universities and cafes can also be good places to hang out.
Gay, lesbian, and bisexual travelers looking for romance are better off connecting with whatever groups they can find through the International Gay and Lesbian Human Rights Commission or through guidebooks. Local groups often host dances or parties, and these are a much easier and safer way of finding someone who shares your orientation than trusting to blind chance on the street.
And, finally, don't overlook the possibility of finding love among traveling companions from your own country. Raphael, who met her husband on a study abroad program, says pairing up between fellow citizens abroad is not uncommon. "There's certainly a heightened sense of needing to latch onto something familiar, and so people connect a lot quicker and on a much deeper level," says Raphael. "They're in a place where nobody understands them, so they want as much understanding from whoever's around them as possible."
Additional Resources
If your school doesn't have a study abroad orientation session about love and relationships or if you aren't traveling with a program that offers one, you'll have to take your enlightenment into your own hands. First, check with your local international student union and look for groups of people from the country you'll be visiting. Get to know members of this group and discreetly pump them for information. Also, the web is your friend. Following are some web sites that I have found helpful in the areas of sex and safety abroad.
Journeywoman is a great resource for the traveling woman. Check out the "100 Female Travel Tips from Around the World."
The Woman Travel section of TransitionsAbroad.com provides many first-hand accounts by traveling women.
Outright Action International . If you are a gay or HIV-positive traveler, stop here to find out the latest in what's happening around the world. For a less political, but still very useful take on events and associations around the world, you can also try The International Lesbian, Gay, Bisexual, Trans and Intersex Association (ILGA).
The U.S. State Department's has an official communique on marriage abroad, which has useful facts about issues of legality, citizenship, and documentation.