Travel in Sicily: Where Traditional and Modern Realities Coexist
Sicily's annual cavalcata, horse parade.
Sicily gets a bad rap. The island of five million inhabitants is usually mentioned in the same breath as crime, Cosa Nostra, or Corleone. But that's unfair. As a woman who has lived and traveled solo there for extended periods of time, I'd like to offer a few alternative images: warm hospitality, old-world courtesy, natural beauty, magnificent architecture, amazing festivals, vibrant cuisine.
Well, okay, there was a brief encounter with Mafia-connected scippatori (purse-snatchers) in Palermo on my first visit there, as well as a gun battle in front of my apartment. But that was 1991, and Sicily is changing. After the murders of prominent anti-Mafia officials in the 1980s and early 1990s, the Italian government cracked down on the Mafia, with considerable success. Whereas most Sicilians wouldn't even admit there was such a thing as the Mafia 15 years ago, ordinary citizens are now vocal in fighting it. In Ragusa, the gentle Baroque town in southeast Sicily where I've been living off and on since 2002, posters all over town proclaim, "La fine della Mafia siamo noi" (We are the end of the Mafia.). Indeed, Ragusa has considerably less crime than my hometown of the same size, Santa Fe, and I feel more secure there than I do at home. I recently left a purse with credit cards, phone, and camera on a bus in the nearby city of Catania and got it back intact. That's progress.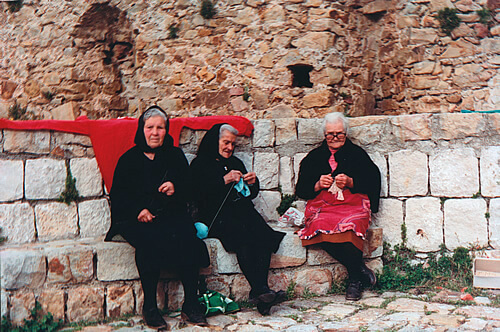 Women crocheting in Ragusa.
Foreign females are no longer hassled to the extent they were in the past. Sicilian women have made great strides in the past decade bucking traditional patriarchal norms and, in the process, paved the way for greater freedom for female travelers. I've traveled alone, extensively, by bus, train, and car with few problems. In fact, whenever I've had car troubles, gracious Sicilian strangers have bailed me out. Some Sicilian men still consider it their macho duty to proposition a foreign woman traveling solo—since being alone is equated with "loneliness" in Sicily—but a firm "no" is almost always respected.
Small-town Sicilians have long had a reputation for being suspicious of, even hostile to, foreigners. Sicilians do like to stare, but it's just simple curiosity. I find a smile and a "Buon giorno!" will break the ice. Anyway, Sicily is no longer the provincial, insular place it once was. Tourism is on the rise, and an influx of immigrants from Africa, China, and East Europe in the last decade is literally changing the face of the island. Chinese restaurants are popping up in every town. Signs are appearing in English, Arabic, and Polish. Schools are teaching multiculturalism.
Scooping gelato.
The relatively new phenomenon of immigration has prompted towns all over Sicily (and in the rest of Italy) to offer Italian as a second language classes for extracommunitari, non-E.U. folks. These classes turned out to be the highlight of my most recent trip to Ragusa. Twice a week I studied with classmates from Tunisia, Morocco, Somalia, Congo, Ghana, Ukraine, Poland, Brazil, and Turkey—some were refugees, while others had short-term work visas or Sicilian spouses. Meeting such a diverse group of people, hearing their stories, and seeing Sicily through their eyes was enlightening. (Most had never met an American before, so it was also an opportunity to establish goodwill.) If you are going to be in Italy for an extended period of time, search out these courses. They're free—at least in Sicily—and are held in public schools in the early evening (along with other adult education classes). The local municipality should have information.
Until recently, Sicily's lodgings—mostly old hotels—could be rather dark and grim. But with the recent tourist boom have come some inexpensive and bright new B&Bs, as well as guest farms (aziende agrituristiche). Both of these inexpensive options allow you to interact with Sicilians and experience the island in much more depth than you could in hotels.
Finally, Sicily is gaining a reputation for her cuisine, an art form that reflects her complex history as a crossroads of civilizations. In an article in The New York Times, Marion Burros wrote that Sicily "is fast becoming the next culinary destination as its imaginative chefs deconstruct generations of grandmothers' cooking…and serve local ingredients in lighter and more creative ways." Culinary tours and cooking classes are sprouting up all over the island. Don't miss Sicily's food festivals, sagre; experiencing them brings you as close to her heart and soul as you can get.
For More Info
When to go: Sicily is cheaper than the rest of Italy, and you can often get dramatic reductions on lodging if you steer clear of high season (Easter week and the summer months). Travel instead in spring (March to mid-June) or fall (September to mid-November), when the weather is usually good and tourists are few. Read this article by Transitons Abroad on Off-Season Travel in Sicily for more.
Lodging: Check out agriturismo-sicilia.it for a complete list of guest farms.
Food: You can find sagre (country festivals) in Sicily no matter what month you go, though they're more common in spring and summer. The most complete list I've found on the Web is at Sicily Tour. Otherwise, ask at local tourist offices and keep your eyes peeled for posters in towns you visit.
If you go to Noto, be sure to visit the charming Caffè Sicilia. Marion Burros calls Chef Assenza "the most daring experimenter with the sweet and savory elements in Sicilian cooking." In Ragusa, Chef Sultano at Il Duomo restaurant has just been awarded a second Michelin star. Try his tasting menu. Expensive, but it'll make a lasting impression. See a list of the best restaurants on the island.
Cooking schools: lovesicily.com; www.bestofsicily.com.
General information about Sicily: www.bestofsicily.com; en.wikipedia.org/wiki/Sicily.