Homestays with Servas
How to Travel and Build Peace at the Same Time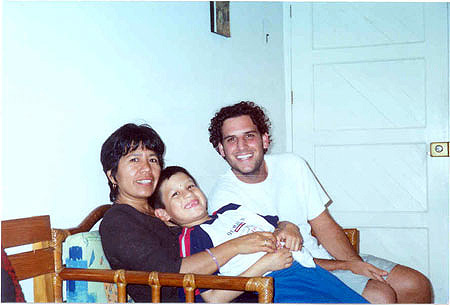 From left to right Servas hosts Beatrice and Jesus, from Mexico with Servas traveler Aaron from California.
Mahatma Ghandi once said that "with every true friendship we build more firmly the foundation on which the peace of the whole world rests." In a time when world opinion of America is on the decline, fostering peace and understanding through building personal relationships is more important than ever. If you are planning to study, volunteer or travel abroad, consider staying with Servas hosts and experience the places you visit on a deeper level, through participation in the daily lives of local people.
Servas is an international homestay organization, comprised of a worldwide network of hosts and travelers who meet in each other's homes to share their cultural traditions, political perspectives and daily lives with one another. The word "Servas" means "we serve" in the international language, Esperanto, characterizing the network's spirit of mutual respect and service.
Servas was established in the hopeful internationalist era after World War II, just a few years after the United Nations came into existence. It was a time when people on both a grassroots and governmental level were seeing the limitations of a world order in which so many distinct borders and national identities around the globe were creating barriers instead of fostering a global community.
Servas travelers are met with open doors in more than 14,000 homes in over 130 countries throughout the world. As a host or traveler, each member serves as an "ambassador of peace." Through mutually arranged individual visits, participants share their backgrounds, interests and concerns. These encounters create the building blocks for peace by breaking down stereotypes and combating racism and discrimination.
Servas Stories
Asmara Pelupessy, an American traveler from California, says that her Servas travels helped her feel connected to people around the world. "Meeting people I would have never encountered before gave me unique cultural perspectives and I also shared with them about my family and life in America. I was amazed by their generosity and trust!" Aaron Aftergood, another Servas traveler, said Servas helped him have a unique and extraordinary experience. "Instead of being a tourist, viewing everything from the outside in, I was welcomed into the homes and culture of the country and was actually a part of the community."
In addition to exposing travelers to other cultures and peoples, the Servas network is also a resource for furthering social good. College students Jessica Gregorie, Frances Brickman and Jocelyn Brown-Saracino recently biked across the country, staying with Servas hosts and raising $10,000 for a women's shelter.
Anne Cridler traveled with her daughter Natasha to South Africa where she connected with Servas hosts, Tracey Collier and Christine Fischer, who help black South African women from rural villages sell their bead crafts. Anne and her daughter are now helping find American stores that will sell the crafts and support these very important small-business owners.
Traveling with Servas leaves the world a better place, whether you make a friend, learn something new about a different culture, help further peace and social justice or all of the above. I hope on your next trip abroad you will consider Servas homestays and form lasting friendships that will make a difference!
For an more information, visit Servas International and US Servas.
Julie Schumacher Cohen worked as the Program Director for United States Servas.