Beyond Venice: Soaking Up the Wine, Cooking, and Culture of the Friuli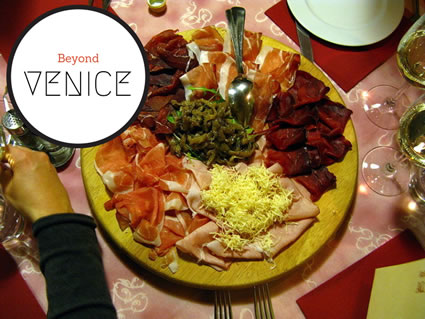 Photo Wikimedia Commons: Joadl, adapted by Transitions Abroad.
We had left Venice in late July—when it was hot, crowded with tourists, and expensive—for the cool, vine-covered hills of the Friuli-Venezia Giulia, running up to the Alps just a few hours away. On this brief wine- and food-tasting tour of northern Italy our focus was on the wines and the local traditional cooking of the country's northeastern-most and one of its least-touristed provinces. Our goal was to bring back as many as possible of Friuli's tastes and traditional recipes.
On our first day in the Friuli we met Gregoris Levi at the Bottega del Prosciutto in San Daniele, where we had gone to see the preparation of the famous air-cured San Daniele ham. Like everyone we met in Friuli—surely one of Italy's most welcoming provinces to visitors—Levi was eager to help us locate those artisans who were making the greatest efforts to follow the methods of their ancestors, without shortcuts or compromises.
While we sampled and discussed the world's best ham and the best wine to accompany it, Levi told us about the Friuli's greatest winemaker, Enzo Pontoni, the producer of precious Miani wines, and offered to get us an appointment to meet him.
But Pontoni turned out to be a hard man to find. The next morning, when we called him from our hotel, Levi told us he hadn't been able to locate Pontoni but he had located a friend in Pontoni's village of Buttrio. His friend would take us to meet him when Pontoni returned from the vineyards where he worked each day from dawn to 1:30.
Touring the Friuli
Before meeting the revered Pontoni, we wanted to educate ourselves a bit more more about the wines of the region and sample some of its traditional dishes. Authorities on local food and wine were not hard to find. We had plenty of willing guides.
Our first contact was Dr. Vanni Tavagnacco, an oenologist and wine consultant at the office of viticulture service in the Casa del Vino in Udine, the provincial capital. In addition to his own observations on the best winemakers and chefs of the region, Dr. Vanni Tavagnacco gave us a small but thorough Guidebook of Friulian DOC Wines (text by Pietro Pittara, available in English from ERSA; see "Friuli Contacts" in sidebar to order).
The booklet provides an overview of the wines of the seven areas of the Friuli-Venezia Giuilia—from coastal Aquileia to the Colli Orientali (Eastern Hills) along the Slovenian border—that have been awarded the "denomination of controlled origin and quality" (DOC).
Now we were ready to taste. Our first stop was the enoteca in Cormons, an unspoiled medieval town surrounded by hills and vine yards, where you can sample local gastronomic specialties along with the local wine. (If you arrive in Cormons after 2 p.m. and the official enoteca in the town hall is closed, just go to the cafe on the corner of the square. Order a local wine and their delicious homemade snacks to go with it.)
Then, if you follow our itinerary, you'll pick up a map of the Strada del Vino (Wine Road) and spend a day driving through the beautiful and untraveled countryside hugging the Slovenian border from Gorizia to Dolegna, stopping along the way to sample the wines. Go on from Dolegna to Cividale to see the remarkable 8th century Lombard/Byzantine/Romanesque Tempietto or Little Temple. And maybe stop for a long rest, as we did, at the cafe under the arcades of the 15th century Palazzo Communale facing Cividale's cathedral square. Then head back to Cormons for dinner at La Subida.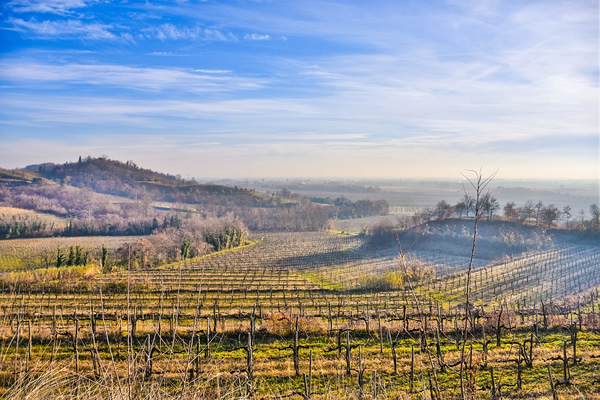 A typical vineyard and landscape in the Friuli.
Our wine tasting that first day was limited because most of the vineyards were small and the farmers, like Pontoni, were at work. It's a good idea to fax ahead for an appointment. (Stephen Hobley in A Traveller's Wine Guide to Italy provides addresses and fax numbers and a sample fax in Italian. See sidebar.) The one producer whose wines we did manage to sample were offered by Ornella Lauzzana Venica of Venica and Venica.
Until recently, Signora Venica, with the help of her mother-in-law, Gina, had also served meals in the farmhouse dining room: homemade breads and pastas, seasonal vegetables, and meat from the farm flavored with herbs from the surrounding mountains. But now her time is taken up with marketing the wines of Venica and Venica and running the farm's agritourismo (guest apartments on the farm). Since Signora Venica had run her own dining room, she was a knowledgeable and willing source of information on the best traditional cooks of the region as well as the best wine.
Among the half dozen wines we tasted on Signora Venica's terrace that afternoon two were so remarkable we had to bring some bottles home with us: Vignis and Ribolla Gialla. (Small quantities of Venica and Venica wines are available in the U.S. through the New York distributor, Martin Scott.)
La Subida and Green Tourism
La Subida is a small agritourismo center specializing in ecological tourism spread over the hills and vineyards of Collio just outside Cormons. This is the ideal spot to spend a relaxing holiday or a short vacation within a vacation (a minimum booking of three nights is required) while enjoying some of the best food and wine of the area in remarkably beautiful surroundings. Apartments in the farm houses cost from €90 to €140 a night for a double with all modern amenities.
There's also a swimming pool, tennis courts, playground, horses, bikes, etc. At the center of it all is the Sirk home. Guests are welcomed like family around the big fireplace in the winter or on the wide, vine-covered terrace in the summer. There's no menu, you simply eat and drink what you're served—the typical dishes of the region (both Slovenian and Friulian) made in the traditional way from locally produced ingredients and served with a different wine for each dish.
Here, briefly, is what the oldest daughter, Elena, the father, Josco, and the mother, Loredana, brought us:
The first of many appetizers was a frico duro, a thin wafer of fried montasi cheese (available only from the small farmers in the mountains). A carpaccio of smoked venison with arugula topped with thin slices of montasi cheese was next. The accompanying wine, a Tokai fruliano, was dry but soft and smooth, with the taste of bitter almond and the scent of wildflowers. A flan of zucchini with a puree of Sanbucco flowers and deep-fried sage leaves was served with a Slovenian (mlecnik) chardonnay '96. The wine had the scent of freshly baked bread and a delicate taste of apples. This was followed by a "strudel" of cherries, a large dumpling dusted with buttered breadcrumbs.
By now we were ready for after-dinner espresso, but this was only the midpoint of our menu.
Elena brought us another Slovenian specialty called zikrofi, tiny ravioli filled with herbed potatoes and served in a sauce of roast pork pan juices and topped with montasi cheese. With this came a Refosco '97, perhaps the best red wine of the region. The slightly tannic garnet red wine, with a pleasant scent of blackberries and the forest, stands up well to meat and game.
Next came the meat course: a huge roast shank of veal, called, most inappropriately to an Anglo-Saxon ear, "un stinco"—which it certainly was not, having been roasted to perfection and served with zucchini, roast potatoes, and roast peppers. The wine, a vibrant red Rosso d'Orzone, stood up to this cornucopia of flavors better than we. By now considerably weakened, we trudged on valiantly to sample the cheeses—an aged montasi, a fresh montasi, and a sweet Val di Monte Aperta.
The coup de grâce was the huge slice of hot apple strudel so traditionally Austro-Hungarian and hence Friuliani. We could now see how the empire of Franz-Josef disintegrated. Its citizens were made torpid by their excellent cuisine.
We returned to our very comfortable and motel-like hotel, Il Campiello, in San Giovanni Natisone, for a good long sleep before setting out on a one-day tasting tour of the other wine regions of the Friuli. Along the way, we looked up recommended small producers and then drove on to the Enoteca Serenissimma in Gradisca d'Isonzo, where most of the wines of Fruili are available for tasting and sale.
The one famous wine we had not yet tasted was the Verduzzo of Romondola, a dessert wine and rival to the expensive—some argue overpriced—Picolit, the wine of the sovereigns of Europe. According to Burton Anderson's The Wine Atlas of Italy, the two most admired producers of Romondolo are Giovanni Dri and the brothers Coos. We never managed to find Coos—the mountain road was washed out—but we did find Dri, and his daughter let us taste the '98 from the barrel and buy a few bottles of his nectar to bring home with us.
Da Toni
Our food destination for the second evening was Pordenone and the restaurant Da Toni in the nearby village of Gradiscutta. Ornella Venica had told us that the owner, Aldo Morassutti, who had carried forward the traditional cooking of his parents, was the teacher of many of the best chefs of the region. If we wanted to taste Friulian cooking as it once was (and maybe even better), this detour was a must.
Da Toni was not easy to find, either. Tucked away in a tiny village in the midst of corn fields, the restaurant on the "square"—if the clearing could be so called—did have a sign. But it was turned in the wrong direction. Once inside the large and recently renovated old building, with a traditional hearth or fokolar in the main dining room, we were escorted onto the tree-shaded terrace. A number of families and young people were already seated.
A group of local farmers was finishing a Sunday afternoon game of cards a few feet away on the front lawn. Da Toni's tables were elegantly set and "Toni" himself, an austere and distinguished gentleman, advised us about appropriate wines to select with our not strictly traditional but altogether wonderful Friulian meal.
We began with tiny appetizers of sliced speck—air cured and lightly smoked duck and rabbit—the former seasoned with oil, balsamic vinegar, and fresh marjoram, the latter with chives, watercress, and minced red pepper. With this we drank a Muscato (not a Friulian DOC, but nothing to complain about). What followed was a delicious and very traditional zuppa di basilico, a puree of basil, zucchini, and potatoes, with barley and finely chopped carrots to give it texture. Then came the famous gnocchi (potato dumplings) with porcini and wild mushrooms, montasi cheese of the region, and tiny slivers of speck.
With this we drank a Russiz Superiore, a red from the Collio region with the character of a good bordeaux. The meat course was a wild mallard duck cooked on a spit and seasoned with red wine and rosemary, accompanied by polenta. This duck, which was split between the two of us, had gorged itself in the cornfields which surround the restaurant. Even Signor Morassutti described it as "substantial," and the Russiz Superiore '93 from the Collio region stood up to it well. We finished with an excellent sorbet of melon in local grappa from Nonino made from muscato grapes.
Had we known after our meal at La Subida and now at Toni's what lay in store for us the next day at the restaurant of the genial and ebullient Dante Bernadis, we might have prepared ourselves by fasting for several days. But our search for rediscovered traditions in kitchen and vineyard led us toward careless abandon.
Trattoria Blazut
The Trattoria Blazut has a star in the Guide Michelin and as a result the clientele is international. Signor Bernardis, however, has lost neither his enthusiasm for experimenting with variations on local dishes nor his remarkable friendliness and kindness to his patrons. Once he realized our aim was to sample local specialties, the amazing and apparently endless procession of food and wine began. With poetic commentary, sage advice, and much laughter, he joined us in sampling his favorite vintages, as we boldly set out to consume his tasting menu.
We began with an aperitif of Ribolla Gialla spumante '96 and an appetizer of "soffiantine" or puffs filled with tomato and eggplant, followed by a dish of roasted scrambled eggs with tomatoes. Bernardis brought it to our table in the pan which he was still stirring. Local eggs, the chef said, from "free" chickens heard clucking behind the terrace where we ate.
This was only the beginning. What followed was his own sopressa or sausage (made from pig number 60, he said) sliced at the table and accompanied by peppers and onions in agro-dolce. The wine was a Ribolla Gialla '97 from the village of Buttrio, the home of Pontoni and his incomparable Miani wines.
Then came the pasta—tortelli filled with tangy goat cheese with a fresh tomato sauce. With this Bernardis opened a bottle of Merlot Rocca Bernada '96, which also accompanied the pasta e fagioli with pesto—an unusually vibrant and delicious combination. This was not strictly regional but a product of Signor Bernardis' creative imagination. Then it was on to the meat course: veal with morels and broad green beans flavored with capers for one of us, veal kidneys grilled over a wood fire for the other. The Refosco, Vigna Petrussa '97, was remarkable with both.
Bernardis talked at length about his enthusiasm for "la cucina," which he had inherited from his grandmother rather than following in the steps of his carpenter father. He liked to "smell things," he said with child-like enthusiasm, and "invent" dishes out of local produce. We finished with a sorbet of grapefruit in Campari and then with a grappa from Nonino down the road.
Exhausted but not cowed, we thanked Signor Bernardis for his excellent meal and delightful company and pledged to come at noon next time so that we could devote the entire day to his innovative cooking based on local traditions.
After three days of sampling the wine and food of the region we were now ready to meet its most fabled winemaker, Enzo Pontoni. We arrived at the trattoria of Pontini's friend, Signor Meroi, at the appointed time and found it closed. Meroi was nowhere to be found. It was almost 1 p.m. and the village streets were deserted as people gathered around their tables for the big meal of the day. But we were nothing if not persistent in our quest and knocked on door after door. Finally, after getting a dozen different addresses and rushing from one end of the village to the other, we managed to locate the most shy and reclusive of Italian winemakers in his humble farmhouse—in the middle of corn fields! Every day, at dawn, Pontoni makes his way to his hillside vineyards where he lavishes the kind of care on his precious vines that an artist might devote to preparing his paints.
Signor Pontini did not turn out to be the ancient and withered magician we expected; rather, he is young and has given his life to winemaking. He's poor. He's not interested in financial rewards. He's a recluse—even to his neighbors—and lives with his mother. He has not traveled out of his province and would never engage in tourism, which he calls "contamination" or "disturbing the balance of other people's lives."
And when, after sampling last year's wine in his small and untidy cantina, we asked if we might buy a bottle, he told us that he had none left—for the wine we had just tried was still too young to bottle and he himself had no more of his own wine to drink; he depends upon friends to provide him with local wine.
As for how he lived—he simply said that he had to "tighten his belt" periodically. His wines—three whites, Tokaifruiliano, Sauvignon blends called "Biancho Miani," and a Merlot/Refosco called "Rosso Miani"—are what he calls the culmination of his ideal: mixing local wines into masterpieces. So even though the prestigious Italian wine book Gambero Rosso, which rates wines yearly, has for some time heralded "Miani" as one of the two greatest winemakers in Italy, Pontoni still lives in poverty—with little interest in improving his lot if that means being unable to devote all his energies to his art.
Such dedication to perfection will no doubt bring many more visitors like us to discover the cooking and wine of the Friuli.
Food and Wine Touring in Italy
Although it has received little promotion, wine touring has become Italy's third greatest attraction, after beaches and art. Millions of tourists yearly travel through the vineyards to sample the wines and meet the producers. Italy's "Cantine Aperte" or open cellars are events in regions across Italy run by the Movimento Turismo del Vino with the aim "to increase the national wine tourism industry, which is a fundamental economic resource for the territories' development and an effective tool for environmental protection.".
A much larger number of visitors come to Italy to enjoy the food that goes with the wine. When we first visited Italy 40 years ago, good restaurants were not so easy to find. Italians do their best cooking at home—often following traditional recipes (we've never actually seen our Italian friends cooking from a written recipe) that have been passed along from one family member to another for generations. Restaurants or simple trattorias were places to meet and enjoy each other's company. Unusual or elaborately prepared dishes were rare. (The respected French guide to restaurants, the red 2019 Michelin Italia, gives its highest rating to only ten restaurants in Italy, with 39 getting the second highest rating.)
But in the past few years the Italian movement to revive and promote the traditional ways of producing and preparing food has gone public (and international). Slow Food is a nationwide organization of Italians fighting the invasion of fast food and supporting local, traditional cooking. (See our articles, "Slow Food in Italy and Beyond: An Interview with Carlo Petrini," "Slow Food in Tuscany", and "Cooking in Tuscany: Hands-On Lessons in La Cucina Tradizionale" for much more on this important movement which is sweeping Italy and the world, including the United States.)
If you would like to join the crowds flocking to Italy to sample its food and wine—or avoid them—consult the following, many of them "evergreen" guides:
Wine
Slow Wine 2015: A Year in the Life of Italy's Vineyards and Wine is produced by Slow Food international, and provides a background to all wine production practices and aims in Italy.
A Traveller's Wine Guide to Italy (The Traveller's Wine Guides)
by Stephen Hobley. A beautifully illustrated paperback that provides names, and addresses of wine producers who welcome visitors to their cellars. The book also has information on the food specialties of the regions to go with the wine. Highly recommended for planning your own food and wine itinerary.
Burton Anderson's Best Italian Wines is a class book on Italian wines by a foremost expert.
Food
MICHELIN Guide Italia 2019 (Michelin Guide/Michelin) (English and Italian Edition). This town-by-town guide to hotels and restaurants is the standard and usually spot-on reference.
Eating in Italy: A Traveler's Guide to the Hidden Gastronomic Pleasures of Northern Italy
by Faith Heller Willinger. This is the one classic book to get if you want to learn about traditional Italian cooking. It includes the logistics of planning a trip, restaurant and hotel information, where to buy the best ingredients in Italy and the U.S., cooking schools in Italy, and much more.
Our special thanks to Andrea and Phil Jourdan—chefs, food writers, and producers of television shows, special events, and tours dealing with Italian food and wine—who introduced us to the wines of the Friuli-Venezia Giulia and encouraged us to go there to meet their friends.