Living the Beautiful Life in Italy
How to Move to the Land of La Vita Bella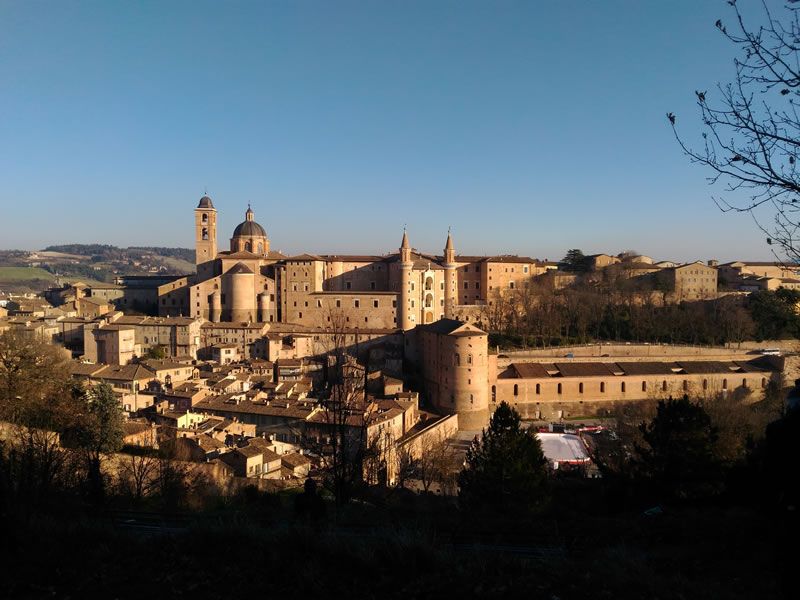 The city of Urbino sits in the shadow of the Palazzo Ducale built by Duke Federico of Montefeltro.
Since 2005, I have called Italy my home, a country I have adopted as much as it has adopted me. The culture, the food, and the history interplay and fashion a multi-faceted living experience. Whether you choose to reside in a bustling city or to settle in a small town, countless possibilities and opportunities await you in each of Italy's distinctive regions.
In the Province of Le Marche, not far from the Adriatic coast, is a small Renaissance city named Urbino. Long ago, I lived here while an undergraduate student. 20 years later, I returned as a graduate student. And, today, 30 years later, I am married and living in the shadows of the city that is designated a historic UNESCO World Heritage Site.
At the Università di Urbino, I have now studied as both an undergraduate and graduate. Finding work in smaller towns and cities can be difficult, but with a little ingenuity and persistence, I have worked as an English tutor and English teacher with students ranging in age from 7 years to adult. While a graduate student, I worked as a bartender at a local bar.
Now, when not working, my husband and I head to local museums or enjoy hiking or spending a day at the beach. During the warmer months, you can find us at one of the many festa or sagra eating and drinking locally made delicacies. Every region in Italy has so much to offer the senses that it is difficult not to get lost in it all.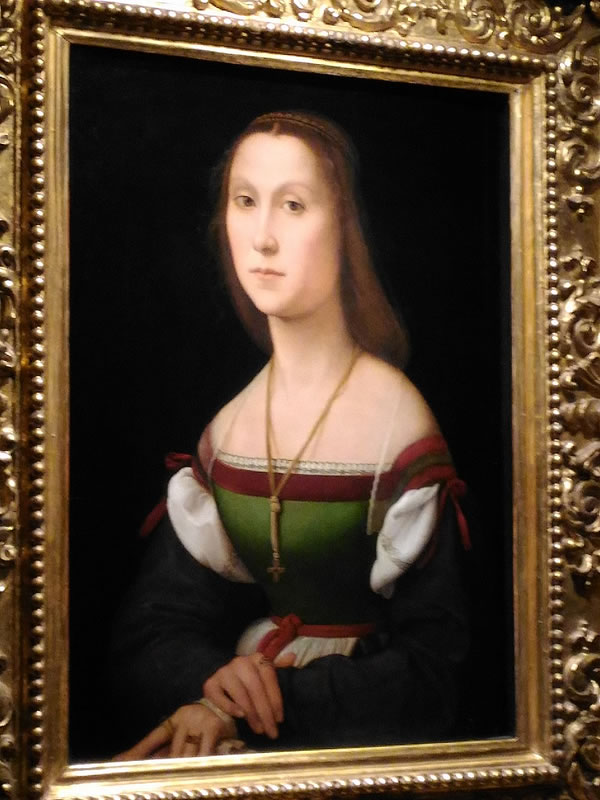 La Muta by Raphael (his birthplace is open for tours in Urbino). You can find this and other beautiful pieces at the Galleria Nazional delle Marche.
Picking up and moving to a new country, whether to work, to study, or to retire, may seem intimidating. But if you organize and prepare in advance, the transition can be relatively smooth and problem-free. I wish to provide you some useful information, along with personal recommendations, that can assist you in your adventure. Along the way, we will see a small taste of the many wonders you can easily visit when living in the country of Italy.

View from Monte Cucco of the rolling hills between the Provinces of Marche and Umbria.
Learn the Italian Language
This may seem like an obvious recommendation, but having a strong comprehension of the Italian language, spoken and written, will benefit you enormously. In most large cities, such as Rome, Milan, or Florence, almost everyone speaks English, so being fluent in such locations is not quite as big an issue. Students seldom have a problem in these cities. I have observed over the years that most students pick up the language rather quickly once they become acquainted with their Italian peers. If you are working or have decided to retire in Italy, do learn or brush up on your Italian language skills before your arrival, if possible. When dealing with documents, bills, and contracts, or when speaking with officials, having a good grasp of the language will make your life much easier.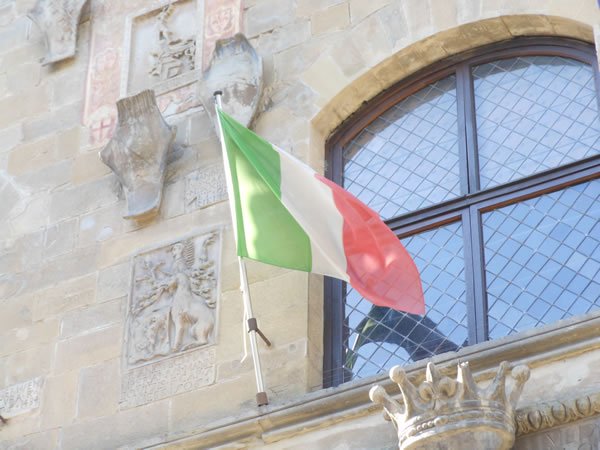 Il Tricolore.
Setting Up Residency
When you are in Italy, after you have obtained your visa from the Italian Consulate in the United States, you need to visit the Ufficio Postale (Post Office) to pick up a Kit Permesso di Soggiorno. This packet, along with the originals and copies of all documents, needs to be completed. Once you have everything in order, you can return to the Post Office where the representative will check through all of the items. You will need to pay the price of the kit plus Assicurata (Certified Mail). From the Post Office you will receive three receipts, one for the payment of the kit, one for the mailing, and one for your appointment date and time at the Questura  (local Police Station). It is necessary to bring all of these documents with you to your appointment.
I recommend arriving early for your appointment at the Questura. The norm is to book more than one appointment at any given time as there is usually a line. From the Questura you will obtain your Permesso di Soggiorno, which allows you to reside legally in Italy. By law, you need to go to the police station within the first two weeks of your arrival if you seek to stay in Italy beyond the three months allowed for tourists.
Once you have completed the process and been granted permission to remain in the country, you can then head to the Ufficio Anagrafe to register yourself as living in that particular town or city and to establish residency. Along with your visa (for each person requesting residency), you will also need to bring your passport(s) and a completed request form, which you can find on your Commune's (town hall) website, or you can pick one up at the Anagrafe's office.

You can treat yourself to a thermal spa on the banks of Lago Garda.
If you have made it this far without a hitch in what is a notoriously bureaucratic process, once you have officially declared your residency and have received the Certificato di Residenza (Certificate of Residency), there are many benefits now available to you. You can ask for a Carta d'Identità (Identity Card) at the Ufficio Anagrafe. From the local health management office, Azienda Sanitaria Locale (ASL), you can request a Tessera Sanitaria, which entitles you to health benefits. In addition, when you are a resident you will see deep discounts on your utility bills. Yes, companies can and often do charge higher rates to non-residents.
Your residency status may also assist you in evading the 22% VAT (value-added tax) when bringing items from your home or your automobile into Italy. Since Italian laws are in constant flux, check first if you will need to pay taxes on your belongings, which need to be labeled as "used." Why? The reasoning is that you don't bring with you a brand new automobile when you could easily buy a new car in Italy, for example. Before starting the relocation process, I declared residency in the town where I live. Because of this, when my used goods arrived (furniture and other household items, clothes, vehicle), I was exempt from paying an import tax.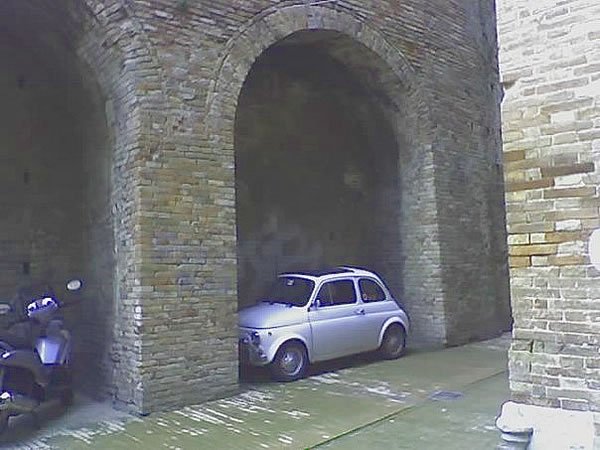 Sometimes finding space can be difficult, but Italians are ingenius at parking their cars in the tightest of spots.
Codice Fiscale / Tax Code Card
The Codice Fiscale in Italy is often incorrectly compared to the U.S. Social Security Number. Where the SSN is private, the Codice Fiscale number is not, and the Italians use it in several ways. You will need a Codice Fiscale to open a bank account, to lease or buy an apartment or home, or to purchase items from some websites.
Requesting a Codice Fiscale is something everyone, from students to employees to retirees, will want to do. It is a free service offered by the Agenzia delle Entrate, which has a local office in every city.
You do not need an appointment, but you will need to have available all the required documents. At the local office you can get the application form that you need to complete. When you go, and while you are there, a representative will enter your information. You will immediately receive your Codice Fiscale number. The physical card will arrive in the mail 1 to 2 weeks later.
If you have heard horror stories about Italian bureaucracy, this is one office where it is surprisingly absent. The process takes about half an hour.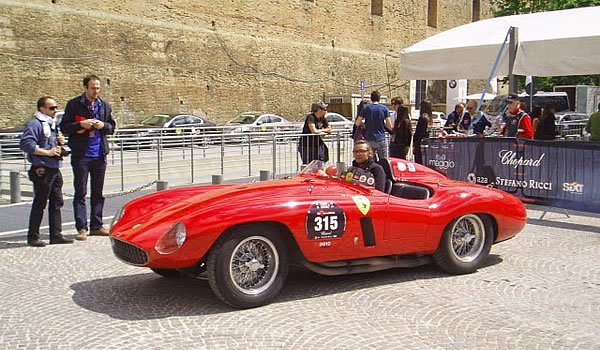 Vintage Ferrari, one of almost 500 automobiles that race in the Mille Miglia (1000 Miles). You can visit the Ferrari museum in Maranello.
Cost of Living
As in any country, the cost of living depends on where you live. In a city such as Rome, a studio apartment in the city center can run in the 1000 to 1200 euro range while a 3-bedroom apartment could cost between 2000 and 2200 euro or more. You will then clearly need to add to that amount of added expenses for utilities, transportation, food, etc. to figure out your total budget. See Numbeo for an idea of the cost of living. Outside every city center, you will see a decrease in rents.
My husband, Giacomo, in front of a butcher shop in Parma.
If you are looking to buy a home, prices vary drastically. In Calabria or Sicily, you can find small homes, 80 or 90m2, for less than 100,000 euro. Prices will rise for certain famous provinces, such as Tuscany or Lazio. Villas with land can cost half a million euro or more in Tuscany, not surprisingly. When looking for a property to purchase, you may do well to find a DIY project. Become acquainted with local building laws and codes if you are interested in making home improvements, completing a rebuild, or building a new home. In Italy, almost everything requires a permit, but almost everything can be done. Be patient and enjoy the unique Italian way of doing things.
In the past year or two, Italy has established an open market where you are now free to choose who provides your utilities, such as electricity or gas. Most companies will offer you a great low price for a year or two. When the offer expires, you can then ask your supplier if they have another offer or change the provider. 
Students in Urbino where there is a major university can find housing at dormitories, apartments, or shared-apartments. For the budget-conscious, the shared rentals are usually located in a very large apartment or home with five or more bedrooms, which are single or double occupancy. There is often one large shared bathroom. You will also find a kitchen and a common area. Depending on the proprietor or rental agency, utilities may or may not be included in the rental price. For dining, students can always acquire a mensa (university cafeteria) card to eat at one of the university dining areas. Students can get an idea of the cost of living on their website of the Università di Urbino.
For those of you who are transferring your belongings and your pets to Italy, I have added some very useful information in "Moving House" and "Pets are Welcome" sections below. It is a daunting task to accomplish all the items on your to-do list, more so when you are moving to a new country and a new continent. Since I have already traveled this road, a bit battered and bruised along the way, I have listed some useful information and websites where which will allow you to transition more smoothly.
If You Need Help
When you move to Italy, sometimes it helps or is even necessary to hire specialists to make purchasing a property, translating documents, or navigating any other local legal issues possible—no matter how good your Italian.
If you are buying or selling a house or property, writing a will, or needing assistance understanding legal documents, you will need to work with a Notaio. A notary understands the laws, but unlike in the U.S., he or she will need to sign, as a guarantor, all of your contracts, including mortgages. Prices start at 50 euro for a simple document; a will can cost €1000. Typically, for larger transactions, such as homes or properties, the price is a percentage of the total expenditure.
Should you need a translation of a legal document, for example, a birth or marriage certificate, from English (or any other language) to Italian, you will need to hire a Traduttore Giurato, a specialized translator affirmed by a court of law. Prices vary by experience and the difficulty of the translation. The rate today is 7 cents per word plus IVA.
An Avvocato, or attorney, defends the law and can assist you should you find yourself in a legal situation, whether civil or criminal.
Moving House
If you are thinking of transporting household items, do thorough homework when searching for a reputable international moving company among the many who offer their services. The Federal Maritime Commission site lists complaints and problems, with helpful sections on tips for a successful move abroad, planning your move, and moving tips.
On a personal note, the agency I used went out of business a mere six months after I received my container. I was one of the lucky ones. After discovering the FMC's site, I became privy to all the negative commentary that I had not found before my move. When doing a standard web search I had not discovered any major problems associated with the agency. Unbeknownst to me, the list of complaints against this company ran the gamut from some small broken items to some clients never receiving any of their belongings.
Are you importing your automobile from the United States? Since vehicles manufactured outside the European Union do not have a C.O.C., Certificate of  Conformity (Certificato di Conformità), associated with them, you cannot register the car in Italy. I am currently working with a reputable agent, Marco Poliseno. He is the owner/operator of Omologazione Auto in Verona. He travels to and from the U.S. and Italy, where he organizes, from start to finish, the transportation of your auto.
If you are thinking of bringing your car to Italy, I recommend giving Marco (or another agency) a call. The process is much simpler and more cost-effective if you pre-arrange the move instead of waiting until after the vehicle has already arrived in Italy.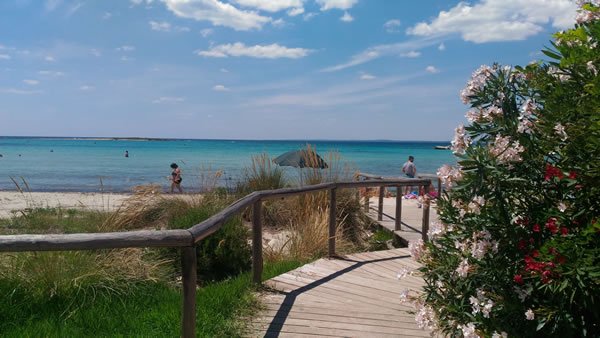 Sant'Isidoro Beach in Nardò (Lecce), Puglia.
Pets Are Welcome
Will you be traveling with your pet? You will need to have each pet vaccinated and micro-chipped or tattooed, along with the required documents, dated, and signed. For further information look at the embassy pet travel FAQs. Should you have further questions you can ask your personal vet or your State Veterinarian.
Once you have an Italian address, you can ask your local Italian vet to supply you with a pet passport (Passaporto per Animali Compagnia). If the vet cannot issue you one, you can go to the offices of ASL or Azienda Sanitaria Locale (Health Maintenance Office). You can find your local ASL office listed by the province. A pet passport makes traveling with your pet far less complicated.
After the Move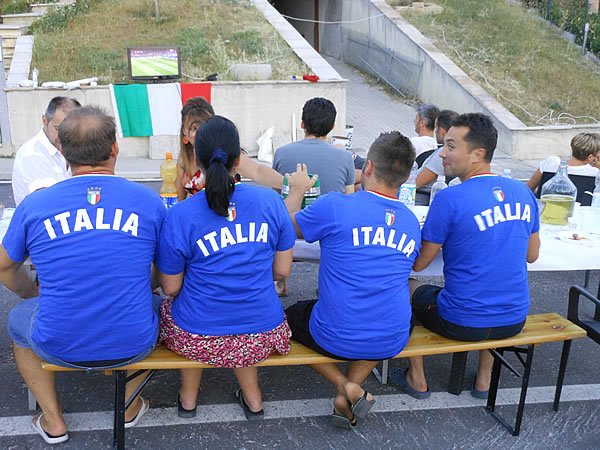 Neighborhood block party while watching Italy's 2014 World Cup match.
Now that you have completed your move and are settling in, it is time to experience everything Italy has to offer. Find the nearest piazza and treat yourself to an apertivo. Take in a local football match. Walk down less-traveled paths to discover the local (and sometimes famous) art and architecture—the options are endless. Like many people worldwide, Italians work hard each day. What makes the culture special is an instinctive ability to know when to say when. Relax and enjoy. La vita è bella in Italia. Carpe Diem! (Life is beautiful in Italy. Seize the day!)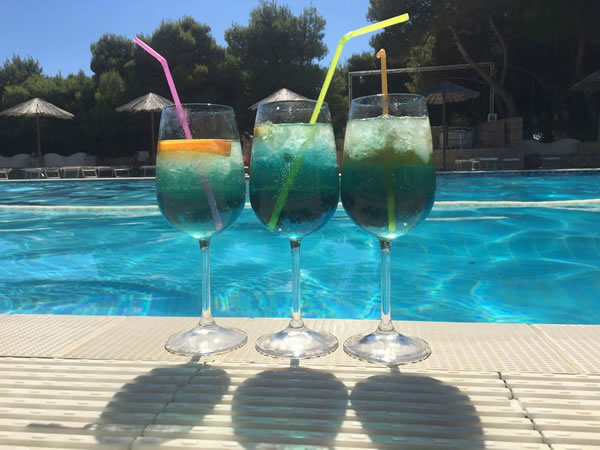 Aperitivo by the pool.
Cheryl Ferguson Bernini in San Marino on a day trip.

Cheryl Ferguson Bernini, originally from Connecticut, is an American Expat and freelance writer. She is now married and living in a small Renaissance city in Italy. And, contrary to her husband's opinion, she does speak Italian. They share (let's use that term loosely) their humble abode with four felines, all saved from life on the street. She considers herself a follower of re-invention, and she is continually adding to her list of metamorphoses. When not writing, you can find her, a self-proclaimed Jill of all trades, doing just about anything and everything. 

She currently has several projects in the works including a murder-mystery set in Urbino and a single woman's guide to moving to Italy. Her retelling of her father's service during World War II, "Kill or Be Killed," can be found in the anthology, "Proud to Be: Writings by American Warriors, Volume 7." She also has several fiction short stories published online.