Volunteer in Vietnam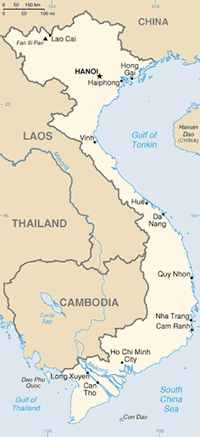 Volunteer Reports from Vietnam
Volunteer in Vietnam
Volunteer with a community based organization in Vietnam! ELI works with organizations in Ho Chi Minh City, the Mekong Delta, and Da Lat to create volunteer opportunities that benefit the locals while giving volunteers a unique cultural experience while giving back to the communities. Possible projects include teaching, HIV/AIDS education, women's issues, health projects, community development, and more. All placements are set up on an individual basis according to the needs of the local organization and the specific skills of the volunteer.
Contact: ELI, 1557 Ogden St. Ste. 5, Denver, CO 80218
Tel.: 303-321-8278
Email: info@eliabroad.org
Website: www.eliabroad.org

Featured
Globe Aware
Expedition Vietnam
Travel to Vietnam with Globe Aware and explore one of Vietnam's most picturesque towns, Hoi An, an UNESCO World Heritage Site. Amid the distinctly preserved assortment of Chinese, Japanese, and French architecture remains the devastation of poverty with many peasants left dwelling in sub-par conditions. Volunteers will focus their time on improving living conditions of homes, schools, and public markets by refurbishing and rebuilding structures. In addition, volunteers will spend time teaching English and playing games with young students, as well as distributing books for a Portable Mobile Library Project. During free time, volunteers can stroll the colonial streets of Hoi An, discover charming bridges, and visit Champa ruins nearby. Accommodations are provided in a simple hotel just outside of Hoi An with hot water, flushing toilets, and limited electricity. Let Vietnamese history and culture come alive as you lend a hand to make a better life for the people of Hoi An.
Contact: 6500 East Mockingbird Lane, Suite 104, Dallas, TX 75214
Email: office@globeaware.org
Tel: 1-877-LUV-GLOBE
Website: www.globeaware.org

Featured
Volunteer Abroad in Vietnam from US$270
International Volunteer HQ (IVHQ) offers affordable volunteer abroad opportunities in Ho Chi Minh and Hanoi, Vietnam from only US$270. A range of programs are offered to volunteers including Teaching English, Caring For Disabled Children/Childcare Work and Working With Local NGOs and Medical. IVHQ sends thousands of volunteer travelers worldwide annually—you will not find a more affordable, high quality and trustworthy volunteer travel company.
Contact: International Volunteer HQ, PO Box 8273, New Plymouth, NEW ZEALAND.
Tel.: US/Canada Toll Free: 1-877-342-6588; UK Toll Free: 0-800-234-1621; Australia Toll Free: 1-800-557-380; International: +64 6 758 7949.
Email: info@volunteerhq.org
Website: www.volunteerhq.org

Featured
Projects Abroad in Vietnam
Projects Abroad is the world's largest international volunteer organization. Trusted by over 127,000 volunteers. Discover over 20 exciting countries across 5 continents: Argentina, Botswana, Cambodia, Costa Rica, Ecuador - Galapagos, Fiji, Ghana, India, Jamaica, Kenya, Madagascar, Mexico, Mongolia, Nepal, Peru, Philippines, Romania, South Africa, Sri Lanka, Tanzania, Thailand, Togo, and Vietnam. Volunteer programs start year-round and last from one week to a year. Opportunities exist in teaching, childcare, social work, conservation, community development, medicine, human rights, journalism, international development, language courses, and more! Programs are for ages 16+.


Dates: Start any day you choose.
Cost: Please see our website for prices.
Contact: Projects Abroad Inc. 600 B Street, Suite 300, San Diego, CA, 92101.
Tel: (+1) 212 244 7234.
Email: info@projects-abroad.org
Website: www.projects-abroad.org

Featured
Volunteer Abroad in Vietnam for 4 - 16 Weeks
United Planet's Quests offer volunteers the opportunity to learn, teach, work, engage and immerse themselves in a culture outside their comfort zone. Ages 18-35 of all skill levels are invited to enroll. Live in Vietnam for 4 -16 weeks – you can volunteer teaching in primary and secondary schools, working in local medical facilities, assisting in local community development organizations, and more! Live with a local host family, participate in cultural activities and excursions, and receive 24/7 support – a true immersion experience that allows you to build relationships that last a lifetime.

Contact: Please give the United Planet Team a call at 617-874-8041 or email quest@unitedplanet.org.
More information can be found at: www.unitedplanet.org and for United Planet's Vietnam programs at: www.unitedplanet.org/volunteer-abroad/long-term/vietnam.
Feel free to visit us from 9 AM to 5 PM at United Planet, Boston Harbor Shipyard and Marina, 256 Marginal Street, Boston, MA 02128.

Featured
Idex
Volunteer & Travel Program in Vietnam
The Idex program in Vietnam continues to follow the ethos of "Travel that Matters" and provide an opportunity to travellers to have a safe, enjoyable experience that leaves them more developed than they were before the start of a trip. The program is designed to leave travelers as well as the local communities enriched with each other's presence. All this is managed through the well-tested and established processes of Idex to ensure that the interactions and activities are responsible towards the benefit of local communities, volunteers and local institutions.
Love Volunteers
Volunteer Work in Vietnam
Thousands of volunteers from all over the world have trusted Love Volunteers to provide meaningful volunteering abroad placements in communities where their help is really needed. Join the world's fastest growing independent volunteering organization on one of our safe, responsible and affordable programs for a truly memorable experience in Vietnam! Become a Love Volunteer, visit our website to check out our range of community-based projects and find out how you can make a REAL difference!