Volunteer in Spain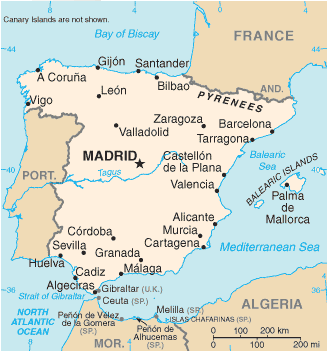 Featured Articles on Volunteer Work in Spain
Speak English? Volunteer in Spain
A unique program where you can volunteer to teach English in exchange for learning Spanish, often set in beautiful locations. Have all your expenses covered and meet incredible people in Spain; all simply for being a native English-speaker.
Volunteer in Spain and Make the Desert Green
Saskia Cornes describes a volunteer program which promotes sustainable living.
Volunteer in Spain: Choose from Several Locations


Roy Barnes on a volunteer experience with a program with branches across Spain, where room and board is exchanged for teaching conversational English.
Volunteer in Spain
We offer immersion Spanish courses all year round at special prices, jobs in hospitality management all around Spain, affordable internships in different cities throughout Spain, culinary arts in top hotels, field trips for schools and colleges, unpaid volunteer programs, Spanish online courses, and Dele preparation exams.
Contact: Instituto Hemingway, Bailen 5, 2 Dcha. 48003 – Bilbao, Spain.
Tel.: +34 94 416 7901. Fax: +34 94 416 57 48
Email: info@institutohemingway.com
Website: www.institutohemingway.com

Featured
Volunteer Adventures in Spain!
GoEco offers a diverse selection of wildlife, humanitarian and environmental projects in Europe. You have the opportunity to choose among several exciting initiatives in Spain. Whether you're interested in wildlife research and ecological farming, conservation, education and development, or hospitality, you can expect the volunteer experience of a lifetime!
Contact: GoEco Volunteering
Tel.: US: +1 646 240 4545. AU: +61 2 8014 9393.
Email: goeco@goeco.org
Website: www.goeco.org

Featured
Connect-123 Volunteer Programs in Barcelona, Spain
Connect-123 links you to volunteer projects in Barcelona, Spain, according to your interests and skills, in human rights, community service, social work, education, and many other fields. Projects include working at a legal advice center, assessing the impact of community-based interventions, mentoring street children, teaching English, caring for infants and toddlers at camps/schools and working with youth regarding issues related to HIV/AIDS, sexuality and adolescence.
What's included: Finding a volunteering project that specifically meets your needs; arranging secure, high-quality, centrally-located accommodation based on your budget; assisting with local transport and providing advice on public transport routes; airport meet and greet service; a complete Spain preparation and orientation information pack; advice, assistance, and guidance before, during, and after your stay; group-rate discounts; and 24/7 emergency support and assistance. We can also arrange Spanish classes, which are optional.
Contact: Connect-123 International Internship and Volunteer Programs
USA Tel: (800) 731 6406 (toll free)
Email: info@connect-123.com

Featured
Volunteer Abroad in Spain for 2 - 52 Weeks
United Planet's Quests offer volunteers the opportunity to learn, teach, work, engage and immerse themselves in a culture outside their comfort zone. Ages 18 and up are invited to enroll. Live in Spain for 2-52 weeks and volunteer working in homes and schools, teaching English, organizing activities, and caring for people living with disabilities or varying medical conditions. Volunteers live with a local host family, participate in cultural activities and excursions, and receive 24/7 support – a true immersion experience that allows you to build relationships that last a lifetime.

Contact: Please give the United Planet Team a call at 617-874-8041 or email quest@unitedplanet.org.
More information can be found at: www.unitedplanet.org and for United Planet's Spain programs at: www.unitedplanet.org/volunteer-abroad/long-term/spain.
Feel free to visit us from 9 AM to 5 PM at United Planet, Boston Harbor Shipyard and Marina, 256 Marginal Street, Boston, MA 02128.

Featured
Diverbo's "Pueblo Ingles"
Discover Spain in an English Conversation Holiday
Pueblo Ingles has been described as an inspiring cultural adventure, an enriching personal journey, and a unique, human experience. Each week twenty Native English speakers are sponsored to stay in a beautiful, picturesque 4-star resort in Spain so they can converse with Spanish professionals who want to improve their English. Accommodation, food and wine are provided in exchange for your conversation. It's a unique and enjoyable experience and the best way to learn about Spain if you don't speak the local lingo.
International Volunteer HQ (IVHQ)
Affordable Volunteering in Spain
International Volunteer HQ (IVHQ) offers affordable volunteer abroad programs in Barcelona, Spain from US$575 for one week with the possibility of extension. Volunteers can participate a wide range of volunteer abroad projects available in Spain, including Teaching, After School Support, Marine Conservation, Agriculture, Special Needs Support, Creative Technologies and Renovation. IVHQ sends thousands of volunteer travelers worldwide annually—you will not find a more affordable, high quality and trustworthy volunteer travel company.
Sunseed Desert Technology
Volunteer in Andalucia, Southern Spain
Sunseed Desert Technology aims to develop, demonstrate and communicate accessible, low-tech methods of living sustainably in a semi-arid environment. They are based in the province of Almeria in the eastern part of Andalucia, Southern Spain. Every year up to three hundred international volunteers come to work at Sunseed Desert Technology staying for between a week and several months. Volunteers can work in all of our departments which include: Appropriate Technology, Organic Gardening, Dryland Management and Construction and Maintenance. All volunteers and staff also share the communal cooking and cleaning duties. Volunteers pay a weekly donation towards food and accommodation, this money almost entirely funds the work of the project.