Volunteering in the Philippines
Volunteer for the Visayans in the Philippine Island of Leyte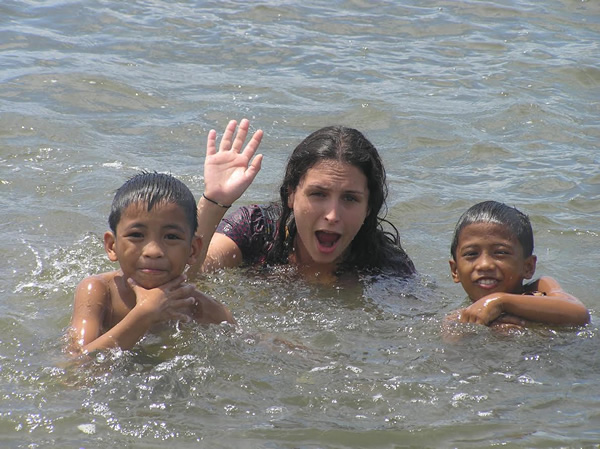 Volunteer swimming with the children.
As I turned the corner in the narrow alleyway of Barangay 64, a dozen hands suddenly reached toward me. They belonged to local children aged five to fifteen.
"Hello."
"Hi."
"What's your name?"
"Where are you from?"
The questions came as fast as the many smiles. These children learned long ago that a new foreign face meant a new volunteer and volunteers played games with them, took them on excursions, tutored them in their studies and offered them a lot of attention. They fast became the informal welcoming committee for all new recruits with Volunteer for the Visayans in the Philippine island of Leyte.
After several years of traveling around the world, I decided it was time to give something back. I signed up with VFV (Volunteer for the Visayans) through a tour operator specializing in volunteer placements. There are numerous volunteer options, but VFV appeared to be exactly what I was looking for, so I enrolled. I have not regretted doing so for a moment.
Children clown for camera.
VFV was founded in 2004 by two Americans who lived in the area and wanted to do something for the community. Today it is a locally run, not for profit, NGO which focuses on placing international volunteers in community programs in and around Tocloban City, the capital of Leyte. Emphasis is placed on introducing volunteers to Filipino culture. Volunteers stay with local Filipino families in clean private rooms, with breakfast and dinner included—just don't expect hot water. The home stay experience truly constitutes immersion into the Filipino way of life. My family consisted of the grandmother, the grandfather, their son and his wife and their three-year-old child—plus any number of relatives and friends who would stop by and wind up spending the night. The meals were great and the family treated me like one of their own. When applying direct to VFV the room and two meals come at a bargain of only USD15 per day.
What makes VFV unique is the young and talented staff that oversees their many programs. It did not take them long to earn my admiration for the programs they have created.
How the VFV Program Works
Prior to arrival you may choose from one of the following available placement options:
Medical: Individuals with medical or nursing training can be placed in neighborhood clinics or hospitals to assist local staff with medical procedures or in the operation of the clinic.
Teaching: Volunteers proficient in English can be placed in local schools to teach students and assist teachers with their classes.
Street Children: VFV has a partnership program with another organization in the city of Ormoc to volunteer in a reception center for children taken from the streets or who are in trouble with the law.
Upon arrival in Tacloban City, a staff member will meet new volunteers at the airport and you will experience your first jeepney (local version of a taxi/bus) ride to the VFV office. Next you are introduced to your home stay family. The following day concentrates on orientation and perhaps involves an excursion to see some of the other programs run by VFV such as the dump-site program, the youth club program, the local tutoring program, or the housing assistance program. You will then be introduced to your "partnered child." These children have been selected on the basis of need to be sponsored by overseas patrons who pay USD25 a month to support their school expenses such as uniforms, books, tuition, school supplies and, in some cases, school lunches. The children are also part of a mandatory tutoring program to assure success. Volunteers do much of the tutoring and take the youngsters with whom they are paired on organized excursions, as well as other VFV activities. The youngster's interaction with international volunteers develops a confidence and sophistication that may prove valuable in later life and also greatly improves their English.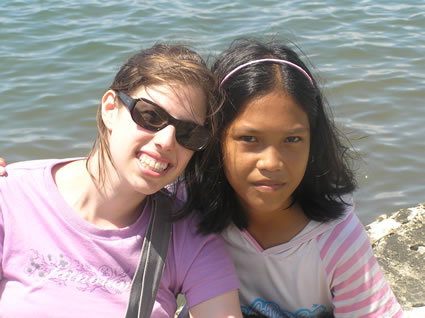 Volunteer and her partnered child.
My partnered child was also in the Algebra class I was tutoring and I nicknamed him "professor" by the end of the first class.
"Hold on, professor. Give the others a chance to answer."
We went to the beach, took trips to McDonald's, and visited a few resorts. It was a great experience for both of us.
Children clown for camera.
More on Volunteering in the Philippines
The Philippines is a poor country with many people living below the poverty line. Nevertheless, natives are some of the friendliest, most welcoming people I have met in my travels around the world. Most speak English.
Programs like VFV provide a rewarding and needed service.The peak period for volunteers tends to be the college vacation months of July and August. Retirees and others with time to spend during the rest of the year are very welcome. Contact: Volunteers for the Visayans; www.visayans.org.
Additional Volunteer Organizations
The following organizations place volunteers with programs throughout the Philippines:
Experimental Learning Institute (ELI): Volunteer Program in the Phillipines
ANAK-Tnk, a Manila program.