Volunteering in Liguria: Organic Farm Work the Italian Way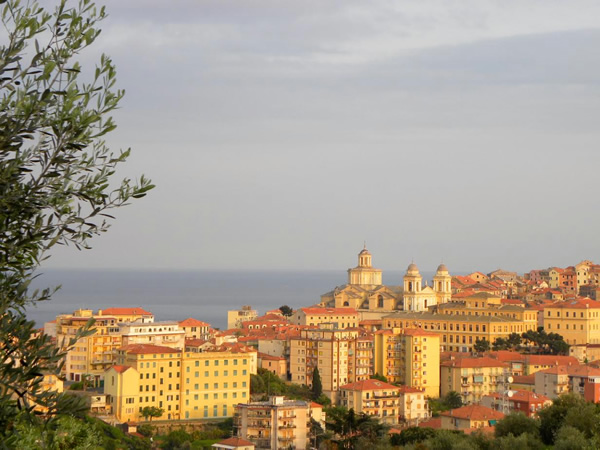 A view of Imperia, along the northern Italian coast.
When my train pulled into the Imperia Porto Maurizio station after the seven-hour journey from Florence, I wasn't sure what to expect. My email correspondence with my host for the next few months had been brief and sparse at best.
After waiting 25 minutes outside the station, Alberto finally pulled up in a beat-up pick-up truck. My fears of finding a place to stay vanished, and I tried to make myself comfortable on the ripped seats of the truck while my smart black rolling suitcase was unceremoniously chucked in the back. Alberto offered an easy smile and had bright blue eyes common to many northern Italians—light hair and pale eyes that many foreigners can't reconcile with the dark, sultry image of people from the country.
Willing Workers on Organic Farms in Italy
I'd been trying to set up a WWOOFing trip to Italy since college, but I'd been waylaid by job offers, last-minute cancellations, and finally my own marriage and associated move. After studying in Italy, I'd longed to return, not as a visitor, but as a resident with a place to stay and work to do. The Italian WWOOF Association, with its low-cost abundance of homestay and volunteering options, and simple sign-up process was my best opportunity.
Before booking my trip and in the weeks leading up to my departure, I'd read every article about WWOOFing that I could get my hands on to prepare myself for the experience. Despite the fact that thousands volunteer around the world each year, there was surprisingly little detailed literature on the subject, but one story about WWOOFing in Italy from the Guardian was burned into my memory. The writer and her friend worked in the garden each morning, enjoyed a filling lunch made from local ingredients with their hosts, and set out each afternoon to explore the Tuscan countryside—even taking advantage of local thermal hot springs to nurse their sore muscles.
Sounds idyllic, right?
I chose the WWOOFing location for two very specific reasons: the Wi-Fi (terrible, I know) and the view. When Alberto's listing on the Italian WWOOF directory was first discovered, I looked up the location and couldn't believe my eyes. An online satellite view of this corner of the earth revealed a brilliantly emerald and sapphire land with verdant hillside gardens appearing to touch the Mediterranean Sea.
Imperia, a popular summer beach town in the long, meandering Italian region of Liguria, also called the Italian Riviera, lies so far up the western Italian coast you're practically in France. In fact, it can be faster to take the express train into Marseilles, France and travel back on the regional to get there. Instead, I chose the slow route, meditating on the impending stay while the entire coastline of Liguria passed by my window, from the narrow tunnels offering fleeting glimpses of the UNESCO Heritage Cinque Terre villages through the eight separate stops for Genoa on south and west through Savona, the hometown of Christopher Columbus. When I finally stepped off the train and looked toward the coast, the canary yellow and rose hues of the late afternoon Italian sun threw the mustard-beige stucco buildings and their terra cotta roofs into sharp relief against the moody, gray afternoon expanse of the Mediterranean stretching west toward Spain.
Work Begins ...Slowly
My first day at the agricola was, however, less idyllic than I'd imagined. My host took off on some other errands leaving me with a fellow WWOOFer (as the family charmingly called us in heavily accented Italian). Caro had been with the family already for several months and had familiarity with the property, but not so much the language.
Our morning began picking some greens for the market. I donned gardening gloves for a while, but quickly eschewed them, thinking that as with cooking, the plants should be felt with bare hands, not through gloves. (A sun rash and the thin spikes of the delectable borage plant would soon teach me otherwise.) Though I wouldn't know until I returned home, these "bietole," which I thought to be greens related to beets, were actually broccoli rabe, prized in Italian cuisine.
We made our way through the ruins of last year's garden—hard, caked earth splintered into 8-inch diameter chunks where the tractor had passed through—foraging for the remains of the wild plants, tearing down old trellises, and pulling out used irrigation piping and testing it for holes. I quickly learned to recognize the site of wild borage by day, with its prickly stem and bluebell-like flowers, and the taste of it by night, when we enjoyed huge bowls of borage ravioli that a local pasta maker cooked up for us.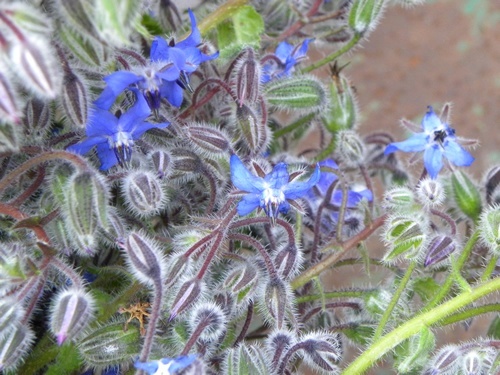 Wild borage, which is a tasty and widely used herb in Italy and Europe.
The first week went by without truly comprehending what we had been up to this whole time. We organized the irrigation tubing by size, foraged around for the very last bietole (akin to Swiss chard), and attacked some particularly difficult ground with hoes and spades.

If someone had just offered up a diagram, or even a big picture explanation, of what we were doing, I would have felt some sort of sense of accomplishment. Perhaps we would have been able to suggest a quicker way of completing our tasks. Instead of spending the day learning about organic farming with my Italian host, I felt as if our random tasks had no meaning except busy work.
Finding a Role on the Organic Farm
Each day began slightly differently on the agricola, depending on the day of the month and demands of vendors. A small routine began with the arrival of flats of lettuce planticelle (baby plants), which needed to be put in the ground quickly and watered profusely.
Finally, a project! A plan! A task I could complete from beginning to end with a sense of purpose!
Or so I thought.
My husband likes to call me "high-powered" when I am in work mode. But there's nothing like a rural environment to show you how relaxed you are...or aren't.
First, we hoed in a long line. Not sure why, but we could handle that. Then we laid out irrigation piping in certain places. Then we hoed another mini-ditch on the other side. After fussing over the spacing to my confusion, finally, a co-WWOOFer set up a roll of black plastic and it all became clear.
After a frustrating trial and error ordeal, I figured out from my co-WWOOFer's broken Italian how to set up the irrigation system and poke holes in the plastic that were not too big for weeds to break through, but not too small a fit for the planticelle.
Each few days for several weeks, more lettuce plants arrived. With the system perfected, I could happily spend afternoons in the garden, racing to get them finished, until one unfortunate morning.
Much to my host's sadness, we started to harvest the lettuce plants that had been planted just a week before my arrival.
"Sono ancora piccolissime" (they're still so tiny), Alberto lamented, urging us to choose only the largest heads to fill our market baskets. I learned how, with just a kitchen paring knife, to separate the head of the lettuce from the root right at the base of the lettuce such that new leaves could grow around the ghost of the old head.
It was frankly a bit sad to cut down these little greens in the prime of their adolescence. But one day, everything started looking up. Literally.
Making Italian "Work Friends"
Alberto had been trying diligently to build a woodshed out of recycled wood for months, but after the supervisor of the crew restoring his house looked at the structure, our lunchtime conversation turned entirely to roof building.
Soon, the two worked out a plan to get the roof back on track: Alberto traded Caro and me for the supervisor. From now on, we were part of the crew working on the house. While the two-for-one deal seemed like an outnumbered trade for the woodshed effort, it was actually the house that got short-shifted. Carolina had no patience for spackling. Fortunately for me, that meant one-on-one time with new Italian co-workers.
Even with a degree in Italian literature and year at the University of Florence, I would often only really comprehend one out of three sentences or so early in our collaboration. Southern Italian accents can be nearly incomprehensible to northerners and my Florence-trained ears were no exception.
We worked in short bursts, as long as our buckets of spackle lasted, conversing all the while. Pushing through my initial days of short replies to half-understood questions, I discovered startling commonalities with these workers. From discussions of pop music to high literature (it seems all Italians really can recite great works of poetry) to our respective hometowns, I learned that one of the workers actually had family where I lived in California. We spent the afternoon discussing the finer points of the Santa Cruz mountains and coastline, a conversation I would never have expected to engage in while suspended 15 feet in the air with a worker from Calabria while gazing out at the Ligurian Sea.
The workers changed the entire schedule of our days: fewer hours of work, but somehow with more accomplished. Alberto's wife would make us espresso when she returned from the gym in the morning, and everyone would chat in the sun on the terrace until some outside force reminded us there was work to be done. Luncheon conversation turned from family catching-up to raucous conversations about the man from the train who had the audacity to phone Caro at the house in the middle of the day. The Calabrians alternated between over-protective, "you really can't even imagine what these young men are thinking," and "meh, you're young. Have fun."
Lingering for hours while the artichokes were peeled, pasta was cooked, meat and cheese were served, and espresso was brewed, we discussed a variety of topics. We compared university systems in different parts of the world (with representatives having studied in Switzerland, Italy, the U.S., and Brazil). We learned about the changing labor patterns of rural Italians (modern technology means they don't have to work as hard, but they keep eating the same number of calories).
Whether we were actually getting things done or not, this was work that both fun and fulfilling, and above all, free from the stress of expectations. We did what we could in the time available, and what was required was completed. We stopped for coffee, conversation, cigarettes, and extended lunch breaks. But we worked hard, and we spackled the whole house, built the woodshed, and planted all the spring vegetables.
From crawling on hands and knees upon dry, cracked ground, frustrated and confused, I'd risen three levels up on the scaffolding, and my whole body felt lighter in more ways than one.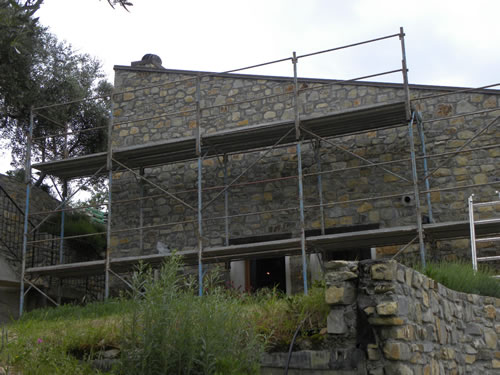 Scaffolding used while fixing up the house.
The Fruits and Vegetables of our Labor
On the evening before my departure, I stole down to the garden to take some pictures of the fruits (or rather vegetables) of our labor. Together, Caro, Alberto's son, and I had prepared the earth, laid irrigation piping, and planted thousands of planticelle.
What had been a mess of dead plants, plowed ground, and tangled tubing just weeks before was now an orderly, thriving commercial garden bursting with eggplant and tomato towers, garlic and onions under fragrant, freshly-chipped olive wood mulch, and shining heads of lettuce poking through the black background of corn "fabric" designed to keep their roots safe and warm.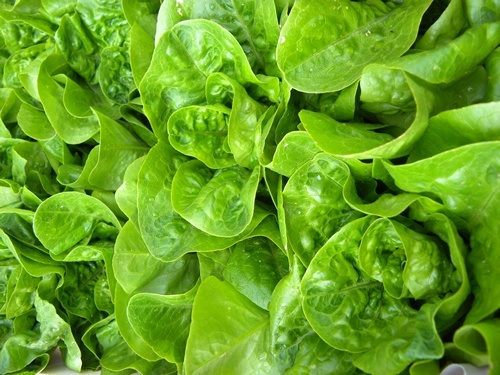 Gleaming heads of lettuce are one result of our volunteer work.
We discovered a well-ordered image of overwhelming success. And though these vegetable were just a small part of the agricola's operation (most of their land is devoted to olive trees and basil plants), it was satisfying to feel that my efforts had contributed to the project.
When you live in another country, the things you imagine being difficult are never the frustrations that keep you up at night. You've already worried about them, and anticipated a host of possibilities. It always seems that the unexpected ultimately gets to you.
During my first year living in Italy while a student in Florence—no matter how exhausted I was at the end of the day from straining to understand the beautiful sounds of a less-and-less incomprehensible language—communication issues were never a bother. The biggest adjustment was actually living in an urban environment, and the accompanying noise, pollution, and lack of greenery. This trip, while overly-blessed with verdant views, thrust my American work ethic sharply in the face of the unique Italian sense of time and hard work.
Photographing the terraced gardens where I had spent the last months creating rich green life where there was none, I couldn't help but feel a relaxed sense of satisfaction that's hard to come by when you're constantly driving yourself to be better, more productive, and more efficient. Instead, there I discovered a refreshing new way to work less tenaciously while still accomplishing a lot.
The peaceful garden, growing slowly in the background until the plants one day surprise you with their fullness, ripeness, and size, seems the perfect living symbol for such a lesson.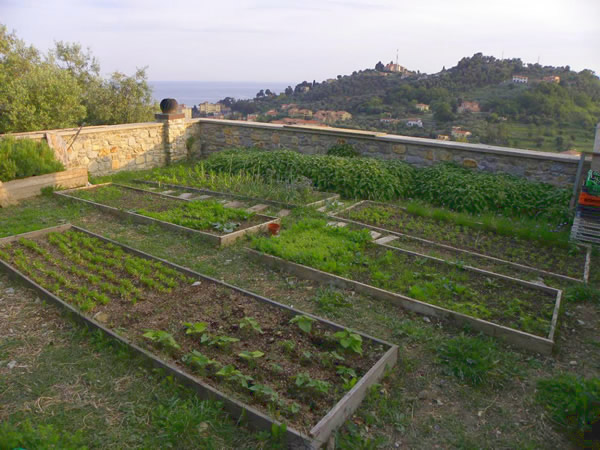 The peaceful organic garden overlooking Imperia and the sea.
More Information on Imperia
With more restaurants and accommodations than smaller neighboring towns, miles of beaches, many piers and marinas for wandering during the evenings, Imperia makes an ideal base for exploring this section of Liguria.
Two train stations service the two sections of the town, Imperia Porto Maurizio and Imperia Oneglia, separated by the concave shoreline. The best way to travel between the two distinct areas is along the high, hilltop road, while the coastal road is under construction and the pedestrian path is closed in several parts.
You can actually stay with my host family in their agro-tourism apartment overlooking the sea without the manual labor. Tecnocasa offers apartment rentals in the city, and the Hotel Robina, part-way up the hill near the Porto Maurizio train station, has some of the city's most expansive views.
WWOOFing in Italy
The Italian WWOOF Association officially began 2001 and now includes hundreds of hosts in all regions of the country.
You must be 18 to join the Italian WWOOF Association. Memberships are available online at wwoof.it for 35 Euros per 12 month period. When you join, you receive immediate access to the host list to begin planning your stay. Membership also grants access to the WWOOF Independents list, featuring opportunities in countries that do not have a formal WWOOFing program.
You cannot work without a membership, as it provides accident insurance covering both WWOOFers and hosts.
Sample opportunities: