How to Put Professional Skills to Use As a Volunteer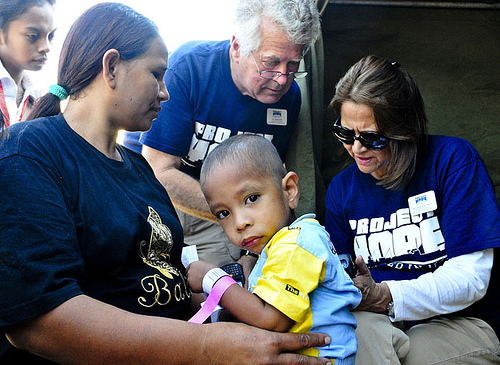 Project HOPE volunteers examine a Timorese boy at Pacific Partnership medical site in Dili, Timor-Leste. Photo by Naval Surface Warriors.
The ranks of international volunteers are often dominated by bright-eyed high school and college students with more enthusiasm than experience. Whether building a home for a marginalized family or protecting turtle hatchlings on their way to the sea, unskilled volunteering can provide a valuable service, not to mention an eye-opening experience for the volunteer. Those farther along (or even finished with) their career, however, can offer specialized skills that are invaluable for hosting organizations.
Engineers to Veterinarians, Firefighters to Farmers
The best way to take advantage of unique skill sets is often through organizations that share that specialization. Engineers, in particular water engineers, are in hot demand in developing countries across the globe. Veterinarians (see box below) volunteer to train local communities on animal health care, deliver vaccinations, or educate families about food production, nutrition, husbandry, and disease control. Emergency Response Services for Latin America (ERSLA) in Nicaragua seeks to shore up local emergency response efforts, so firefighters who know extrication or brush fire techniques, or nurses who have first-aid training, are used to support or train the local emergency response trainers. Permaculture specialists can put their skills to use at demonstration farms in Ecuador, Mexico, and Nicaragua. In Bolivia, the organization Mano a Mano utilizes volunteers with skills in a wide range of areas including data research, literature review, translation, medicine and even film editing.
Medical Volunteering
Of course, the opportunity that often comes to mind for volunteering professional skills is medical volunteering (nurse, doctor, dentist or EMT). While I was living in Honduras, I regularly read about medical volunteers in the local papers, and bumped into matching t-shirt brigades from time to time in the airport or at a hotel. (High school students in my kids' bilingual school did their own volunteering with brigades, working as translators.) Operation Smile sent frequent delegations to Honduras to repair cleft palates and perform other complicated surgeries on their visits. The brigades were supported by Honduran dentists who benefited from the chance to learn new techniques for difficult surgeries, and local groups like Rotary fundraised to support the treatments. Cardiac surgeons came to perform complicated heart surgeries, training local doctors and bearing equipment that was left behind for follow-up care. These are ideal examples of talent sharing that reinforced local skills.
Sadly, one group of doctors and nurses that I bumped into in a hotel in southern Honduras was not so efficacious. While the group was admirably traveling each day to remote villages without medical care, the one-off visits precluded ongoing care, no matter what conditions the patients might have. One nurse confessed to me that it felt like they were handing out aspirins to cancer patients. If you have medical skills to offer, make sure that the opportunity you are considering has the ability to make an impact and is effective in its use of volunteer skills. There are plenty of great opportunities out there, so no need to settle for less.
While brigades (short-term group visits) are good for those with a week or two to spare, those who can consider a longer commitment can look into volunteering at a local hospital or community health clinic.
Get Paid to Volunteer?
Well, not exactly, because it wouldn't be volunteering then, would it? However, ACDI/VOCA and Global Communities: Partners for Good do pay all costs related to your volunteering stint, including airfare, food and accommodation, visa fees, immunizations and more. Volunteers have a minimum of five to ten years' professional experience, and consult on projects in the areas of agriculture, climate change, community development, economic growth, global health, local governance, and more.
Similarly, the Peace Corps isn't just for freshly-minted college grads any more. Once offered only to former PC volunteers, the Peace Corps Response Program now offers short-term (3-9 months) specialized overseas assignments to Americans with at least 10 years of work experience and medical professionals. Assignments include university-level teaching professionals, disaster preparedness and mitigation coordinators, physician and nurse educators, and microfinance training consultants. Unlike the regular Peace Corps program, volunteers can apply to specific positions in the country of their choice, and in addition to covering expenses, Peace Corps gives volunteers a small readjustment allowance for each month served when they return home.
Volunteering from Home
What to do if you have the skills, but can't get away from home? A website was recently launced by the United Nations Volunteer organization to connect volunteers with professional skills with needs at UN agencies and their partners around the globe. I recently completed a 3-week online volunteering stint with a UN office in a former Soviet republic, providing a report about best practices in community based tourism. Opportunities range from technical skills to translation, all to be implemented via the internet. Several opportunities are in English editing, computer skills, translation and graphic design —competencies that many non-governmental organizations (NGOs) around the world would be eager to utilize. If you have expertise in any of these areas, a quick Google search is likely to turn up direct opportunities with many more small NGOs in the country of your choice.
For More Information
Here are few more organizations from my guidebook Moon Volunteer Vacations in Latin America that utilize volunteers with special skills:
Medical
Veterinarian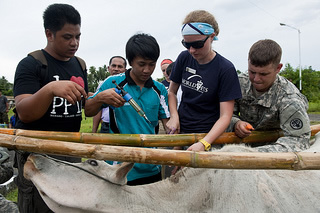 A World Vets volunteer and an Army Specialist work with a local Indonesian veterinarian to administer inoculations to a cow. Photo by Official U.S. Navy Page.
Connecting with Other Resources
Each of the articles listed below give a brief overview to mid- to post-career volunteering, with links to further resources.
Professional Services Volunteering Over 50: How to Volunteer for Non-Medical or Teaching Professionals by John Dwyer
All you need to know: Volunteering in international development, humanitarian relief by Devex Editor
Amy E. Robertson is a travel writer and author of several guidebooks for Moon Handbooks. Her work has also been published in Travel + Leisure, National Geographic Traveler and Budget Travel, among others. Amy is married to an Italian and has traveled extensively in Italy. She has lived in Ecuador and Honduras, and traveled in 12 other countries of mainland Latin America. Amy currently divides her time between Beirut, Italy, and Seattle. She has a background in international development and nonprofit management, and has worked in both private and nonprofit sectors.