The Guide to Volunteer Work on Farms When Traveling
Where and How to Combine Cultural Immersion and Enjoying the Local Land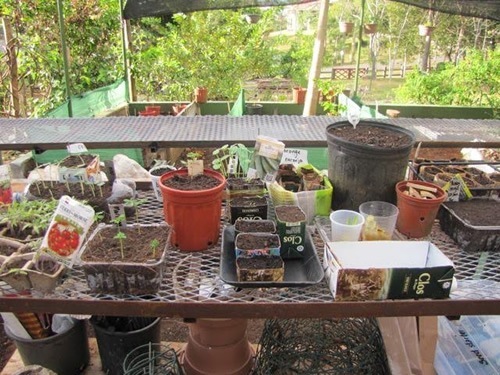 Volunteer work on a farm and can involve creating mixed seedlings.
Just about everyone these days have heard of WWOOF, and without a doubt, the idea of volunteering on farms is largely on the rise in the world of travel. In fact, with the development of several organizations with websites offering similar offerings, opportunities have increased exponentially as have the travelers (and hosts) who are taking advantage of the arrangement. It is a great solution for those on a budget (both travelers and hosts), but a farm-stay can offer so much more to everyone connected.
If you've never traveled in this way, undoubtedly whether you are the penny-pinching tourist, the keen adventurer, the outdoors lover, or are interested for some other reason, you are likely curious how the whole thing works—from lining up a volunteer position to what the expectations of both the host and traveler should be. Here we will provide a guide offering the essential information to get you started.
How to Find a Farm
One of my first jobs as a volunteer was building a chicken coop and roost. It was done from found materials around the farm.
In essence, sites like WWOOF, WorkAway, and HelpX are the global version of the classifieds for volunteers. Posts can be in the steamy jungles of Amazon, or they can be amongst the chilly expanses of Canada. In reality, if you are interested in going somewhere, then it is safe to assume that volunteering is a possibility at that destination.
However, there is more to think about than just the location. For example, a vegan may not be too inspired by the prospect of milking a goat, or an avid gardener may care less about building an eco-friendly cob house. Luckily, websites usually provide plenty of information about each farm. Look for something that you'll enjoy doing and learning. That way the work itself is a rewarding part of the experience.
There are other things to consider as well. Hosts who put more effort into explaining their projects will likely put equal passion into the work itself, which makes it more inspiring as a volunteer. Think about where a site is in relation to what you are seeking as a tourist: Some isolated location will probably not be great for architectural sightseeing or discos. On the other hand, a volunteer post described in broken English might be a perfect sign for someone wanting to practice the local language. It's basic: Consider the pros and cons of each place, and you'll get more out of the experience.
How to Acquire a Post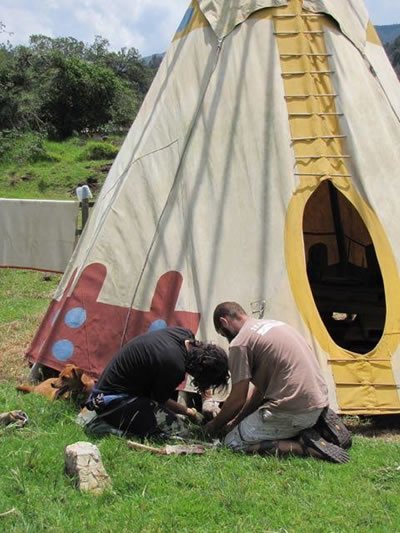 This tipi was at a farm in Colombia and was my first to ever sleep in. Not only that, but I was allowed to help taking it down and putting it back up.
With WWOOFing's rise in popularity, many hosts are afforded the luxury of being selective (just as you have had the luxury of being selective about the farm). As a result, volunteering has actually become competitive, especially for those traveling during busy seasons. Therefore, applicants who put in more effort and show more interest in their inquiries are the ones more likely to find the positions they really desire.
If you've chosen a farm mindfully, this should be no problem. Just tell the host why their place appeals to you. Briefly (and humbly) share any experience you have (don't worry if you have none, since enthusiasm goes a long way). Even go so far as to express in a line or two why the region is of particular interest in terms of your travel plans. Be concise but also be friendly and inquisitive. A host would much rather someone who views the exchange as something more than a free place to stay.
There are also some specific strategies that can help. Be sure to apply to a few different farms, as if trying to find an actual job. Start sending your queries out at least a couple of weeks in advance, and better yet a couple of months. It's possible to find positions in a week, but it's easier to be a little bit more selective if you allow yourself a longer lead time. Ask for about a 2-week stay at first, as it prevents potentially feeling trapped should the experience not live up to expectations. Many hosts follow this rule as well, feeling out volunteers before granting longer stays.
What to Expect as a Volunteer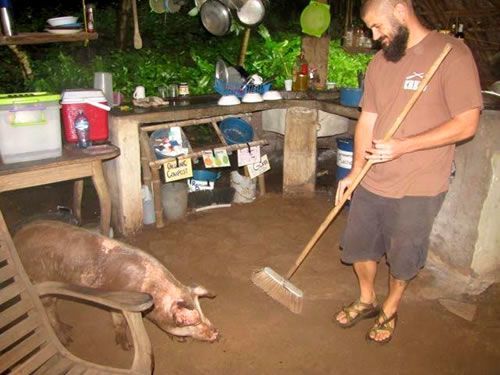 On my first morning at a Totoco Organic Farm in Nicaragua, I woke up to the sound of this pig routing around in the open-air kitchen below my loft.
For travelers, volunteering on farms often equates to much more than room and board. It provides access to more remote regions and a deeper experience of a culture, subculture, and a country. Farm work as a volunteer helps put us in tune with the weather, the landscape, the flora, and the fauna. We are likely to connect immediately with people who know the area well, who can provide us inside tips on where we should go, the type of local fare we ought to try, and why customs are as they are. The experience also teaches us something new about farm volunteering, perhaps how to build a mud house or make rich compost.
The typical exchange involves a place to sleep and food for your work. Accommodations take almost any form: a dorm bed, a private caravan, a guestroom, a tipi (seriously), or a loft in a barn. There should also be functional amenities like bathrooms and an operational kitchen, but luxuries like heating and air conditioning might not be available. Most hosts will provide blankets and pillows, perhaps even towels; others will be surprised that you don't have a sleeping bag. Often a volunteer's first duty is to clean up the living space in order to be comfortable.
Food will be provided. Most hosts spring for all three meals, but some scrimp (just ask them if it's a worry), and might skip one out. More often than not, cooking duties will be a DIY affair with the occasional team effort for host-volunteer bonding. The food is usually basic (often vegetarian) fare such as beans, rice, vegetables, fruit, bread, cheese, and pasta. Most hosts are obliging to dietary restrictions, but if not, they typically shout about it in the ad: "No vegans allowed!" or "No meat allowed!"
What the Host Will Expect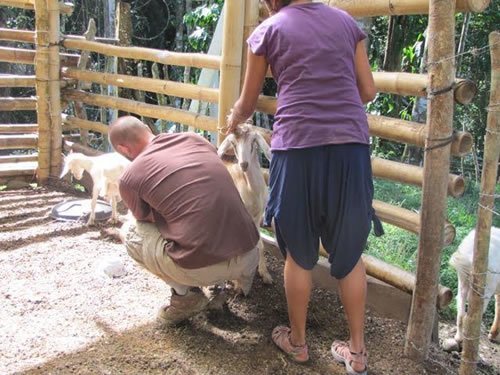 After holding out for cheese made "the right way," it was this experience, milking a goat in Costa Rica, that fully converted me to veganism. Nevertheless, I very much respect this farmer for how she loves her animals.
For hosts, volunteers bring a lot to the equation as well. Sometimes, without volunteers, a host's project wouldn't be possible. Often the work will be physically challenging, hot, wet, or repetitive. Nevertheless, good hosts won't ask that volunteers do anything they themselves wouldn't. Jobs can vary greatly, ranging from childcare to digging ditches, harvesting apples to planting seedlings. Some hosts are very loose about it all, offering options and opportunities for personal creativity. Other hosts have a more precise goal in mind in terms of the work to be completed.
Whatever the individual situation, what all hosts seem to seek are self-motivated volunteers who dive into tasks rather than waiting for constant instruction. Hosts like people with their own ideas and a genuine interest in what they are doing. Volunteers who can share, not just in the work, but also the communal task of living, such as cooking or cleaning up, are all the more welcome. In general, the less a volunteer appears to be someone simply there for a cheap place to stay, the more such motivated individuals make a host feel comfortable and confident.
Otherwise, the nitty-gritty of the arrangement is that hosts expect about five hours of work, five days a week. The details may vary somewhat depending upon the farm and site (WorkAway has strict rules about five hours and no more), but this is standard practice. Sometimes, fees are required (WorkAway has strict rules against such a practice), which more or less covers the cost of feeding you. Nevertheless, while asking fees for food seems to be a regional and often common practice in some countries, like Costa Rica, it is more unusual in other regions, such as Spain. Again, the more information the host provides in their write-up about the volunteer position, the better idea you'll have about what is expected. Generally, if there isn't much documented about what you'll be doing, anything can and may happen.
What Else Might Help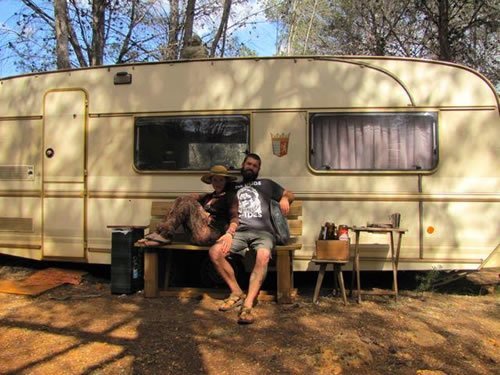 My wife and I propped against our caravan in Alozaina in Andalusia, Spain. It's amazing how quickly places start to feel like home.
For every volunteer post, there seems to be a sweeter deal available for those contributors have who have open schedules and personal drive. Often when hosts discover that good people can stay indefinitely, they offer them small salaries or increased perks—such as personal projects or improved housing—to influence them to stay for a longer period. It's common to see a 2-week stint turn in two months or even two years in some cases. For a traveler, that equates to real adventure, often at little or no extra cost. There is the potential to travel in this manner for a long, long time.
Another option is to seek out actual paid work, usually something along the lines of picking seasonal fruit and vegetables. Paid seasonal work opportunities seem more common in affluent countries, such as Australia, New Zealand, Europe, and the U.S. In such circumstances, the position will be much more like a job, with a schedule (typically long hours) and a paycheck (typically meager). These types of positions will likely require visas and paperwork. The experience will still be rich and eye-opening, but it may allow for far less free time to do what you enjoy.
Whichever option you choose, or a combination thereof, farm-stays can most certainly add something unique when it comes to experiencing a country and traveling. There is a remarkable and almost instant camaraderie amongst the people you'll find in such farms around the world, as well as a wealth of information available about other spots to volunteer or to visit. You can pick up all sorts of interesting skills, learn about new ways of living, and develop friendships that span borders and ages. The biggest challenge is simply finding the courage to do it the first time. After that, the whole process just makes sense, and you will ask yourself what took you so long to start this unique and rewarding way of traveling.
| | |
| --- | --- |
| | Jonathon Engels has been an EFL expat since 2005, just after he earned an MFA in creative writing and promptly rejected a life teaching freshman composition. He has lived, worked and/or volunteered in seven different countries, and visited many others between them. Currently, he is traveling through Central and South America. For more, check out Jonathon Engels: A Life Abroad. |