International Teaching Job Fairs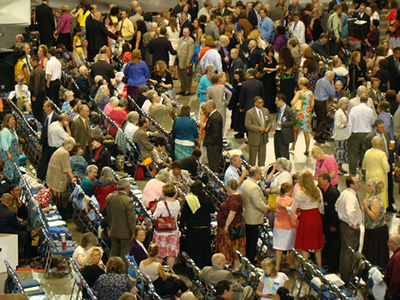 "The bulk of teaching opportunities abroad are for English teachers. You can obtain formal credentials in Teaching English as a Foreign (or Second) Language (called TEFL, TEFOL, TESL, TESOL, or ESL) in a one-month course or a two-year MA program. (See the Directory of ESL Training and Placement Programs).

Qualified K-12 teachers have another range of options: Scattered around the world are at least 800 U.S.-style international elementary and secondary schools which employ around 35,000 American educators. To find a position in one of these schools you can either conduct your own job search—using the resources on this page—or sign up for one of the recruiting fairs listed below.

Attending a recruiting fair is probably the easiest way to find a teaching job overseas. Some fairs charge fees; others are free. Most charge a fee if you receive a job offer. Some restrict the number of participants or have early registration deadlines." —William Nolting
See A Teacher Job Fair: The Inside Story by Joseph W. Keleher for an in-depth story about his experience at an overseas recruitment fair.
Note: See the websites below for more information about the job fair dates and locations that often change yearly.
International Schools Services. International teaching fair dates year-round in cities such as Washington, DC; NYC, NY; Atlanta, GA., as well as virtual fairs.
Council of International Schools, U.K. Office is a membership community which provides a database of job fairs worldwide and year-round. CIS is a not-for-profit association and a good resource for international education. They also provide teacher and administrative recruitment services. There is no fee charged to candidates, either for registering with CIS or for securing a new appointment through their services.
Search Associates. Offers international teaching job fair dates at locations worldwide. Membership is required for a $225 fee.
TESOL International Association. Primarily a convention for ESL (English as a Second Language) teachers. All levels. Good placement opportunities worldwide. Convention/fair dates: Varies each year. Check website for current dates. Membership is required.
University of Northern Iowa Place Service for Overseas Educators. Fair date: Usually in early February. More than 100 American International Schools will be recruiting from some 70 countries with over 1,000 teaching positions posted annually
William Nolting worked for many years at the University of Michigan Overseas Opportunities Office for many years and was the International Educational and former Work Abroad editor for Transitions Abroad Magazine.