Teaching English in Bangkok
Find Jobs Fast in a Laid Back Culture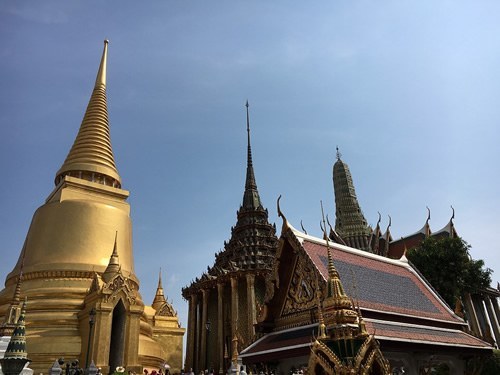 The Grand Palace in Bangkok.
My hands were glued to my head in prayer. Before I could realize what had happened, the monk had finished his blessings and departed. It was only ten seconds long, but it felt like I was turning the key to the door of some sort of mystical cultural immersion. Since that fateful morning, I have given alms several more times and each time I felt like I was waxing and rinsing the inner depths of my soul. Thus, the saying: "It is better to give than to receive" rings forever true in my heart.
With a population of over 14 million, it is hard to believe that the most visited city in the world still maintains its ancient traditions. Whether you are interested in studying Buddhism, shopping at world-class markets, or just experiencing an up and coming unique culture, Bangkok has a cornucopia of opportunities for the backpacker full of wanderlust. Furthermore, because of its lax visa regulations and laid back culture, it is possible to land a job within ten days of arrival.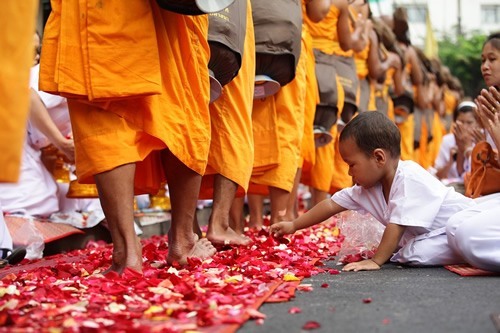 A boy reaching for rose petals during a Buddhist festival in Bangkok.
Before You Arrive in Bangkok
Before purchasing your ticket to Bangkok, you should consider traveling to other parts of Thailand or visiting neighboring countries as well. In addition, traveling by air and bus is extremely cheap in South East Asia. So if you have the desire, it is better to enjoy your travels before committing to a teaching contract. Thailand offers some of the most spectacular beaches on the planet. So the jeweled turquoise waters of Phuket could be the perfect peaceful retreat before suiting up to teach in Bangkok.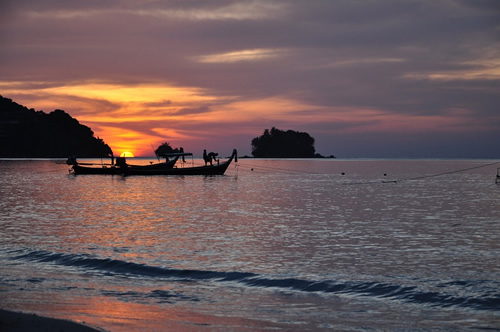 A fishing boat at sunset off the coast of Phuket is worth the visit to experience.
Tourist Visas
With exception of Vietnam (which requires obtaining a visa at a Vietnamese embassy or consulate), most South East Asian countries offer visas upon arrival. Thailand offers U.S. citizens a 3-month visa if arriving by air and a 15-day stay if arriving by land. The time limit may be extended for an additional seven days by paying a 1,900 baht (US$54) fee to the Thai Immigration Bureau Office. Longer tourist visas may also be obtained, but this should not be necessary if you are planning on working in the country. It is important to note that your passport should be valid for longer than six months before traveling.
What to Bring to Thailand
Although Thailand is a hot and tropical country, most classrooms and offices can be frigid due to the A/C. Therefore it is important to pack a few light long-sleeved articles of clothing as well. For men, it is recommended to bring long slacks, long- and short- sleeved dress shirts, and ties. For women, tastefully long skirts, pants, and business attire tops will do the job. Nice shoes should be packed as well. Like most Asian countries, Thais are very concerned about physical appearance. Facial hair is generally frowned upon. I had a beard for months while traveling in India, but had to shave it when I moved to Thailand.
Razors and shaving cream are often more expensive overseas, so it is best to pack some of your own. In addition, bring a memory stick containing your resume, professional headshot as digital photos, and uploaded images of your degrees and certifications. Pack in a separate folder several passport photos, at least three letters of recommendation, and copies of all of your degrees. Also, it is imperative that you have an updated guidebook on you. Lonely Planet Thailand (Travel Guide) is part of a highly-rated guidebook series. It is also recommended to complete an online criminal background check and print out the results. This is required to get a job. Rates range from US$10-$40 and results are often instant upon payment.
Arriving in Bangkok
Search for a Taxi outside of the Bangkok airport. These are usually flashy, hot, and are very hard to miss. If you are high energy and do not need much rest, then getting off at Khao San Road would be the best choice to jump into the action. However, if you need some time to unwind after your flight in a more relaxed atmosphere, then the town of Silom is a great place to relax. Most of the Thai kickboxing matches take place here. Although you can stay any place listed in your guidebook, these two areas are the most popular for backpackers. As always, compare and negotiate rates before hopping into a vehicle.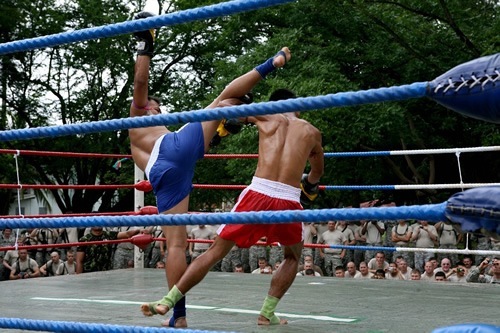 Kickboxing exhibition.
Phones
Owning a mobile phone will increase your chances of landing a job tenfold. All over the city, there are dozens of shops offering new and used phones at affordable rates. Mega-malls such as the MBK Centre has dozens of phone stands on the 4th floor. Plantip Plaza, the Paragon Center, and numerous street stands offer a plethora of technologically hip selections as well.
Once you buy a phone, you need a SIM card. This will give you a phone number and a plan.  AIS, DTAC, and True are the three most popular prepaid and postpaid calling carriers. It is recommended to get the AIS One-2-Call for basic phones or the AIS 3G One-2-Call for newer models. This SIM card will even work on your phone from home. The Happy Tourist SIM Card is another popular option that is widely available at any 7/11 store, where credits may also be topped replenished.
If you are going to teach in Thailand for an extended period, it is more cost efficient to sign a cell phone contract. Unfortunately, this can only be done if you have a work permit or a Thai guarantor. So it is best to start out with a prepaid card then switch over to a contract once you begin working at a school.
Applying For an English Teaching Job Online
There are many different teaching options in Bangkok. Job opportunities include language centers, private schools, public schools, and universities. Although it is possible to apply in person, most job listings are found on the internet. Another reason to go this route is that it finding work in this way will be much less stressful, especially if you are new to Bangkok. In the past, The Bangkok Post newspaper was a decent source for jobs listings, but it is now less reliable.
Locate one of the numerous internet cafes. Make sure that the bandwidth speed is relatively fast (some cafes are dreadfully slow.) As with everything, using the internet is cheaper outside of touristy hubs. There are many internet job sites available for your searches. An established favorite for English teachers is Dave's ESL Cafe. However, the best site for jobs in Thailand is Ajarn.com. Jobs are listed according to the type of school. Schools include government (public), private, language, and corporate (similar to private). Review the ads for each job. Typical salaries range from $900 to US$1500, include free housing, insurance, and a work permit. Although some jobs pay hourly, it is best to opt for a monthly salary. I recommend that you do not apply for any other job that offers less as part of the package.
Attach a professional head-shot of yourself, scanned images of your degrees and certifications, as well as your resume and cover letter in PDF format. It is more efficient to write one cover letter template for all jobs and change the school's information for each application. Include your new Thai phone number on the resume and in your email. 
Language Centers
The average class size is under 10 students and the pay is slightly higher than public schools. However, the schedule is normally run on a split shift. This means you may have classes in the morning and some going late into the evening. For this reason, you may find the shift of a public or private school more desirable. Pay rate is medium to high.
Public Schools
The least common type of school that you will find in job ads are public schools. Class sizes can be as high as 50. However, you should not be intimidated. Most classrooms include a Thai teaching assistant. In addition, you will get the opportunity to participate in many fun Thai festivals during the school year. A typical schedule is 9–4 Monday-Friday, with an average of 25 teaching hours. Pay rate is low to medium.
Private Schools
Private schools pay a little higher than public schools because the students pay tuition. For this reason, classroom resources may be more abundant than public schools. Class sizes are also slightly lower than public schools, with classes ranging from 15-40 students. It is also possible to teach subjects other than English. Pay rate is medium to high.
Corporate
Very similar to private schools, but with more of a focus on Business English. Class size is about the same and you can teach a variety of different subjects. Pay rate is medium to high.
Universities
With an average workload of 12 hours a week, and salaries reaching into the $2,000 range, it is clear that this position is the most desirable. However, with competition being fierce, candidates with either a Masters or years of teaching experience have the best chance to secure a job. But don't let that deter you from trying. You should still apply if you have at least a Bachelor's and a TESOL/CELTA certificate.
Interviews
If you applied through email, then a phone interview is probable. An interview may even take place via Skype. However, it is possible that they will want to meet in person. Dress as if you were going to teach for an in-person interview. Although formal dress is not a requirement for phone interviews, smiling is. Professionalism and enthusiasm is a must if you want to secure a job in Thailand. Be sure to ask plenty of questions. Always ask employers to repeat a statement if you are unable to understand.
Ask whether or not your prospective school has books, a copier, printer, media, or even a set curriculum. While these minimum requirements may seem like a no brainer, you would be surprised by the kind of situations teachers may encounter. Another important question to ask is regarding housing and distance from the school. Some schools include free housing, others offer a stipend. If the latter is offered, you may have to pay a little out of your pocket each month. If you want to save yourself the hassle, make sure that your apartment is a manageable distance from your school. Walking most likely is not an option, but your school should be within 15 minutes via bus or motorbike. I knew some unfortunate teachers who had to take a 45-minute taxi to work and home each day. Such headaches can be avoided by asking the right questions ahead of time.
Salary is standard and is most likely not negotiable unless it is very low compared to other schools. Make sure that you get paid each month, and determine whether there are any contract completion bonuses. In addition, health insurance, sick days, and teaching hours should also be addressed. Always ask about work hours and total hours per week.
Contracts
You will most likely be able to preview your contract in the email sent to you as an attachment. If this is not the case, it may be offered to you in person. Either way, it is very important to read it over very carefully. Compared to other countries, contracts in Thailand are much shorter. Four to six months is the average duration, with the possibility of an extension after completion. The work permit process should be listed in the contract. You should not have to pay for any portion of the costs of the work permit. Note whether or not private tutoring is legal according the contract. If it is illegal, you could face contract termination or even deportation. Moreover, Thailand is a culture that is very fond of celebrations and holidays and your contract may require that you attend festivities during school.
Enjoy Your New Job!
Thailand is a laid-back culture. Use this to your advantage in the classroom. Be aware that your physical presence as a native English speaker is sometimes much more important than tests and grades. Furthermore, if you can accept the culture shock and maintain an open mind, you will be living in the land of smiles with a wide-toothed grin.