How an Internship in China Can Lead to a Dream Job
The CRCC Asia Program Offers Many Opportunities
Story and photos by Rebecca Shapiro
Resources updated 9/4/2019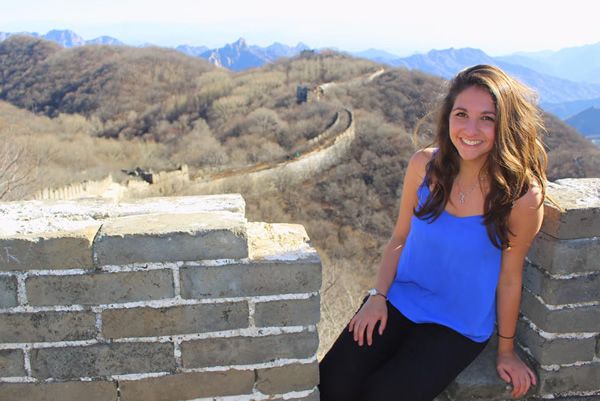 Author sitting on the Great Wall of China while traveling during her internship.
An average day at work: being filmed for a documentary, straddling a motorbike while frantically trying to navigate Shanghai's bustling suburbs. A typical dinner: stopping by your local street vendor to grab your favorite $2 noodle dish. Just another evening: sipping free cocktails under the starry (OK, smoggy) skyscraper-filled skies. The only difficult part: choosing which glitzy rooftop bar to go to next. (Oh, and getting up the next morning…)
Does the day in the life of an intern in China sound appealing to you?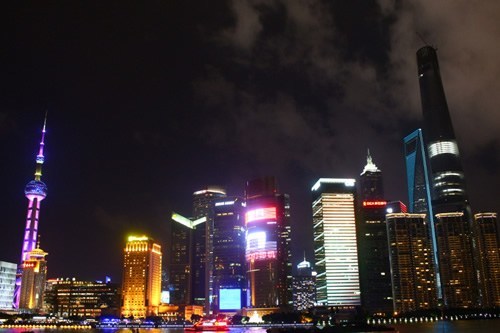 Night skyline of Shanghai.
Let's not beat around the bush, the internship abroad experience isn't free, or even close to it. In addition, long-distance flights, travel insurance, and visa complexities do not come free. So the question is, is it really worth it?
As someone who spent several months interning for a media production company in Shanghai last year, I'm in a position to give some frank advice: the answer is yes.
An internship in China will certainly add bullet points to your resume. It may result in a profile picture by the Great Wall in your Facebook account. Nevertheless, there is so much more to gain from the experience.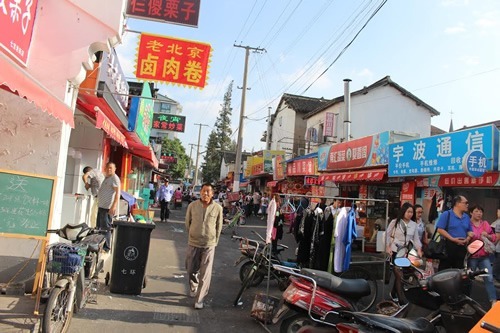 Street life in Shanghai.
An Internship Will Develop a Standout Resume
If there's one thing employers like more than work experience, it's international work experience. In a survey of 10,000 employers in 116 countries, 60% of respondents said they would give extra credit to graduate applicants who had worked abroad.
The experience demonstrates to employers your flexibility in willingness to relocate, your confidence in meeting new people, and your enthusiasm for working and adapting to today's globally connected world.
Experience as an intern abroad will result in enhancing a skill set in your sector of interest. But the effects go beyond what is visible on paper. Your competence, courage, and willingness to take calculated risks—traits vital in the current dynamic workplace—continue to develop as well.
Working somewhere as culturally different and economically significant as China is a talking point in interviews, at the very least. Personally, it helped me bag a dream internship at the fashion magazine ELLE Canada.
What is in it for you? The possibilities are endless.
An Internship in China Develops a Global Business Outlook
There's a reason why China was still considered among the most popular locations to study abroad in 2017, with the trend showing no signs of ending over the long term. Why? China's economy continues to be very strong, even with recent trade disputes. The country, vast in land, population, and political influence has recently overtaken the U.S. to become the world's largest economy in terms of purchasing power parity.
Unsurprisingly, this means young people are looking to the East for jobs opportunities, with increasing numbers flocking to China every year. CRCC Asia, the largest provider of internship programs in China, saw an increase in the number of North American applicants to their programs in recent years.
Of CRCC alumni, 30% of interns are either offered a full-time position within their host company or through contacts made at the networking events. And it doesn't hurt that native English speakers are in high demand in China.
Ultimately, the world's economy is only becoming more interconnected and globalized over time. The appeal of China, from both a business and networking perspective, is unparalleled.
Let's face it, who doesn't want a piece of the world's second biggest consumer economy? Just ask the many big tech companies with branches in China!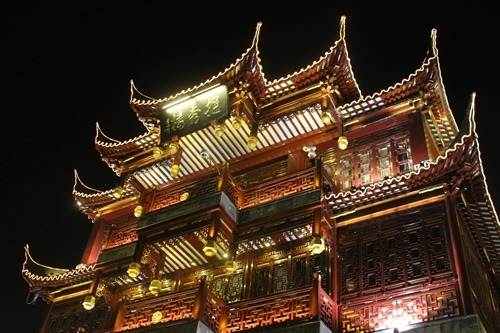 An illuminated temple in China.
Developing Cultural Insight and Know-How
Even if you're not interested in financially exploiting China's emerging middle class, gaining experience in a different culture will do wonders for your interpersonal skills. The ability to communicate successfully, even in spite of a language barrier, speaks volumes.
One of my most memorable experiences in Shanghai was working in a teahouse during China's weeklong October national holiday. Located in an ancient water town, not a person spoke English.
But through gesturing, various translation apps, and my exceptionally limited grasp of Mandarin, I succeeded in learning and assisting with the sacred tea ceremony. Challenging? Yes. A wonderful, new, and unforgettable cultural experience? Undoubtedly.
After all, successful communication skills (verbal, or sign language-based, as in my case) are the one of the most important skills sought by employers, according to Forbes and so many others. There's no arguing with possessing great communication skills in a work or professional environment of any kind, since even in an age of automation, big data, and analytics, someone has to translate information for management decisions and culturally-sensitive client interaction.
Oh, and embracing culture also means embracing a country's food. And there's no two ways about it, China's culinary culture, based upon very long regional histories, is phenomenal in its diversity and quality.
China and the Travel Bug
Following on from the last point, if you do work in China, you'll likely find yourself struck by more than just a stomach bug (though do bring Imodium!). The travel bug threatens to mess with any sensible plans you had of settling for the standard 9 to 5 job back home.
As the world's most populous country, and the fourth largest in region, China is overwhelming in its depth and diversity. From the mountain ranges of Tibet, to the tropical beaches of Sanya, there's truly something for every type of traveler.
Yes, the pollution isn't doing anyone (or their lungs) any favors, but try to get past the mass media's obsessive focus on it and explore some little-known gems where it is no factor.
Top tip: Lake Qiandao, situated a few hours' drive outside Shanghai, is stunning. You can dive in the lost ruins of what is called "China's Atlantis" or just gaze at the lake's 1,000 plus man-made islands.
Lake Qiandao.
The Most Unforgettable Experience in China
Though traveling through China will supply you with anecdotes aplenty, it's the day-to-day absurdities you witness in China that will remain as images in your mind.
From watching old men chew on chicken's feet and play mah-jong in alleyways, to the sardine-packed commute filled with young couples taking kissing selfies, there are countless occurrences where the appropriate response is "only in China."
And let's face it, where else can you get streets filled with exquisite fake Chanel handbags, children in crotch-less pants pooing publicly, and traffic laws that simply do not seem to exist? There's no country as crowded, chaotic, and uniquely captivating.
Essential Resources for an Intern in China
CRCC Asia
The organization works with over 600 host companies to offer internships in 14 different sectors. They have arranged 7,000+ placements for students and graduates around the world since their founding in 2006. For more information about their internship programs in Beijing, Shanghai, and Shenzhen go to their website.
(Editor's note: To browse other internship organizations in China, see Transitions Abroad's section on Internships in Asia.)
Smartshanghai.com
The listing website is by far the most comprehensive when it comes to dining, nightlife, shopping, and much more. There's also a Beijing version, but, more importantly, it comes in app form. This is ideal for screenshotting the Chinese version of addresses, since 99.8% of taxi drivers won't understand English.
Internations.org
Log on to become a member and soon you'll meet like-minded individual expats and discover a huge number of local events. Perfect if you're in China for a longer period.
Astrill
Despite embracing capitalism, China has far from embraced democracy. This is where Astrill saves the day, as it's one of the best VPNs for letting you browse the web free from censorship. It's worth paying about $10 a month to ensure that your friends will be able to gaze jealously at your newly uploaded Facebook or Instagram snapshots.
| | |
| --- | --- |
| | Rebecca Shapiro is a London and Vancouver-based travel blogger and freelance journalist. |