How to Find a Job with an International Non-Profit (NGO)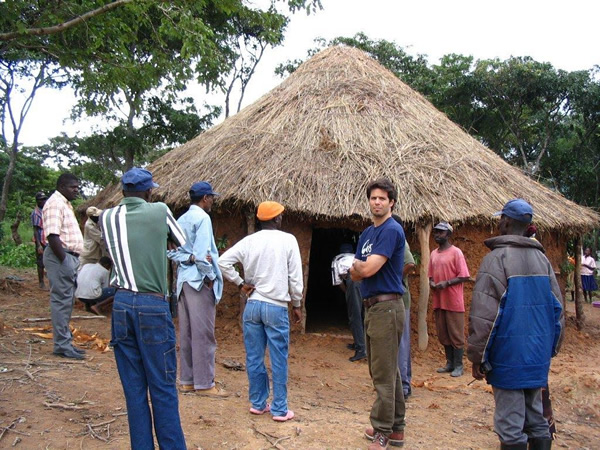 Juan Sheenan visiting one of the households participating in Catholic Relief Services' agriculture project in the Benguela province of Angola.
You love to travel, and you're committed to doing your part to make the world a better place. Whether you're passionate about people, the environment or wildlife, working with an international non-profit (known as a non-governmental organization, or NGO) seems like an exciting opportunity. But how do you get the initial break?
Explore Your Options
A program manager is the classic definition of an international NGO worker—someone who oversees a refugee camp or manages the local office of an organization dedicated to protecting children or wildlife or human rights. In many NGO offices abroad, the Country Director, or head program manager, may be the only international employee.
In larger organizations, or in places where there is a shortage of qualified local candidates, additional staff may be brought from overseas to work in the areas of finance, procurement, grants management, and human resources. Individuals with expertise in areas such as program monitoring and evaluation, gender issues, education, and agriculture may also be sought. Needs are varied and can be surprisingly broad in scope.
A quick search on job sites focused on NGOs shows international opportunities in the following fields:
Teacher Training
Communications
Videography
Human Resources
Health
Forestry
Engineering
Psychology
Finance
Economics
Business Planning
Procurement
Data Collection and Analysis
Gender Based Violence
Security
Monitoring & Evaluation
Non-profit employee Brandon Berrett is a case in point. Berrett's specialty is Human Resources, and his work has taken him to Liberia and Sudan, as well as on short-term assignments to Indonesia and Azerbaijan.
Get an Education
If you have a Bachelor's degree related to the field that you want to work in, that's a good start. But competition for a plum job with an international NGO is fierce, and a Master's degree is "normally one of the minimal requirements for working overseas," says Juan Sheenan, Country Representative for Catholic Relief Services in Zambia. (Sheenan himself holds a Master's in International Policy Studies.)
Vi Hoang, Global Lead Training & Facilitation Manager at Greenpeace's headquarters in Netherlands, started out in her native Canada studying education and international development, then went to Australia where she completed a degree in International Relations with a specialization in women's and ethnic minority rights. Later she headed to Spain, to earn a Master's degree in Sociology and Demography. While Hoang's education encompassed several areas of study, international development was a crosscutting theme, and studying in different countries gave her CV the international experience that INGOs favor.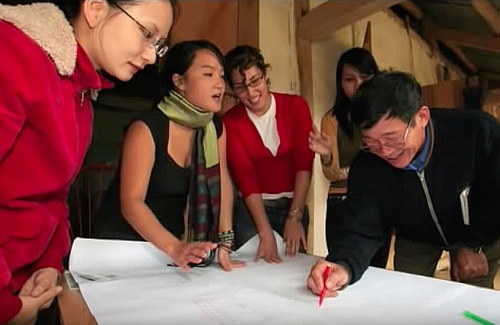 Vi Hoang worked with community leaders in the highlands of Northern Vietnam on workshops to encourage girls' participation in schools.
According to both Sheenan and Hoang, learning a 2nd (or 3rd) language should be part of that education. "There are core languages in the international field that can be useful in many places, including French, Spanish, and Arabic," Hoang says. "Start early with language skills as these will be vital to both job roles and networking."
Gain Experience
"I started in Namibia as a Peace Corps Volunteer, teaching Mathematics to grades 9 and 10 in a rural area outside of Katima Mulilo," says Sheenan, who originally hails from New York. The Peace Corps does offer a small number of 3-12 month positions for mid-career professionals, but the vast majority of its opportunities are two-year commitments popular with recent college graduates. (See the following interview with former Peace Corps Director Carrie Hessler-Radelet for more details about the program.) Sheenan has worked for Catholic Relief Services in Zambia, Angola, and Honduras, and credits his time with the Peace Corps for jump-starting his international career.
Not everyone is ready to sign up for a two-year stint, however, and Peace Corps is only open to U.S. citizens. What other options are there for gaining relevant experience?
"I started locally," says Hoang, who worked for local non-profit organizations supporting inner city families, and addressing political and human rights issues. "I worked and volunteered in various organizations simultaneously and couldn't get enough!" she says. "At one point, I had my regular position as a children's program coordinator, as well as jobs as specials events coordinator—film festivals, public demonstrations, poverty marches, and youth events—volunteer coordinator, and education liaison." Hoang's work on education and minority rights opened doors later for work with international children's programs and in advocacy.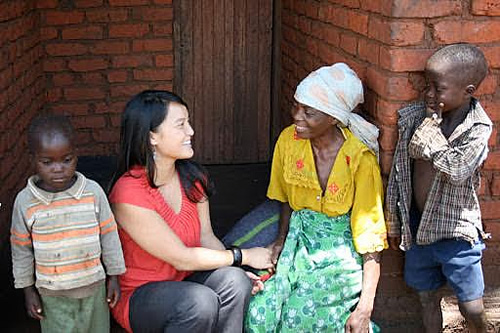 Vi Hoang worked in Central Malawi on a project aimed at improving food security through community participation and women's empowerment in rural farming.
Start Looking for Work
While NGOs often advertise positions on general job boards, the most effective way to search job listings is by checking out the websites that target international development jobs. These sites are highly recommended:
Note, many of the websites listed above also advertise jobs with the United Nations. For more information, see my article on

finding a job with the UN

.
Even if your end goal is to work internationally, a year or two at the NGO offices in your home country can bring you up to speed on the NGO's mission and practices, and is a great way to get your foot in the door. Idealist.org has many US-based non-profit jobs, while those living in other countries may want to check out these sites: Charity Job (UK), Ethical Jobs (Australia), Geneva Jobs (Switzerland), and NGO Pulse (South Africa).
Job Search Tips from the Pros
Berrett, as an HR professional possessing fifteen years' experience with international NGOs including International Rescue Committee, Global Communities (formerly CHF International), Action Against Hunger and International Medical Corps, offers the following advice to job-seekers:
1) Be flexible — getting into the NGO field and working overseas may require you to expand your horizons based on region, locale, specialty, length of assignment;
2) Network, network, network — whenever you can, create an entry point with someone with an NGO or someone on LinkedIn that may know someone that is working in an area or location of interest. Ask for five minutes of an individual's time, offer to buy them coffee.
For those that are mid-career and looking to switch over, I recommend that use your skills and whatever background you can that matches the role you are interested in. Working abroad and with an NGO is incredibly challenging and the demands are high; so are the numbers of staff that apply for positions. With all this said, the best recommendation is the proven skill of being an excellent manager, which will only increase your chances of working in the field. NGOs are often training, mentoring, and building capacity, so you want to be incredible at doing that.
The Results
While landing that first job requires determination and hard work, those in the field find it well worth the effort.
"The challenge is that you are no longer at home and sometimes being away from family or friends is hard," Sheenan says. "However, the longer you stay overseas, the more friends you establish in that particular country. Learning about new cultures and learning a new language are big benefits with this career."
The biggest benefit of all? The sense of satisfaction that comes with putting your efforts behind a mission in which you genuinely believe.
Amy E. Robertson is a freelance writer and editor who previously worked with the following international NGOs: Oxfam USA in Boston (as an unpaid intern); International Rescue Committee in New York (as staff); and Catholic Relief Services in Ecuador (as a consultant). As an undergrad she studied Economics and International Relations (including a year in Spain), and she earned a Master's degree in Development Studies from the London School of Economics.

You may see Amy's many articles for us, her numerous books, and her expanded bio page here.