7 Keys to a Great Au Pair Work Experience Abroad
Article and photos by Janine Sobeck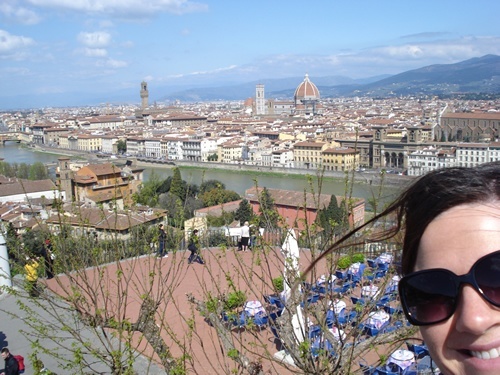 Janine overlooking Florence, where she enjoyed her work and life as an au pair.
One simple question turned out to be life-changing. I was just finishing my third semester of college and my second semester studying Italian. In the middle of a weekly conversation with an advanced Italian student I was lamenting that, as a poor college student, there would never be the opportunity to use newly acquired language skills in the country I was growing to love. Instead of commiserating, the incisive conversation partner opened my eyes to a possible solution.
"Why don't you get a job?"
At first I was somewhat incredulous. For what kind of job could I even qualify? After talking more with the conversation partner about what he had observed during his time living abroad, my mind latched onto the idea of au pairing.
Having earned most extra money growing up through babysitting, the idea of being in charge of a few young children made perfect sense. In addition, as an au pair, room and board would be provided as well as the bonus of living with a local family to learn more intimately about Italian culture.
Less than six months later I found myself in Florence working for a wonderful family. The time spent living in a city so rich in art and history also served as an ideal learning experience about the life of an au pair, and only solidified my opinion regarding the wonderful opportunity this work provides for a young person seeking his or her first international experience.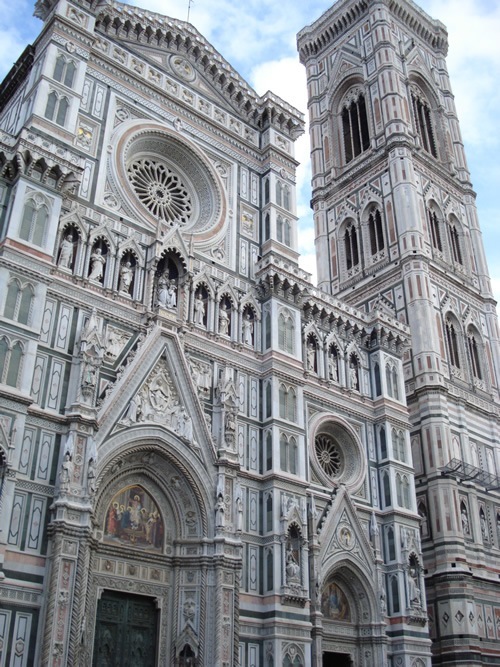 Enjoy all that a city or country—the Duomo cathedral in Florence in this case—has to offer while living with a local family and immersing yourself in the culture.
However, ultimately  the success of the au pair experience lies in preparation. Before you get on the plane, I recommend that you follow the 7 keys discussed below.
Key #1: Pick the Right Country
Picking the right country is essential to having the right au pair experience. Do some research into the local culture, including how common au pairs are in their society. A well-established au pair tradition will make it easier to find a good position. If you are going to a country that uses a different local language than your own, taking a language course (or two) before you go will greatly help with your transition. The three semesters of college Italian (which included both language and culture instruction) went a long way towards helping with immersion in my adoptive country.
Key #2: Have Realistic Expectations
While the role of a nanny in the United States (especially the East Coast or in Los Angeles) can be extremely lucrative, an international au pair is usually provided with room, board, and pocket change. The opportunity is less about making and saving a lot of money and much more about having an opportunity to immerse yourself in a different country and culture. I was comfortable in my family's home, and the money I earned allowed me to explore surrounding areas, enjoy the food, and acquire some cherished mementos.
Key #3: Stay with the Right Family
The first step is to find the right agency. There are plenty of au pair agencies specializing in matching families with prospective nannies. Many of them work in the manner of a dating service, where both the families and the au pair fill out profiles that are then matched. Just make sure that you work with an agency that charges the family for the service, and not the au pair.
Things to consider when looking for your family include:
Time of service: While many families ask for a year commitment, there are many who desire either less or more. I wanted to work for 4 months (over my college summer break) and was able to find a family who wanted the same length.
Location: Potential families can be found in the city and in the country. Make sure you pick a family that gives you access to the type of life you are hoping to have.
Number (and ages) of children: the number of children—and their ages—will have a huge impact on the amount of work you do. Older children will have school and activities that will fill their day, while younger children will require lots of daytime attention. I had a two and a half-year-old, which meant that I worked most of the day, except for a two-hour "nap break" every afternoon.
Key #4: Get to Know Your Family
Thanks to Skype and other video chatting technologies, it is now possible to spend some quality time with your family virtually before you ever get on a plane. This time is invaluable in helping your transition once you arrive. Not only will the family (and especially the kids) already feel more comfortable with you, but you also will be able to leave with the peace of mind that comes from knowing the living situation you are entering. My family and I exchanged emails, talked on the phone, and participated in the occasional Skype chat, which greatly increased the comfort level on both sides.
Key #5: Set Clear Expectations
Different families will have different needs. Things that you want to include while creating your work contract include:
Hours worked per week
Day(s) off
Any vacation time
Household duties (such as cooking or cleaning)
Living space
Language requirements (i.e. speaking English to the children or having you take a language course)
In my case, I worked six days a week with the family, with a two-hour daily "nap break" and evenings free. And while they had a housekeeper that came in every day, I was expected to clean up after my girl, help prepare lunch and dinner, and do the occasional ironing. I was also expected to speak as much English as possible with my little girl.
Key #6: Get Your Papers in Order
Your agency should help you understand what sort of work papers you need. This can include a visa (either work or student) and some sort of registration once you arrive. You also want to check into things such as health insurance and car insurance—especially if the family wants you to drive while there. All these needs will depend on your native citizenship, your length of stay, and the hours you work per week. In Italy, as a non-European, I needed to have a visa before I left America as well as registering for a permesso di soggiorno (permission to stay) at my local Questura (police department) within eight days of arrival.
Key #7: Be Prepared for a Life-Changing Experience
The four months I spent in Florence only solidified a deep love for Italian people and culture. It also initiated a lifetime obsession with travel. By being properly prepared for an au pair job, I didn't have to waste valuable time abroad trying to fix situations that were unexpected or easily avoidable. Instead, I was able to immerse myself in a memorable and enjoyable experience starting from day one.
For more information, please see the page on the TransitionsAbroad.com site for more perspectives and a list of agencies offering au pair jobs abroad.
Janine Sobeck is a freelance writer and dramaturg. She believes in the power of travel, questions, theatre, and chocolate.