Travel Writing 2.0
Earning Money from your Travels in the New Media Landscape
By Tim Leffel
Reviewed by Editor-in-Chief Gregory Hubbs and Volker Poelzl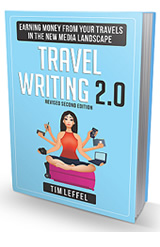 Award-winning and prolific travel writer Tim Leffel's highly informative "Travel Writing 2.0" book/e-book reaches us at a time when travel writers find themselves confronted with far-reaching changes in the media landscape, with no end in sight. The nanosecond acceleration towards digital media and away from the print world has not only largely changed the way written text is created, but also how travel content is published, marketed, and "consumed" by an ever-growing global readership. Tim Leffel's book focuses like a laser on these recent changes in travel media. With great insight and knowledge, he presents a very engaging, even conversational, analysis of today's travel writing market. Leffel provides much-needed advice and tips for established writers who find themselves caught between the old world of traditional print media and the new reality of online publishing. At the same time, Leffel's focus and advice, drawing on his vast experience, wisdom, and common sense, is directed towards those who are just beginning their venture into the often exhilarating, highly competitive, but not always very lucrative world of travel writing.
Out with the Old, In With the New
Tim Leffel covers all the important issues which should concern most contemporary travel writers, with special emphasis on "Out with the Old" and "In with the New," as he calls two chapters dealing with recent changes in the field. Although Leffel's book focuses on the new media landscape, he still provides information about "Traditional Earning Opportunities" to complement "Digital Opportunities" for travel writers.
One major concentration in this book is on new publishing phenomena such as blogs, hosting your own website(s), serving as your own publisher, as well as creatively carving out your own combination of the above. In fact, many of Leffel's own books are now available in both print and Kindle format, and he publishes his own award-winning Perceptive Travel webzine, which exemplifies his own ability to adapt to not only writing, but serving as an editor and self-publishing (Tim interviews many travel website owners and editors on his Travel Writing 2.0 blog).
The merits of blogs are discussed at length in the book, and Leffel's Travel Writing 2.0 blog continuously features extensive and probing interviews with travel bloggers, who discuss their own evolution, interests, cross-marketing, the options for monetization, and networking. Tim is himself a speaker this year at the annual TBEX conference of bloggers from around the world, and also hosts the popular Cheapest Destinations Blog, which is an extension of his classic World's Cheapest Destinations book/e-book.
On the Merits and Limits of Social Networking
Like blogging, Tim recognizes that social networking is an omnipresent phenomenon that travel writers in this new age ignore at their own peril. In his Travel Writing 2.0 book, Leffel discusses social media, and analyzes its potential usefulness for writers in terms of marketing their content while enjoying the power of sharing and collaborating in virtual communities. Tim is very open to using the most effective social media tools himself, of course, albeit in as efficient a fashion as possible to allow him to focus on his travels and travel writing. Leffel cautions that the limits of the power of social media must be realized, such that users do not fall in love with the seductive and sometimes addictive tools themselves to the detriment of the immediacy of actual experience as sensitive travelers, thoughtful writers, and in interpersonal communications.
Beyond the Myths and Into the Practicalities of Travel Writing
Leffel's solid advice is based on his own extensive experience, and readers will find little that could feed an idealized image of being a of travel writer, which he presciently described in a very popular earlier article written for TransitionsAbroad.com which he titled "The Seven Myths of Being a Travel Writer." To bring an even stronger sense of authority to his book, Leffel frequently quotes other travel writers, editors, and publishers of all sizes and ages (including the editor-in-chief of this site). By embedding so many quotes, he adds a wide variety of experiences and opinions to an already reflective and informative book that has no parallel to date. In fact, the book is permeated with insightful quotes by 50 travel publishers, editors, and writers who offer different perspectives on the diverse paths they have taken in the current travel writing market, or to substantiate Leffel's themes for a given chapter. Throughout the book, it becomes clear that there is no easy and clear-cut way to travel writing success. Hard work, patience, and perseverance play as much a role in a travel writer's ultimate recognition as writing talent, the right marketing know-how, and a little bit of luck.
Leffel not only covers the "nuts and bolts" of how to get published, where to publish your work, but he also discusses financial considerations important for both established and beginning writers. For more established writers, he provides inside tips on, for example, how to land press trips and subsequently turn a single trip into multiple articles, thereby increasing income with great efficiency and on a budget. Experienced travel writers can also supplement their income by acting as travel consultants, tour organizers, or in other entrepreneurial ways limited only by their experience, imagination, and life circumstances. For beginning freelance travel writers, one of the more amusing suggestions he makes is to live with their parents, "who don't mind you living at home and eating their groceries." He notes that many travel writers are often best off having a partner who brings in income that is more dependable, at least initially. With "Travel Writing 2.0" as a guide, beginning travel writers quickly learn that income varies significantly and that unconventional measures may sometimes be necessary to survive until the next opportunity comes along.
Additional Resources
The resource section in the book is enhanced by more recent additions on his accompanying blog, where he combines interviews of many of the most popular independent travel writers, editors, publishers, his own reflections, and travel writing resources on an ongoing basis. The Travel Writing 2.0 blog therefore serves as a very useful extension of his book, which is especially critical given the speed of change in the field and the quantity of great writers competing (and collaborating) for relatively little income in a stagnant world economy. In sum, Travel Writing 2.0 is a very useful resource with solid advice and great tips for travel writers, beginning or established, who are looking for guidance and new ideas in this brave new world of digital media and what remains of the print world.
For more information about the book, visit the author's excellent and constantly updated accompanying Travel Writing 2.0 blog, and read the many reviews on Amazon.com and elsewhere. "Travel Writing 2.0: Earning Money From Your Travels in the New Media Landscape" is available to order from your local bookseller or from online bookstores that can be accessed from his blog.
If you do not own the book, we suggest that you get a copy and read it as soon as possible, as we have only touched on some of the issues of much of the money-saving, money-making, and time-saving material he covers. If you are a travel writer, or an aspiring travel writer, buying this book in print format or reading it via the Kindle reader may be the best investment you can make.
See How to Share Travel Articles Efficiently and Effectively Using Social Media by Matt Gibson if you are interested in an overview on the social media aspect of travel writing in the ever-changing new media landscape.