The Ultimate Journey
A Trip to the Heart of Tibet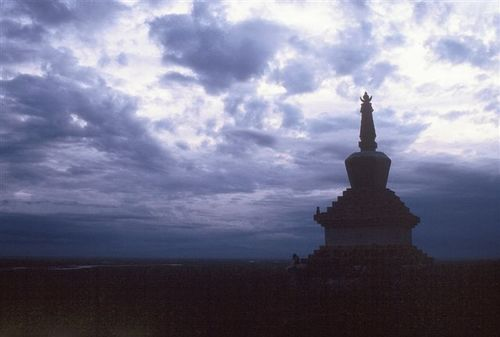 Tibetan Stupa.
The snow-capped mountains rise majestically from the valley floor, while far below an insignificant tarmac trail meanders alongside a shallow, rocky river. The Sichuan — Tibet Highway: an ambitious name for such a tiny road, that is barely able to handle two cars running next to each other, and is studded with potholes and random piles of rubble. But the road is just the means to an end, with that end being the sea of nature in which travelers on the highway find themselves floating. The snowy crests of mighty Himalayan waves, balanced by the cool green of the valley below. It is a veritable feast for the eyes, and a banquet for the soul.
Our bus rattled steadily onwards along the road, its interior a cloud of cheap cigarette smoke and a patchwork of strange smells. Buckets of live fish splashed and sloshed with every pothole, soaking my knees and legs, while the Buddhist monks to whom the fish belonged quietly admired the scenery, or concentrated on the task of subduing the feeling of motion-sickness.
I looked around at my neighbours, and wondered what the reasons behind each of their journeys could be. Were they, like me, here because some guide book particularly recommended a visit to our destination? Were they returning home after a long absence? Were they on a pilgrimage? Or were they crazed adrenalin junkies, along for the bone rattling and often hair-raising ride afforded by the road? Not that the reasons mattered. After all, we were all on the same bus, breathing in the same smoke tinted air. We had all paid the same price for a ticket (except perhaps the monks), and each bump in the road shook all of our bodies equally without discrimination. United by circumstance, we continued.
This was traveling. In China, but thousands of miles from the Great Wall and Forbidden City, and hundreds of miles from the cut-throat economic development of the country's pulsating metropolises. In the world's most populous nation, our bus was trundling through a pristine mountain wilderness, untouched by the human desire to control the elements. No Three Gorges Dam was to be found here. No Grand Canal diverting nature's preferred course. The Tibetans are people irresistibly at one with their environment. Their centuries old homes in western Sichuan Province, at 3000 meters altitude, are quite literally castles in the sky. Huge yet discreet buildings, perfectly adapted to their location, and sturdily built to last using the massive rocks quarried nearby. Castles: defences against enemies, against wolves, against the howling, freezing winds.
Time and time again, as we passed an awe-inspiring view in what we thought was an uninhabited place a shrine would flicker past our eyes, a colorful blur of prayer flags and slates inscribed with prayers, as if confirming to us that the view was worth celebrating, that we should be thankful for such stunning beauty. Upon reaching the summit of a lofty mountain pass, tiny square prayer tickets would be flung from the bus windows and sent flying in a cloud of color. This was a touching, if slightly worrying, tribute to the fact that nature had, in an act of gracious compassion, allowed us safe passage.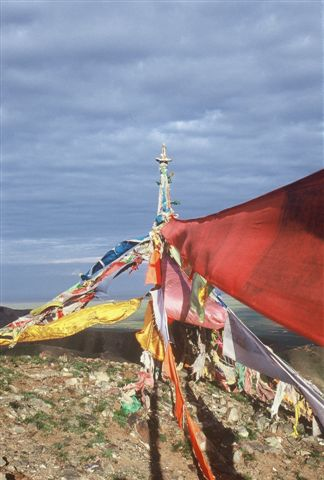 Tibetan prayer flags.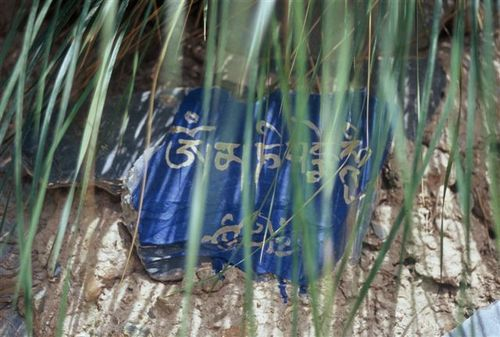 Tibetan prayer painted on slate.
Twelve hours after commencing its epic journey, the bus came to a creaking halt in Ganzi, our destination, and a welcome sight for travel-weary eyes. Despite being small, the town, as the largest settlement for hundreds of miles around, is a fascinating mess of people, architecture, and nature. A staging post on the road to Tibet, a market town, and a center of government all rolled into one makes walking along the town's main thoroughfare a remarkable experience.
Local Tibetans and Khamba ride past on their twenty-first century horses — motorbikes decorated with red and yellow ribbons adorning the handlebars. Monks stroll by, elegant and serene in their crimson robes and yellow, crescent shaped hats that resemble giant banana splits. Han Chinese women strut their stuff in tight jeans, high-heeled shoes, and fashionable coats. Bright-eyed, brown faced Tibetan traders laugh and tout their wares, which include beautiful daggers and finely crafted prayer wheels. Meanwhile, they all stare with a keen interest at the overwhelmed foreigner, who sticks out like a sore thumb in his Goretex jacket and walking boots, camera in hand attempting to capture forever some of the magic of that moment.
Ganzi's old town stands on the slopes of a hill that overlooks the new town and wide river valley just beyond. The mud-walled buildings huddle together, as if for shelter against the harsh weather, resulting in a maze of narrow alleyways leading upwards towards the temple at the top of the slope. We went there. Smoke from coal fires filled the air, while the heart-warming sounds of giggling, rosy-cheeked, runny-nosed Tibetan children played like music to the ears as they chased after us, before suddenly stopping to hide behind a wall, watching with interest and amusement these odd newcomers to their neighborhood.
The maze of alleyways eventually got the better of us, and while we could see the temple, the path to it proved elusive. Luckily, two local Tibetan girls came to our rescue, resplendent in their traditional robes, their hair braided and intertwined with red threads, and with marvellous silver earrings dangling gracefully from their ears. With the surefootedness and intricate knowledge that only a local could have, they soon brought us to the front of the temple.
The temple was a hive of activity, awash with color, flooded with incredible thangkas (Tibetan religious paintings) depicting the Buddha, Gods of Destruction, Creation, and Compassion, and filled with golden statues, some small, some gigantic, of the Buddha and his disciples. In one room, we stumbled upon a group of meditating monks, reciting a sutra with a musical accompaniment of sacred horns and cymbals. The strong smell of yak butter candles, the enchanting sounds of the music, and the stunning aesthetic beauty and mysterious symbolism of the thangkas combined to overwhelm my senses.
As we left one of the temple buildings, we came upon a large outdoor terrace, overlooking Ganzi and offering incredible views of the whole valley. It was truly a scene to exhilarate, stun, and awaken the soul. A group of 50 young monks were dancing, their robes floating and swirling through the air, their steps timed to the beat of drums. Lost in a blur of arms and crimson cloth, the monks danced and turned and swayed and circled round and round, with happiness radiating from their smiling faces. Behind the spectacle in the distance rose the blinding white peaks of the Chola Mountains, dazzling 4-mile-high giants, while the cloudless blue sky above played host to the majestic flight of eagles.
In that breathtakingly beautiful and intense moment, everything made sense. I was not a traveller, an outsider, or a foreigner, and the monks were not Tibetans, nor strange and exotic dancers. We just were. We were all connected and participating, one way or another, in this same heart-stopping amazing instant, all part of nature's grand scheme, and all profoundly appreciative of her richness and might. Something, even if for only a fleeting second or two, united everyone present. It is for events and feelings like those that people will travel to the ends of the earth. Once experienced, that moment, that feeling of sheer joy and elation and realisation of the magic of life stays imprinted in our memory like a fantastic scar: the ultimate photograph.