Slow Food and Country Dining in Emiglia-Romagna, Italy
Finding Dining Treasures
Sitting on the balcony of my little Bologna apartment and looking across to a sunny green courtyard while swirling and sipping a glass of velvety Pinot Noir from the Alto-Adige, I cannot help but think fondly of my dear friends Nadia and Paolo, Bolognese born and bred, who gave me this wine as a gift. I met Nadia at the gym. When she learned I that was an American university student on an exchange, she suggested giving her private ESL lessons twice a week. She and her husband Paolo travel outside of Italy often and English comes in handy. Our lessons, long informal conversations that include as much Italian as they do English, often turn to food, and so our friendship began.
One day while having our class over coffee in a local café, Paolo called to see if we would like to take a drive that evening to have dinner out of town. I had heard that the best food in Italy could be found in the country at restaurants and at an Italian version of a country inn—sometimes referred to as an agriturismo. I had discovered on my own that by eating outside of the city food was fresher and more authentic, yet I had never eaten at any of the gastronomic "institutions" for which the region of Emiglia-Romagna is so famous. I was about to get a taste of history.
La Rosa is located just outside of Ferrara in Sant'Agostino, an agricultural area of Emilia. This year the restaurant is celebrating 100 years in business and has been producing authentic regional cuisine from its kitchen for three generations. Everything is made from scratch, right down to the hot-out-of-the-oven bread and the grissini bread sticks. The wine selection is splendid. We started with a bottle of Prosecco to accompany appetizers of savory potato cream with crunchy cod (10 euros). For the first dish I had trenette pasta with asparagus ragu (10 euros), and for the secondo, a tender veal cutlet with a delicate truffle sauce (at market price), all accompanied by a bottle of dry and fruity Cabernet produced in the hills of Bologna nearby. "Mamma mia," I said to a chorus of approving nods at my selection, as the veal all but melted in my mouth.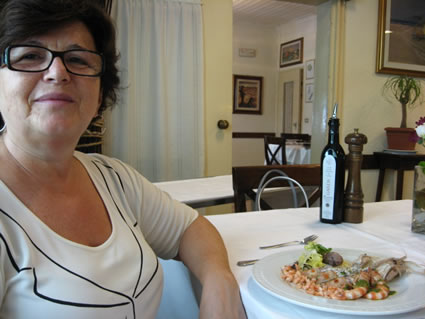 We were one of three tables seated that Wednesday evening. Clearly a restaurant like La Rosa is not concerned about racking up covers; its priority is service and providing a patient culture with superior cuisine. This is Italian dining at its finest. The owner, who my friends know well, conversed with us throughout the 3-hour meal with an animated Ferrarese accent about his family and their latest project. He was to open a quaint yet contemporarily designed inn situated on the property. La Locanda, as they call it, has five stylish rooms and an indoor fountain with a reflection pool (80 euros a night with breakfast). The idea was to attract tourists and business people stopping in Ferrara for a day or two, as well as to provide overnight services for diners who have driven from afar and want to stay and have yet another glass of wine, rather than driving home late. It seems that the new Italian law allowing authorities to repossess your car and sell it to the highest bidder if you surpass the designated maximum alcohol intake has been good for business. Regardless, we drove home feeling jolly but clear-headed and minding the speed limit.
In the following months Paolo and Nadia invited me to dine at La Capanna di Eraclio in Codigoro by the Po river delta and Buriani in Pieve di Cento, both of which are within a thirty minute drive from Bologna in the direction of Ferrara and are in relatively isolated areas. If you did not already know they existed, you would never find them merely passing by. At Buriani I immediately noticed that they featured the Slow Food logo on their menu. Slow Food is a world-wide phenomena now, initiated twenty years ago by Carlo Petrini from Piemonte to help raise awareness about local food traditions and to promote attentiveness to how food is cultivated and prepared. However, In Italy not every restaurant that serves such truly artisanal cuisine has adopted the logo.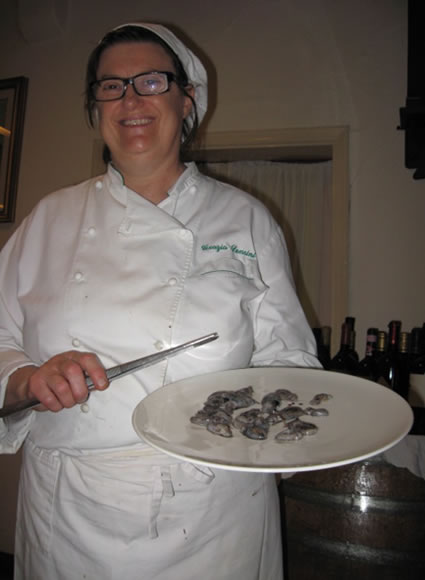 Grazia Soncini, chef at La Capanna in Emilia-Romagna, holding a plate of raw baby cuttlefish
For instance, at La Capanna the baby cuttlefish I ate, accompanied by a delicate black sauce made from their own viscera were hand selected that morning from a small bay near Venezia, the pasta and the bread were all homemade on the premises, which would definitely qualifying for Slow Food in my book. Buriani, a lovely white-table cloth establishment with large cottage windows, offered equally choice ingredients. I started with some squill shrimp-stuffed ravioli with zucchini shavings (16 euros) and followed with a platter of five meaty lamb chops, perhaps the most tender I have ever eaten, along with a fresh and subtle mint pesto sauce accompanied by a small Mediterranean feta and olive salad (18 euros). For desert I had molded squares of creamed chocolate tarts surrounded by chipped mojito ice and baby mint leaves (10 euros). I will never forget the pleasure on my friends' faces as they watched me eat with gusto during our evenings out together. They chuckled with the knowledge that they were presenting this American girl with a great gift by sharing all their food-lovers' secrets they had acquired over the years.
I have pondered at length on Buriani's mixed seafood carpaccio of umbrine and scampi, the crisp bubbly wine for starters, and the crimson sunsets we witnessed from above the lush cultivated plains where we journeyed, and what all these restaurants have in common is the word scoperta. Scoperta means a find. Whenever Nadia and Paolo invite me for dinner this word comes up. Would I be interested in going to eat with them in some place that I could discover as if stumbling fortuitously upon hidden treasure? Yes! And they are treasures, each one family run with women in the kitchen, an interesting phenomena particular to eating in the country since most of the world's famous big city chefs remain men. And everything is of the optimum freshness. That is what I will miss most of all when I return to the U.S. Eating well in Italy means you know that the pasta was not pre-cooked, the meat was not sitting on a hotplate, and the bread is not stale. That is not to say that it is impossible to have a bad meal at some tourist trap in Italy, but I was under no risk of that on these occasions. In addition, each of these restaurants artfully combined the fundamental ingredients of traditional Italian cuisine with a presentation and dining experience that was completely modern and relaxed. At La Capanna, however, a little more of the old-school charmingly held on. When handed the menu I immediately noticed there were no prices. Later, on the way home in the car, I cautiously asked, "How do you know how much things cost if there are no prices? Isn't that intimidating?" They just winked at me and said, "but there were prices, just not on the ladies' menus."