Enjoy Floating Journeys in Small Groups
Barge Tours Abroad
The intimacy of a barge cruise in Europe provides a unique way to rediscover the beauty of the area from a different perspective. There are essentially four different types of barge journeys:
River cruisers have a stronger hull and travel on Europe's larger waterways and cover greater distances; there is more sightseeing between the points of call and more urban activity along the river.
Canal barges cruise along more narrow waterways where stops can easily be made for cycling or other excursions into local villages. Shorter total distances are covered on the canals and usually provides a more intimate cruise.
Charter barges can be rented privately for groups of four to twelve, with a variety of waterways and destinations available. This is a great option for a family or group of friends traveling together, and charter guests can even customize their itinerary to focus on a special interest like golf, hiking, gardens, culinary techniques, or antiquing.
So-called "hotel barges" are generally moored boats on which individual cabins can be booked on a nightly basis. Dining is usually at one great table for all passengers, and sometimes the hotel barges do cruise for a few nights at a time.
Frontiers International is a company that arranges barge cruises that include regional culinary instruction with a fully equipped gourmet demonstration kitchen. Guests start the day with a morning shopping expedition to the local market with the chef, choosing the freshest ingredients for the day's meal. Back on the barge, the chef guides guests through the preparation of a regionally flavored feast.
Behind-the-scenes visits can also be arranged, providing a chance to learn about French cheeses at a fromagerie, hunt for truffles in the Dordogne, or perhaps to watch a pastry chef whip up a delicacy at a chocolatier. Jill Jergel of Frontiers says, "Another important facet of meal presentation is matching the wine with each course, and wine tasting while learning about the regions' vintages is surely a highlight!" Many other excursions within easy driving distance from the waterways provide a unique adventure every day. Depending on the region travelers might explore prehistoric caves used in WW II, visit German castles, hear the bagpipes wailing at the Edinburgh festival, or go horseback riding or hot-air ballooning. Frontiers is a key supplier to the European Canal Barge community.
Traveling further east into Asia, join Abercrombie & Kent on the Yangzi Explorer to the Yangzi River, known as the symbolic lifeline of China, and its fabled Three Gorges. The first boutique, internationally managed cruiser on the river, the Yangzi Explorer features balconies with all cabins, offering panoramic views of the river and its dramatic gorges. International standard cuisine, both Chinese and Western, is overseen by an on board executive chef.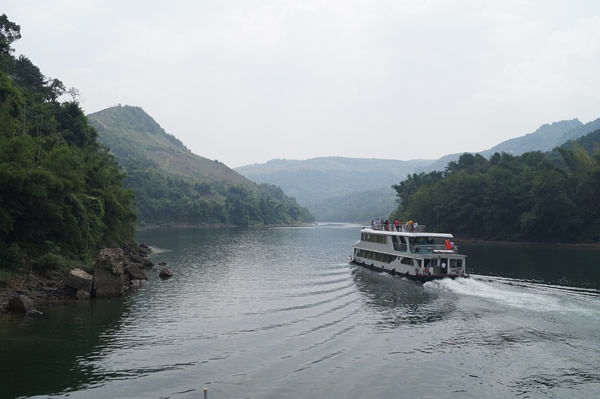 You can even cruise down the Nile River,discovering ancient monuments, temples, and 5000 years of Egyptian culture during a leisurely 7-night cruise between Aswan and Luxor on the 52-passenger cruiser Zahra, which means "flower" in Arabic. The Zahra is operated by The Oberoi Group, the company responsible for redefining expectations of luxury in India. Or, back in the Americas, embark on the Amazonian voyage of a lifetime on board the 12-suite M/V Aqua out of Peru. The expedition begins in Iquitos and continues through the most remote and pristine areas of the Pacaya-Samiria National Reserve at the headwaters of the Amazon. Accompanied by naturalist guides, visit the local villages and explore the mighty Amazon's smaller inlets and tributaries in search of the pink Amazon dolphin and the black caiman, both endangered species.
Un-Cruise Adventures offers one-of-a-kind yacht charters for 12 to 36 guests in the Sea of Cortes, bordered by the arid Baja California Peninsula and Mexican mainland. Their way of traveling by water provides a tremendous platform for learning experiences for both adults and children. The yachts travel only during the day so guests miss nothing along the way, anchoring each night in pristine coves or dockside in small villages, so guests can explore by water and on foot. American Safari goes to small islands and seldom visited areas that yield unique opportunities to experience local cultures and a rich variety of wildlife. Life in the Sea of Cortés flourishes, with over 3,000 plant species in the desert, some of which grow nowhere else on earth, and more than 6,000 animal species have been identified in the sea.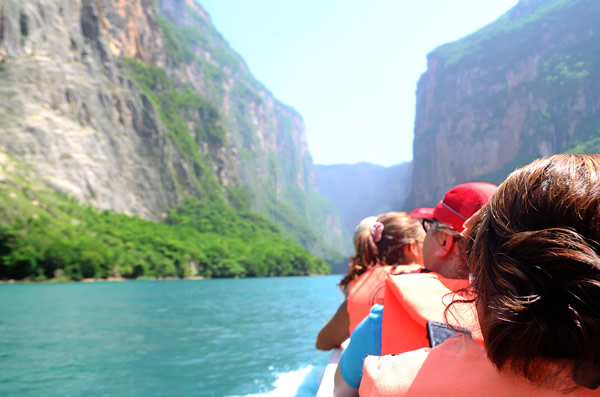 The crew includes a professional Naturalist/Expedition Leader who organizes activities and provides presentations on the day's sights and activities, and a gourmet chef who serves up fine food and fresh-baked goods. With so few guests, the itinerary is flexible and can be altered at a moment's notice to maximize wildlife and scenic viewing opportunities. The company offers a Kids in Nature program including activities such as kayaking, mountain biking, whale-watching, and snorkeling. Children under 12 travel at a 25% discount and receive a backpack filled with mementos of their explorations.
Tim Jacox, vice president of sales and marketing for American Safari Cruises, says, "We get closer to the wildlife, scenery and people than any cruise vessel, which is both a product of the maneuverability of our yachts and the small number of guests. With exclusive visits to small, remote villages in all of our voyages, guests are immersed in the destination. Learning is offered directly through our expedition leaders/naturalists, or indirectly as we bring the yacht, kayaks and inflatable boats so close to everything that learning happens naturally."
In Canada, a whole different type of floating vacation can be found, in one of the most eco-friendly places a traveler can go. In the pristine wilderness of the Great Bear Rainforest in British Columbia, the approach of May signals the time to tow the floating King Pacific Lodge to Princess Royal Island and moor it in the shelter of Barnard Harbour until October's end of season. There, the luxury eco-resort seems to blend right into the breathtaking natural beauty that surrounds it, a place that is named for the endangered Kermode bear that inhabits this forest—known locally as the white spirit bear.
For centuries the Gitga'at First Nations people have revered the spirit bear as a symbol of the rainforest and their great respect for the land on which they live. In 2006, a coalition of Gitga'at, the British Columbian government and private enterprise placed twenty-one million acres under protection from logging and development in one of the most significant examples of social responsibility in sustainable tourism. King Pacific Lodge played a pivotal role in the process of protecting this environmentally sensitive area, becoming the first private tourism operator to sign a working protocol with a First Nation in British Columbia that recognizes their rights and title to their traditional territory.
Guests arrive by floatplane—the only way to get to Princess Royal Island, which has no permanent inhabitants or structures and remains completely isolated in the world's largest remaining tract of temperate rainforest. The lodge operates on what it calls a "triple bottom line" philosophy that emphasizes a deep respect for the land, for the people of the land, and an understanding that sustainable tourism in such a rare and special place can only flourish when guests from around the world share that same feeling. The building is equipped with low energy laundry appliances, energy-efficient lighting, and uses an on-site filtration of glacial river water.
The unspoiled nature surrounding the lodge offers up its forests, rivers and fjord-like coastline that are home to a dizzying array of species, including whales, sea lions, bald eagles, timber wolves, deer and cougars. One of the biggest draws for guests, however, remains the mystical white bear, an animal that very few people in the world ever lay eyes on.
That feeling of belonging to one of the last corners of the earth to offer absolute wilderness—simply experiencing that silent, transcendental feeling of being once again a part of nature—is what draws so many wildlife lovers to the island. "King Pacific Lodge has long been noted for its luxury and quality to be sure," says Michael Uehara, President of the lodge. "But, we have paid particular attention to our role in creating social equity and conservation. More and more, the travelers of today want more and more: more knowledge, more connection to the places they visit, more authenticity and more opportunities to see a world they could have easily missed."