Cycling in Puglia
Slow Travel in an Unspoiled Region of Italy
Article and photos by Cherie Thiessen
Getting off the bike to visit the Castle at Acaya in Puglia.
Why Puglia?
Italy is a small country crammed with tourist appeal and visiting popular places like Rome, Florence, Venice, and Naples can feel like you're cheek to jowl with other tourists in an endless progression. Being "down at the heel" is a less expensive, less crowded, and far less hectic place to be, where locals still take time with their food preparations, foods and wines are proudly local, traditions are unchanged, visitors are welcomed and attractions are endless. Need more convincing? National Geographic Traveler voted the region of Puglia as one of the best trips for 2014.
Why Cycling?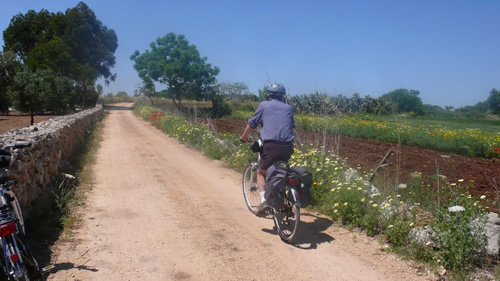 Cycling in Puglia slowly through the quiet roads winding past roadside flowers and olive groves is a environmentally sustainable, personally healthy, and relaxing way to see the region.
Carlo Cascione says it all. "We promote a lifestyle focused on the reduction of consumption and energy. We want to put a stop to the excessive use of cars which damage the environment and even people's health." Salento Bici Tours principal, Cascione is passionate about his mission. We're finishing breakfast in the verdant courtyard of our first night's accommodation, B & B Palazzo dei Dondoli in Lecce, the Baroque capital of the region of Salento, a walled town of Roman theaters, cobble-stoned streets, ornate churches, and old city walls. Salento itself is the heel of Italy's boot, the southeastern part of Puglia. We've booked a week's self-guided bicycle tour through Mac's Adventures, and Salento Bici Tours, formed in 2011, is their regional partner (see end of article for links).
Cascione could have just pulled up with the bikes on Day 1 of our tour, helped us load our gear into the saddlebags provided, explained the basics, and led us through town, ensuring we knew how the GPS worked and how crazy the traffic was. But it's not just a business for him or his partners, it's a mission: "We want to develop cycle tourism and stimulate knowledge of the landscape, the culture, the people, and the history by having people move slowly through the land. We believe that the bicycle is one of the keys to open the door to a wiser world and offer tourists the chance to cross the country at a pace set by their own strength and interests."
Well, when you're seniors, as we are, slowly crossing the country feels just right. The company also offers themed guided tours from a day to week but we preferred the more independent option, following a designated route with all accommodations booked, bicycles supplied, and luggage transported, yet without needing to keep up with a group.
Collaborating with local agencies and with schools is how Salento Bici Tours spreads the sustainable, slow motion message. "We chose to work in partnership with them mainly because of their intimate local knowledge," said the Product Manager at Mac's Adventure. "They are great to work with and I was really impressed with their eco-friendly philosophy and the fact that 20% of their profits go to the non-profit side of their organization — developing cycling tourism in the Salento region."
Cascione winds up as we finish up our cappuccini and succulent breakfast pastries. He has filled us in on the history of the area we have chosen to cycle, an area rich in antiquities, ancient villages, castles and sea vistas. The written itinerary he hands us merely adds to the caffeine to pump us full of adrenaline and energy: the medieval village of Acaya with its castle and old walls, a wildlife sanctuary with a lake, the 3000-year old Messapian ruins of a Bronze Age village by the sea, the most eastern part of Italy, Otranto, so close to Albania you can see its mountains on a clear day. And that's all just Day 1. We can't wait to get rolling. Cascione leads us out and we meet our spiffy bikes: Bottecchia Tempo Libero 21-speed hybrid beauties. Eagerly we mount and follow him through Lecce. Then he waves goodbye and we are free to follow our GPS and our hearts. We remember that there is another good reason to cycle: it's good for you, mentally and physically.
The Cycling Route
On the trail on day 2 of our cycling route.
Our first day spreads in front of us like a delectable smorgasbord on a cloudless late May. Before we know it we've left Lecce behind and find ourselves on a quiet country lane, fringed on both sides by a riot of Prickly Pear, swathes of poppies, yellow daisies, purple thistle, and blue "bachelor's buttons," while the scent of wild fennel flavors the air. We're advancing on Acaya, the only example of an intact fortified medieval town in southern Italy. It's late morning but the town's still asleep. We sit, entranced, alone on a bench within the old city walls, ogling the ancient fortress and feeling as if we alone are in this magical place, encased in time. My partner, David, breaks the mood. "We need to go." It's true, we do. Today it's a 56-km. day. Our total week's trip will be 263-km., not too harsh at all but there is so much to see and local foods and wines to sample and pictures to take and people to chat with and the Adriatic to swim in, and we can't miss a thing! After winding through a verdant bird reserve we catch the sight and tang of the Adriatic and are soon entering the seaside town of San Foca. Teased by whimsical ocean breezes, we sit outside and order pizza rustica, polpette di carne (meatballs) and fizo di zucca in pastella, (zucchini flowers in a tempura batter, a popular local dish.) One of the local wines washes this down, Primitiva, under the incredulous eyes of our server. It's only noon; why are we eating lunch already?
The afternoon unrolls, the sapphire sea enthralls, and the prehistoric ruins of a Messapian village moldering on the seafront bring us to a stop. Mac's Adventure offered several different tours of the area, but we were snagged by the variety in this tour and by the fact that it took us through what has been called the largest megalithic garden in Europe, festooned with ruins like this, with ancient gravesites, dolmens (a single chamber megalithic tomb), and menhirs (standing stones). Finally, sunburnt, dazed, and too ecstatic to be tired, we enter the magical seaside town of Otranto, with its iconic castle on the hill, it's sliver-sized cobbled streets, and it's lazy, picturesque harbour and parks. Happily we are spending two nights here, as tomorrow we explore the area more fully, sample some of the local foods and wines as part of the tour, and see more of this "megalithic garden."
On Day 3 it's all about the ocean. We encounter our first real hills but are so distracted by the ancient lighthouses, the views over Otranto Strait, and the siren call of the seashore that we hardly notice we're pumping harder. We stop for an iced coffee with almond milk (Latte di Mandorla) and head off once again for more Adriatic in our face and breeze at our backs and a cycle route that is now kissing the shore.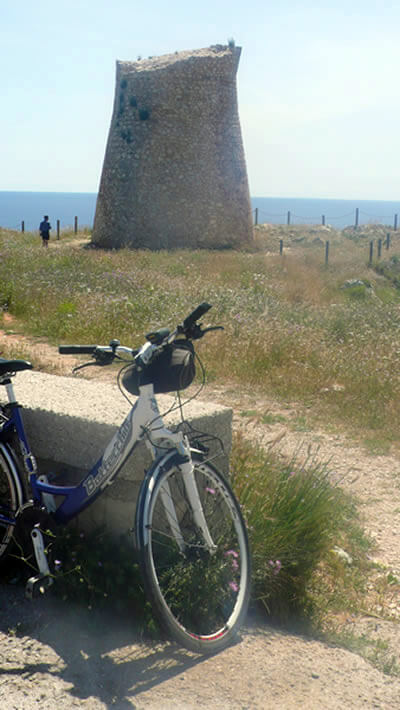 Getting off the bike to visit a coastal watchtower, one of many built for defense against the Ottoman empire and pirates.
From Leuca to Ugento, from Ugento to the walled city of Gallipoli and from Gallipoli back to Lecce via Copertino, our route was perfectly planned and delivered daily surprises and pleasures, even on our one day of rain. When you know you're going to snug up at the end of a day in a local masseria (a fortified farm house) or a cozy B & B, and when there is always a café or bar to stop and get dry at while you try out a different coffee or wine, somehow getting wet doesn't seem to be much of a bother.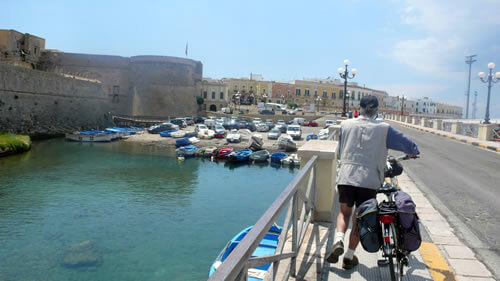 Entering the island of Gallipoli over the bridge of the walled city, David relaxes and walks with his bike.
We could never have found these paths, lanes and sleepy back roads winding through olive groves, old burial sites, and along the coastline — a route that sings, filled with birdsong and the tang of wildflowers. We would never have wound past megalithic ruins, discovered the best place to try local foods, or found the perfect overnight accommodations in perfect settings at the best moment. Mac's Adventures and Salento Bici Tours did it for us.
Highlights
Of course, there are too many to count, but here are some:
Sitting in the ruins of Roca Vecchia, the Bronze Age village built atop karst caves and overlooking the sea on Day 1 with no one else in sight. Anywhere else in the world a site like this would have been overrun with tourists.
Cycling along a tiny path from Otranto on Day 2 and slipping through a fence after a few kilometres to view the Saint Angelo Byzantine crypt. Excavated in the rock by the Basilian monks escaping from the east during the iconoclastic persecution, the crypt still shows some of the bright frescos—a slice of history in the most unlikely place and for us alone.
Stopping on a hot Day 3 in Specchia Gallone at Caroppo Bakery, a vast, cool set of rooms where not only was bread made from wheat grown and ground on the premises and cooked in stone ovens, but vegetables, fruits and meat were also provided from the property. Sipping a delicious local rosé wine and sampling over a dozen local dishes, like pitta di patate, zucchini lesse, and arancini di riso before a tour of the property by the genial son.
The "Zen" of cycling along country lanes and footpaths through olive groves and hardly ever encountering anyone on much of the route, led on by our indefatigable GPS and the brilliance of the scarlet poppies ever ahead lining the fields.
The delight of discovering a perfect beach on Day 6 at Santa Maria Al Bagno.
Our amazing room at B & B Palazzo Flora Gallipoli where we felt like we had a slice of our own Sistine Chapel, a huge room with high ceilings and two balconies overlooking a narrow street. Palazzo Flora originally was a 19th Century residence, restored to its original grandeur, and they must have given us their "star" room. A modern Michelangelo had totally painted the lofty, expansive ceiling.
The friendliness of the people we met. It never failed to amaze us how much can be communicated with a smattering of Italian mingling with a "poco" of English.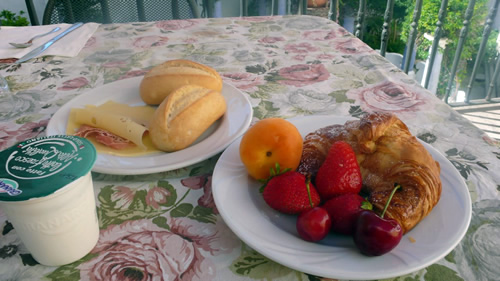 Highlight: Breakfast at the Palazzo Flora B & B in Gallipoli was just the beginning of many very fine meals we enjoyed in Puglia.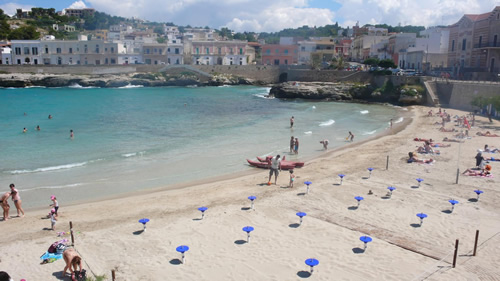 Highlight: Discovering a perfect beach on Day 6 at Santa Maria Al Bagno.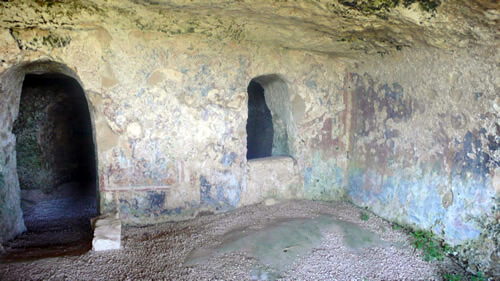 Highlight: A view inside the Byzantine crypt of St. Angelo.
Other Must-sees
While our particular tour did not include two very important cites in Puglia, they should be on the list of everyone based in Lecce.
The World Heritage Site of Alberobello can easily be visited by an inexpensive train ride from Lecce in a day. The town is known for its conical structures called Trulli— traditional limestone white circular dwellings that are remarkable examples of mortarless construction, a prehistoric building technique still in use in the region. They feature pyramidal, domed, or conical roofs build of corbelled limestone slabs. Their special features, the fact that the buildings are still occupied and the ancient building technique still used, make the site unique.
Matera and the Sassi district. Another UNESCO World Heritage Site, Matera is a different world. The district of Sassi, a ravine with ancient cave dwellings piled high one upon the other, all carved into the rock face, illustrates yet another way that earlier civilizations forged homes in one of the poorest regions of the country. Walk to the overlook near Piazza Vittorio Veneto and then go down the stairs to explore the warren of cave homes and the winding alleys.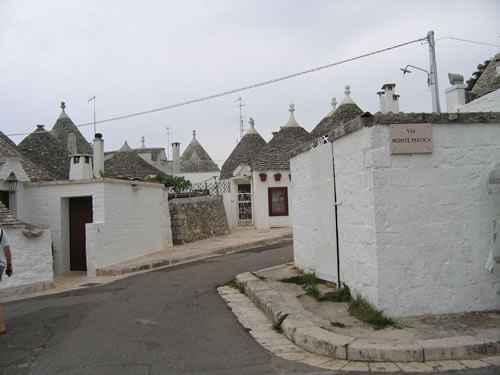 Must-see: The cone-shaped roofs of houses in
Alberobello
.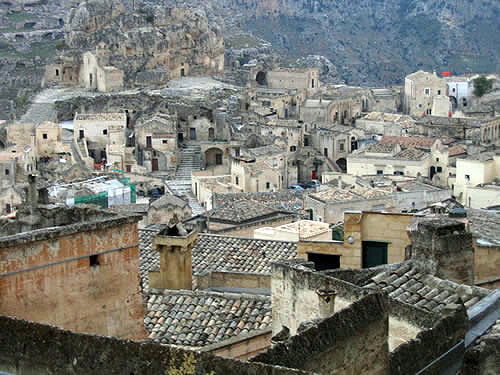 Must-see: The ancient and mysterious town of
Matera
, with houses and caves dug into the surrounding rock hills.
We totally agree with Cascione that the best way to see a place is to go slow and to put yourself in the middle of it, with time to stop and chat, to discover a museum hidden down a twisting alley, to taste sea urchin with a glass of Primitivo at the locals' favorite bar, or try operating a traditional olive press, or to watch women weaving in the ancient, traditional ways. What better way to do it than by bike?

When to Go
Mid-May to mid-June and September through mid-October is good, before or after the heat builds.
Speak Italian?
Some Italian will definitely come in handy, as this area is not full of tourists — part of its charm. We studied Italian for 6 weeks online and were amazed at how much it helped and how it enabled us to connect with the locals. Guides at the historic sites often speak only Italian. Your contacts at Salento Bici Tours speak English, and someone at most of your accommodations will know some English. You can manage without, but it's more fun to try. (Salento Bici tours even offer a week's guided tour of cycling and learning Italian.)
For More Information
B & B Palazzo dei Dondoli is a lovely B & B located in Lecce, Puglia.
Mac's Adventures is an agency offering self guided walking holidays & cycling holidays in Europe and worldwide, and connected us to our cycling tour in Puglia.
Salento Bici Tours is a local company offering a variety of guided and self-guided cycling tours originating in Salento, Puglia, with options to include Italian language learning, food and wine.
Cherie Thiessen writes travel stories from Canada's West Coast Gulf Islands. A member of the Travel Media Assoc. of Canada and the B.C. Travel Writers' Assoc., she taught travel writing at the University of Victoria for many years, and lived and taught English abroad in China, Japan, and South Africa. Now in her late 60s, she continues to enjoy cycling, hiking and sailing.