A Mission With a Purpose in India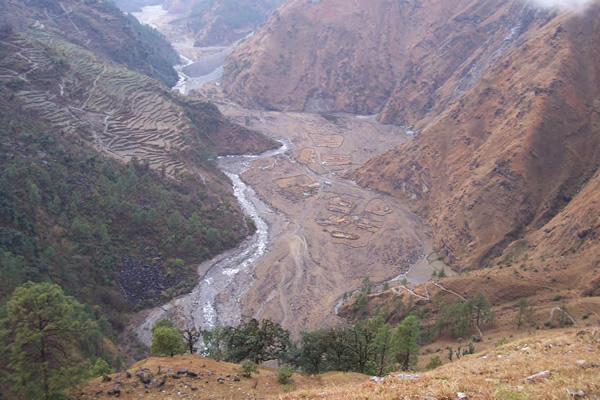 The valley below.
Travel for travel sake is fine. But travel takes on a new dimension when combined with a purpose, as Thommen Jose finds out from his journey to Pauna, an unknown mountain village 30km by "foot or hoo"' from the last motorable point in Chamoli, Uttarakhand in India.
"Lord Shiva was missing and nobody could find him. His wife Parvati was immensely worried and set out to look for him. She descended from the heavens to search the Earth. Looking all over the Kailasa mountain range, she found him in a cave, meditating, with a serene smile."
After narrating the story to us with relish, Giri Raja Swami looked around his own cave and stared at us anticipating the question we were expected to ask all the while furiously tugging at his spindly long beard.
We did.
"Is this the cave?"
"No," he answered, slowing down the speed with which he was tugging his beard. "How can I know where the Lord Shiva sat meditating so many years ago?'"
Mission: Producing Fabric from Hemp
Our mundane life had bogged us down for some months now and my wife Minu and I—on one of the very rare occasions we actually share the same point—agreed that we owed ourselves a break. Neither of us like to take the beaten path if we can help it, so we decided to combine a bit of work and a lot of adventure. In our free time we try and propagate hemp as a fabric, at least among our friends. It was long past time to take our work to the next level. We needed to collect hemp seed samples for a scientist friend with the IIT in Delhi to study the oil content and samples of the male and the female plant. A designer wanted photographs of processes like retting, de-gumming, etc., and machines like those used for carding and charkhas so that he could try and give some inputs on possible technological interventions for better quality fabric.
Samples and photographs? Sure. Holiday? But of course! Pauna, here we come...
Listen to the Locals, or Else...
Sanjay, a genial giant with intelligent eyes, was our contact and travel advisor. A graduate in agriculture, Sanjay handled the many self-help groups run by farmers from the region that grew hemp to create fabric. Reaching Dehradun one early afternoon, we lunched with Sanjay at the government guest house and decided to proceed to Chamoli—against his advice, as late afternoons during this time of the year usually brought in the type of blitzkrieg rains which meant keeping your car steady on the road impossible. Forget driving.
Before we covered even half of the 250km distance, it had clouded up badly with a heavy mist rolling in, cloaking our car, and limiting visibility to no more than 10 meters. By 6 p.m. it was totally dark and I took an oath to install fog lamps the day I was back in Delhi, possibly before reaching home even. Any kind of oncoming traffic forced one to meander perilously close to a precipice. An unfortunate aspect of the mountain roads is a lack of any protective boulder—the idea being that it would give more "tire room" to negotiate. As luck would have it, our car once got stuck in shallow mud and I had to get out in the pelting rain, chilled to the bone, mucking up my shoes and clothes before I could stack some rocks beneath the stubborn tire.
The man in charge of the government guest house in Chamoli was also the guard and the cook. We believed him when he said that we were lucky to get in so late at night because he had decided to stay over at his "office" to avoid the heavy rains. We didn't want to push our luck by asking him if he could open the kitchen to whip up something. Anyway we were too tired to even think of hunger. The last thing I heard that night as I dozed off was Minu saying "listen to the locals or go hungry on the first night of your holiday."
Or maybe I imagined it.
Marriage and a New Titan Watch
Sudersan, the guide who would be taking us around the village self-help groups and most importantly, up the mountain to Pauna where hemp was cultivated, had married just five days ago. So we were expected to forgive him for turning up three hours late at 11 a.m. We relented as he went on about his good fortunes for "nice, warm nights"—delivered without even a blush, but as matter-of-fact. Our surprise at his candor might have passed off as disbelief and he showed us the cheap gold-plated Titan watch he received as a wedding gift from his brother-in-law; something which he kept looking at every five minutes as if he suspected it might die on him.
Looking for Warmth
A broken-down vehicle took us to the last point we could safely drive 5km from the guest house. After an hour of brisk walking while we shared thoughts on what we could do for the impoverished farmers, we reached a village by the foothill of the mountain. Sudersan herded us into a shack with "hotel" scribbled on its door with chalk. And then he disappeared. After a leisurely lunch of rice, dal and wonderful pickled wild lemon, we started looking around for our still-missing guide.
"Did you see Sudersan?"
"He has gone to visit his wife."
"But... Where is it?"
"It is the next village, just over there. He will be back soon."
The village, indeed, was just over there—you could see it tucked into the base of another mountain some distance away. We decided not to wait any longer.
Going Up, Coming Down
Loaded with water bottles and candy bars, we began the ascent. The first kilometer was paved with uneven stones which, nevertheless, provided a much needed foothold. This soon disappeared into foot-wide pathways with an occasional rock jutting out. The enthusiasm that saw us through the first hour of the climb soon faded with each passing step.
We weren't panting, we were gasping. The higher we climbed, the more our legs threatening to give up from beneath us. As we confessed to each other (much later) we both started getting faint blackout spells though we kept telling each other that we were alright. It was a full four hours into the climb and there was no fighting the creeping chill and the exhaustion which had overtaken us. And half the mountain still remained above. We started to live for that five minute rest at every bend.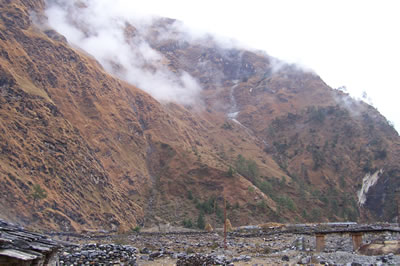 The mountain above.
Mulling whether we should go back and return the next day—next time most likely with a guide—we heard voices. Like the soft clanging of the wind chimes on a summer afternoon, some human noises wafted up the valley towards us. Looking over the winding path below, we saw a group of three men, a woman, and loaded mule climbing—coming towards us—at a speed we never imagined humanly possible.
Hope is…Just Round the Corner
The mountain folk are simple by nature, full of optimism and zest for life. They are survivors, refusing to be bogged down by anything. Despite progress having left them behind, hungry, and cold high up in the mountains, they carry no grudge against anyone. Ask them for anything and if they have it, they will give it to you. Seeing the shape we were in, one of them offered to unload the mule so that Minu could ride on it. But noticing how heavily packed it was, we declined their generosity. Probably it was their kindness that made them answer "just round the corner" each time we asked "how far more."
As luck would have it the group was on their way to Pauna and one of them was the village headman's son, who was already ordained the Mukhiya (chief). The lady in the group was a teacher who was going further up from Pauna (and we thought Pauna was top of the world!). The group maintained a pace which didn't make them seem to be climbing at all. They were talking, laughing and walking...strolling, rather. It seemed like some well-oiled springs were at work in their limbs, which took them from one sprightly step to another.
Talking to them about their work, lives, children, and the practical uses of hemp, we tried to keep our mind busy. I felt like Hidalgo on his last run. We just stuck to concentrating on making the next step – an arduous task in itself as darkness fell. Finally, an eternity later, we stepped on flat stones, neatly placed one above the other and we kept on walking, so exhausted that we did not care even to look up. We informed the Mukhiya that we would sleep over at the first house we saw—a dilapidated structure with one portion of the roof caved in—but he insisted that we come to his house, which was "just over there."
Like Clockwork
The Mukhiya's house was the biggest of the few houses in the village. Fortunately, it was not that far either. The sequence that followed as we were shown into our room was so precise and happened like clockwork—with no voices raised, not even spoken. First a pot full of burning coal was brought in followed by a dozen or so blankets. As we warmed ourselves over the coal pot, hot tea was brought in by the Mukhiya's wife. By now the room was full of smoke and the coal pot had to be removed. We lay under the pile of blankets listening to each others' chattering teeth and feeling so miserable we suppressed even our grins. Dinner was piping hot roti and dal, which we gorged on until we realized that our hosts were waiting for us to finish so they could have theirs—whatever was left, that is.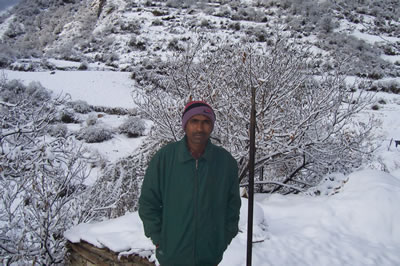 Mukhiya.
The Morning After
Morning brought with it refreshed bodies and a brand new landscape. Soon, as daylight peeped through the cracks of the tinted glass windows, we opened the door to a perfect postcard picture—snow everywhere, hanging down rooftops, forming a gentle white mound over the steps, drawing a white silhouette over the bare tree limbs. Specks of dazzling white could be spotted all over the mountains and the valleys beyond. We just stood in awe, taking pictures as the village children gaped at our excitement and the adults good-naturedly ignored us.
Life and Work
By late afternoon our work was over and we decided to spend the night there; this time we let better sense prevail—the locals told us that the snowfall was quite a heavy one, and in the afternoon sun so much slippery slush would be formed that at times even the mules slipped and fell to their deaths. That night some of the neighbors too decided to join us with their stories about their village, lives, and hopes.
Including Pauna, there are over a dozen villages in and around the region where hemp is cultivated—Mangroli, Adibadri, Chinka, Kothia, Senti, Jangalchatti, and Devalibagarh are the more prominent ones. Hemp farming is mostly community-based, with the Kuthlia, Bora, and Pabila communities engaged in its cultivation. However, with more and more male members from these communities migrating to nearby towns in search of a better life, the numbers of farmers was diminishing. The community members—who are gifted craftsmen and hardworking by nature—were forced to work as manual laborers in construction sites or in small hotels.
Surprise and Back
The next day came with a surprise—Sudersan. His wife was apparently unwell and he had to take her to the hospital. As if to corroborate his story, he showed his empty wrist—the Titan watch was missing. He said he had given it at the clinic as he didn't have enough money on him.
Though we offered our hosts money for their hospitality, they would not take it—they said it was their honor to have helped us. The Mukhiya informed us that his children had prepared a gift for us, which turned out to be a Bollywood number sung by his four children—aged from five to nine—in sweet, discordant harmony. We managed to pass off the money to them as "prizes."
Let the Journey Choose the Route
Climbing down, though not as strenuous as going up, takes almost the same amount of time. Sudersan led the way, carrying our extra bag with hemp samples, stepping blithely across rocks and jumping across the tiny rivulets that crisscross the plains once we reached level ground. We passed by a community mill that worked by the power of the running water of the stream directly beneath it. Nobody mans it, but it is kept up collectively. Each family using the mill for grinding wheat donates a part of it to the family who stays nearest to it and is entrusted with its safety and ensuring its smooth running.

Community water mill.
We were tired by the time we reached the point where we were dropped off earlier. Thankfully, there was a vehicle already waiting there—but it was full. Both of us piled inside as people—already spilling over—chuckled in good humor and tried to offer us some space. With his one hand outside the door, tapping with his fingers to the loud FM radio music, the driver kept talking in an animated fashion to the young woman who sat next to him on the winding mountain roads. In part because we were truly too tired to care, we just sat there content that we had done a good job both for ourselves and for the hemp farmers we had visited.
Job? No, it was far from a job: there was the excitement of seeing a new place, the pleasure of meeting new people, experiencing how they live, sharing their dreams, and all the adventure we wanted.
Hemp is one the strongest and longest known natural fiber and a good substitute for cotton. One acre of hemp can produce four times more paper. Hemp bio composites are used in construction materials. Today, it is witnessing a gradual and strong revival in countries like the UK.