A Walking Tour Through Tuscia, Italy
Enjoy an Undiscovered Region in the Off-Season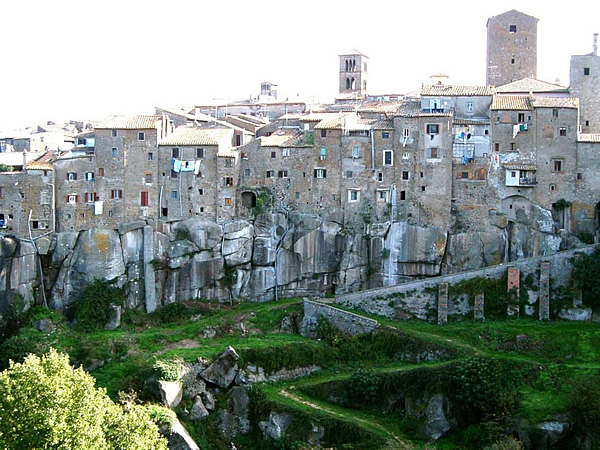 Photo by Leah Cano of the town of Vitorchiano from the outskirts.
Tuscia is the name given to a rugged corner of undiscovered Italy, untouched by mass tourism, bordering Tuscany, Umbria, and the greater area of Rome not far from the town of Viterbo. A pocket of woodlands, wild ravines, and volcanic lakes, Tuscia was once the heartland of Etruscan culture. The old Roman road known as the Francigena leading down from the Alps crosses its territory before rolling on to Rome. In centuries past, the villages, monasteries, hostels, and taverns of Tuscia provided hospitality to pilgrims on the last phase of their journey before proceeding to the Holy City. Today independent travelers willing to put on their walking shoes can recapture some of the atmosphere and adventure of the open road, while enjoying spectacular scenery in one of Italy's most unspoiled environments. For those seeking an unusual holiday combining cultural discoveries and the great outdoors, an off-season trek in Tuscia offers many rewards.
Inexpensive accommodations may still be found in Bed & Breakfasts and pilgrims' residences scattered through the villages, where, over a hearty meal made with locally-produced cheese, wine, mushrooms, sausages, and bread still baked in a wood oven, you may rub shoulders with monks, pilgrims, locals, or other ecologically-minded travelers like yourself.
The deep canyons and ravines of Tuscia were formed by dozens of streams feeding into the Tiber. High on the rim of those canyons, the Etruscans built their towns which would later become the fortressed medieval villages you may see today in which the cellars of the houses are carved directly in the rock. There are scores of villages to choose from for your base camp, each one with some architectural masterpiece to discover – villa, castle, tower, monastery, or sculpture garde –before rambling out to the olive groves and vineyards on the edge of town and then on through the countryside.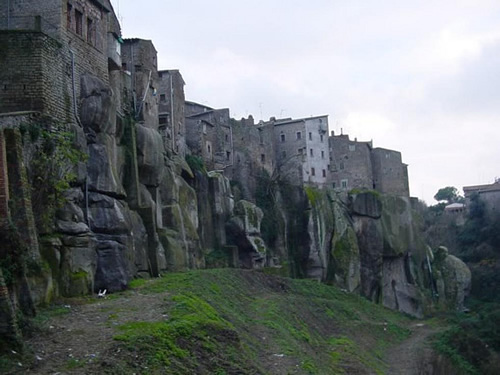 The village of Vitorchiano, situated 90 minutes from Rome and possessing one of the best-preserved medieval historic centers in Tuscia, makes a good starting point in terms of location, scenery, and accommodations. From the center of Vitorchiano it is easy to reach on foot a system of region-wide pathways and country lanes connecting this village to neighboring towns, archaeological sites, religious shrines, and nature preserves. Recently installed trail-markers help you find your way. You can hike as far as you like, taking a whole day to explore or just an hour or two.
Lying between the promontory of Vitorchiano and the neighboring promontory of Bomarzo (home to the famous "Monster Park," a 16th century sculpture garden open all year round) is a vast archaeological area comprising the cave-dwellings of Corviano, the Etruscan ruins of Montecasoli, ancient Roman tombs and altars, and the ruined medieval monastery of San Nicolao. Isolated and unfrequented, half-overgrown with vines, these places will give the adventurous hiker a real thrill of penetrating into the unknown, although civilization is just a stone's throw away, hidden behind the next ridge.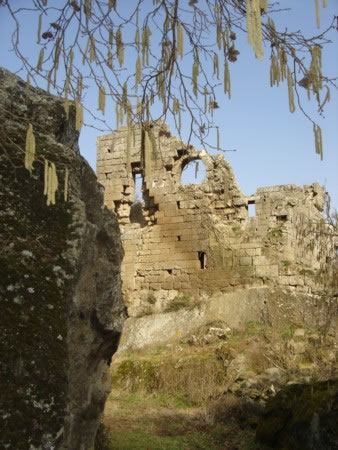 For a less isolated trek, the village of Barbarano Romano (reached by car or by bus from Viterbo) offers a condensed experience of many layers of history to absorb in a single afternoon or over several days. Just outside the town is one of Tuscia's most famous archaeological parks, Marturanum with Etruscan tombs and temples, an ancient Roman bath, and a ruined medieval church with cloister situated in the woods over an area of 1200 hectares. The town itself has a small Etruscan museum where guidebooks to the park may be purchased and if desired, a guided tour may be arranged.
Hikers attracted to water will want to explore the areas around Lakes Vico and Bolsena. Lake Vico, set in a wild nature preserve in the Cimini Hills, 30 minutes by car from Vitorchiano, is surrounded by thick forests crisscrossed by dozens of trails, where in autumn you are likely to meet locals gathering chestnuts or porcini mushrooms ( for the latter, you now need a license). Lake Bolsena, instead ( reached by bus from Viterbo) is the hub of several charming fishing villages, Marta, Capodimonte, Bolsena, renowned for their culinary and artistic traditions. Swimming season here begins at the end of May. Lakeside restaurants are open all year. From spring to the end of September, you can make a tour of the lake by ferry from the docks of Capodimonte.
In the hill town of Celleno, travelers may lodge at a former convent, now a religious community dedicated to interfaith solidarity, which organizes workshops in spiritual disciplines from round the world. You may share meals with the members in the refectory, and, if you choose, join them for prayer or meditation in the chapel. In Bagnaia, just down the road from Vitorchiano, you may thread the labyrinth of the baroque gardens of Villa Lante celebrated by Montaigne and Edith Wharton. In Vasanello, you may visit workshops of ceramic artists who painstakingly recreate Etruscan and medieval pottery, using ancient designs and glazing methods.
In the lowlands of Castiglione in Teverina, you wander through vineyards and stop off at a cantina to sample the latest vintage. In Vulci, described by D.H. Lawrence as "beautiful and disquieting," you cross a bridge first erected by the Etruscans and then explore a vast park containing one of the most famous of all Etruscan tombs, the tomb François. No tour of Tuscia would be complete without a visit to Bagnoregio (reached by bus from Viterbo) banned to cars, perched high above a canyon, accessible only by means of a steep and narrow footbridge, which is guaranteed to make your head spin and take your breath away when you look down into the canyon.
For longer walks, you'll need to take your own provisions, though while hiking up around Lake Vico, you may come across one of the old fountains for travelers where the mountain spring water is safe to drink ( Usually there will be a sign to indicate this). When your path leads you through a village or hamlet at lunchtime, you'll want to stop at a little trattoria to try the local fare. Since the Tuscia region is unknown to mass tourism, most small restaurants you encounter are geared to local customers, featuring rustic, family-style food (handmade pasta and grilled meat) at very modest prices.
The cuisine of Tuscia is based on the products of its woods and lakes—wild boar, chestnuts, hazelnuts, cherries, wild chicory and asparagus, porcini mushrooms, lake fish. The area produces excellent pecorino cheese, pork products, fine quality olive oil, and wine. Each village is fiercely proud of its unique culinary tradition–special pasta dishes, unusual soups made with chestnuts and mushrooms, and baked goods of all kinds, often featured at fairs and festivals.
All year round, the villages of Tuscia renew their sense of communal identity through traditional celebrations mingling their Catholic heritage with vestiges of more ancient customs. Some of the most popular festivals, held in the off-season, will give you a glimpse of life in former times. In January, many villages celebrate Saint Antony the Abbot with a special mass when animals are blessed. May 8 honors San Michele with processions in Vitorchiano, and a tree-wedding (a fascinating vestige of pagan ritual) in Vetralla. The joyous procession of the Barabbata in Marta in the month of May celebrates fruits of the earth and waters, with a blessing of the fish. December has its live manger scenes, running from Christmas to January 6th, in which entire villages collaborate to create artistic tableaux vivants with actors, scenery, local crafts, music, and of course, plenty of food and wine. Carnival starts soon after. Ronciglione on the shores of Lake Vico has one of the most colorful Carnival parades in central Italy.
The best times for a walking tour in Tuscia are late autumn, late winter, and spring. These are also the best times of year to enjoy a dip in the hot sulfur springs, in the area of Viterbo. What better way to revive your spirits than to soak your weary limbs after a long, invigorating walk through the woods?
For More Info
Getting There: Tuscia is easy to reach: By car from Fiumicino Airport, exit the A1 Highway at Orte and take the SS towards Viterbo. By train from Rome: local city train from Ostiense or Saint Peters' station to Viterbo (hourly departures, 1 hr.50 minutes until evening) By bus a network of blue Cotral buses connects the smaller towns with both Viterbo and Rome. To use these buses, you must be armed with patience, prepaid tickets, and a schedule, but they will take you wherever you want to go. In Viterbo, buses leave from the central piazza called Riello for many destinations described here. Check schedules at the bus terminal, as they change frequently.
Accommodations: Vitorchiano, Hotel Piccola Opera. This 3 star hotel also operates as a pilgrims' residence for spiritual retreats and extended stay. Simple, Spartan rooms with private bath. Good location on the slopes of the Cimini Hills just outside Vitorchiano. The hotel offers a cordial staff and wonderful food. Excursions to sites of your choice can be arranged.
Guided tours and Travel Consultancies: The itineraries described in this article are relatively easy ones and may be taken slowly in small doses of an hour or two, or in all-day adventures, according to your walking style, degree of fitness, and age. No equipment is required except a comfortable pair of walking shoes. In more isolated areas, it is advisable to walk with a partner.