Travel in Asia: A Guide for First Time Visitors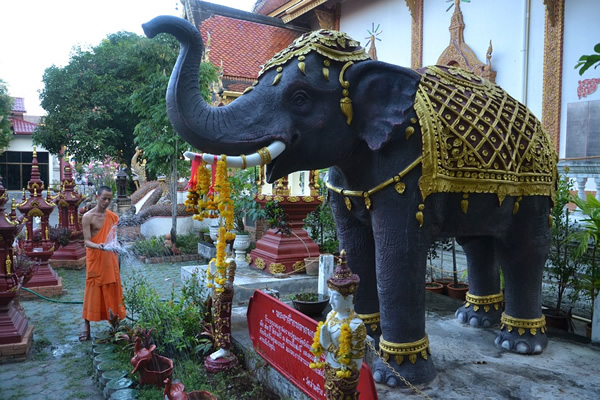 A monk watering plants at a temple complex in Chiang Mai, Thailand.
For most individuals contemplating travel in Asia, there is a palpable fear that accompanies the desire. There are many travelers' tales involving nightmare scenarios. Such descriptions often unnecessarily frighten the prospective visitor, since they offer no practical ideas on how to prepare for a trip. Although travel in Asia is challenging, it is often relatively easy in practical terms, and is exceptionally rewarding. The many possible levels of physical comfort when traveling throughout the most popular areas in Asia are often really up to you.
In order to prepare for such a trip there are a variety of items you may choose to bring but only three that are absolutely essential:
Passports and Visas
Most passports can be applied for at your local Post Office. In addition to the application, you will need proof of citizenship (e.g. a birth certificate), a picture I.D., and two passport photos. It will take several months for your passport to arrive, so plan ahead. Those needing passports in a hurry can expedite the process for an additional $60. You can apply for visas in your home country, the overseas embassy of the country you wish to visit, or through overseas travel agencies. Several countries issue visas upon arrival, so it is important to check the policy of those you plan to visit. Those wishing to spend a longer period than that provided by the arrival visa may wish to apply for their visa from their home country; longer-term visas are also often available.
Air Flight Tickets to Asia
Through the Web, hunting for the best ticket prices and setting up the itinerary for your trip in Asia have become quite simple. The major sites used for domestic travel are also useful to browse for the best international flight fares. indie.bootsnall.com offers round-the-world tickets. You can customize your own trip. Tourist areas in most major Asian cities are teeming with travel agencies who supply needed air, boat, bus, and train tickets. Visas are yet another service offered by travel agencies throughout Asia.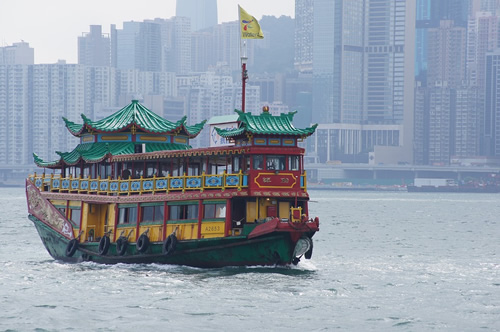 A boat ride in Hong Kong.
Money
ATM's are available in most areas and are an easy way to access the bulk of your money—though losing your card is the risk you take. Traveler's checks are a safe option but tend to yield a much lower exchange rate than their cash equivalent. It is always handy to keep a little American money in the form of cash on you in case of emergencies. Some areas with lower valued currencies and high levels of tourism, like Siem Reap, Cambodia, use U.S. dollars.
Many budget travelers still subsist on $20-$40 a day. The costs can very easily escalate. Formerly inexpensive areas, which were prime destinations for budget travelers, have being bought up by more and more upscale businesses, thereby pushing prices up. Koh San Road, which is a popular street amongst backpackers in Bangkok, is now seeing chain stores and restaurants replace locally owned businesses. Both Thamal in Kathmandu and the main bazaar in Delhi have suffered much the same fate. Travelers interested in staying in these areas may find better deals when looking to the outskirts. Many first-timers choose to stay in these areas due to Western conveniences and comforts other parts of town do not offer, but more seasoned and adventurous travelers usually gravitate towards areas off-the-beaten-track.
A quick glance through a guidebook can often offer ideas about the types of guesthouses, hostels, and food prices that represent the bulk of money spent daily. As tempting as many high-end restaurants and hotels in Asia can be, they likely will immediately eat up your budget. Areas catering to families and honeymooners should be avoided. They are very often rich in Western comforts that come at a hefty price.
Clothing in Asia: Be Minimalist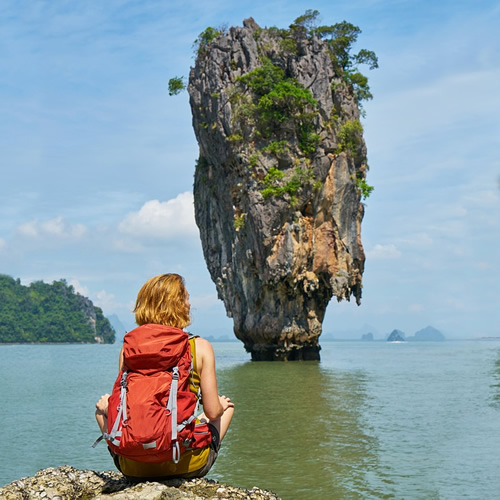 A backpacker gazing at an unusual rock formation in Thailand, dressed to be comfortable..
Pack very light, as you will be spending large amounts of time with these items strapped to your back. Clothing and shoes can be found in most urban areas in Asia. Many stores cater specifically to tourists and stock currently popular items seen only on fellow travelers. A few pairs of shorts and pants in addition to a few shirts are really all you need for most of Asia. The climate in Southeast Asia and much of India tends to fluctuate from being extremely hot to very comfortable. Northern India and Nepal—due to their altitude—can become quite cold if not outright freezing during the winter months. Regardless of the season during which you travel, if you plan on heading into the mountains you will need some form of warm clothing. Those hiking in Nepal will need coats for at least part of their trip. The quantity of clothing needed varies depending on the elevation level of the hike. Some hikes take place at relatively low altitudes. Warm weather items as well as hiking gear can be bought or rented at any number of stores in Kathmandu. Those heading to the mountains of Northern Thailand may need sweaters during the evenings. Travelers interested in heading to Northern India will find warm clothing and shoes at most markets in Manali, a common starting point for those traveling overland. In general, most items required for travel in a specific country are available within the major cities.
Modest dress tends to be preferred in most Asian countries. Exceptions to this are major tourist destinations. You will not see full coverage swimsuits on the popular Thai beaches. Within India, modest clothing is the only way to dress, especially if you are a woman. Traditional Indian clothing for women can be bought or tailored. These outfits are extremely comfortable and do not receive quite as much attention as Western clothing.
Vaccinations
There are often questions as to what vaccinations are required when traveling in Asia; the simple answer is none. You are not required to have any specific immunizations to enter into any Asian country. Some travelers will receive every suggested vaccination while others will travel without incident with none whatsoever. Out of the long list of available vaccinations, those for Hepatitis A and B and well as Typhoid should be most seriously considered. In addition, make sure booster shots are up to date. It is very important to research and note any local warnings for the areas you will visit on your own government website such as CDC. Malaria pills garner much the same debate as vaccinations. You have to weigh the risk of possible side effects with the malaria intensity level of the areas you will visit.
If you opt to do so, make sure you take all the vaccinations your doctor suggests in advance of your trip, and start your malaria pill dosage as directed before you go. Some people suggest to spray down your clothes before the trip with mosquito and tic repellent such as Permethrin if you plan to hike or go into tropical areas, which are everywhere in Vietnam, Cambodia, Thailand, and elsewhere in SE Asia. Many use DEET for their exposed skin to protect against mosquitoes and tics. You don't have to use any of the above, but many regret not doing so or may be worried during the trip if they have not maximized protection.
Whatever the vaccinations and treatments you use are obviously your choice, but you should consider all the pros and possible cons very carefully. Some are more comfortable playing with fire than others.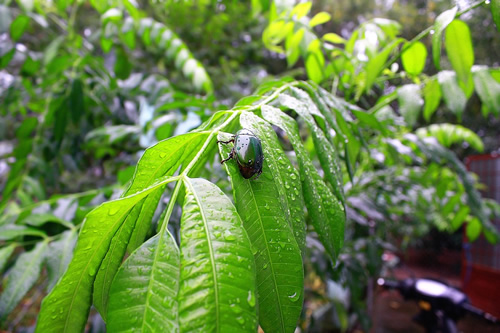 Yes, there are, in fact, bugs in Asian jungles. Prepared, you will be fine.
Health
Another huge concern for prospective travelers is getting sick while abroad. Chances are if you do get sick, it can be traced back to two things: food and water. There are common-sense things you can do to minimize your chances of getting sick, including cutting down on meat in certain countries, drinking only bottled water, and peeling fruits and vegetables. Despite the best efforts, few make it out of Asia without some sort of stomach upset. The thing to remember is that every traveler is likely going through the same experience—which makes the event seem less dramatic than it can seem when originally imagined. There are pharmacies in nearly every town. You will not be the first tourist he/she has seen with stomach problems.
Shopping and Bargaining in Asia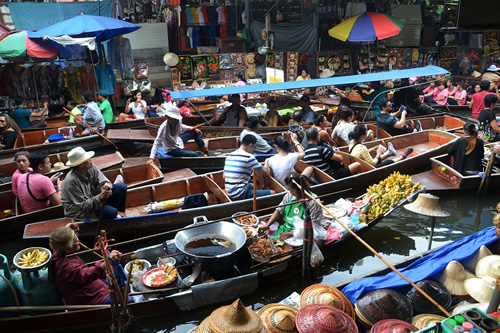 You must experience the floating markets in Vietnam, and other markets throughout Asia.
A sight witnessed just as often as food poisoning is the irate traveler upset by a local trying to sell or overcharge for goods or services. Battles waged on principle, sometimes over a few cents, are a waste of time and energy. You must learn to assert yourself without becoming easily agitated. Scams are certainly not uncommon. If a situation seems strange, do not be afraid to walk away or just say no. If you are told that something is free, you should be skeptical as few things are. Donations are usually expected. At the same time, try to be respectful of the customs and practices of the local people who are hosting you. You should quickly learn to recognize how local people interact on a daily basis in the various and varied countries in Asia.
The process of immersion travel in a foreign culture can often seem overwhelming, especially for a first-timer. Knowing how to prepare and what to expect is one way to assuage persistent fears. In the end, most first time travelers to Asia find themselves stretching far beyond the limits of what they believed they were capable. The experience is transformational.
AMELIE DE MAHY is from Lafayette, LA. She is currently in northern Thailand.