Cycling Tours in the Netherlands
Best Paths to Ride
Story and photos by Friedel Rother
Amsterdam is often called the cycling capital of the world.
The Netherlands is the ideal starting point for exploring Europe on two wheels. First of all, the people in the Netherlands love to to cycle and do so like few other people on earth, with Amsterdam called the "bicycling capital of the world" by some.
Will I have the apple cake with whipped cream or without? Should I cycle through the dunes and along the sea or past tulip fields and windmills? These are the dilemmas that await cyclists in the Netherlands—a country that is as crazy about bicycles as the stereotypes suggest.
There are more bikes than people here and a staggering 6,000km of long-distance bike paths: not an insignificant amount for a country just 200km wide. No matter which way you turn, there is a bike path to explore. Special traffic lights, with illuminated bicycles, mark the way when you need to cross a road and the Dutch people are equally fantastic. Their relentless enthusiasm for all things bike-related often translates into a friendly offer to guide the lost cyclist to the right destination.
Add in a mostly flat landscape that is rarely strenuous and you have the perfect starting point for anyone who wants to see Europe from the saddle of a bike.
The scenery that awaits cyclists in the Netherlands can be surprisingly rural, despite the fact that is one of the world's most densely populated countries. Once outside crowded Amsterdam—with its chaotic web of tram tracks, roads, buses, cycle paths and taxis going in all directions—there are plenty of forests, farmland, and nature reserves to explore.
Free campsites for cyclists in the Netherlands. Photo by Friedel Rother.
Cycling Through Hoge Veluwe National Park
One of my favorite routes is through the Hoge Veluwe National Park. Set between the eastern towns of Appledorn and Arnhem, this protected area and the countryside around it forms one of the most forested areas in the Netherlands. You can spend hours darting between trees and over open moors, without ever reaching a village.
With a bit of luck, you might spot a wild boar, deer, or even some of the badgers living in the woodlands. No visit is complete without stopping to see the Kroller-Muller museum in the middle of the park. Its collection of over 300 paintings by Vincent van Gogh plus works by Pablo Picasso, Piet Mondriaan, and many other famous artists is as impressive as anything you'll see in the big museums of Amsterdam.
Cycling Along the North Sea
More cycling pleasure awaits along the North Sea, where the LF1 bike route traces the coastline for nearly 300km. The paved bike paths in this part of the Netherlands take you on a rolling ride, over the crests of the endless sand dunes. None of the hills are particularly big but this is a good ride to challenge the notion that Holland is entirely flat.
Any extra calories you expend are quickly recouped with a stop at one of the many cafés in the beachside towns. A traditional Dutch pancake, topped with bacon and drizzled with syrup, along with a coffee, is just the thing to keep your energy and spirits high.
The ideal time to do this route is mid April or early May, when a short detour inland, just north of The Hague, will let you experience one of Holland's biggest flower growing regions. In the right season, miles of vibrant tulip fields and the stunning Keukenhof Gardens will keep your camera snapping away.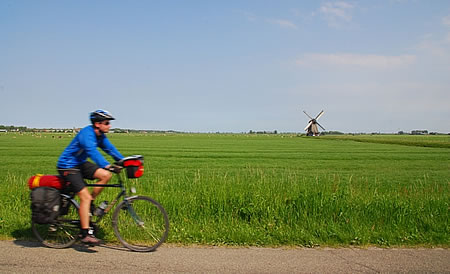 Andrew cycling with a windmill in the background. Photo by Friedel Rother.
Cycling the Fietserpad
But perhaps no one journey gives a better impression of the Netherlands than the Fietserpad—a 500km itinerary that crosses the country from top to bottom. It parallels the popular Pieterpad walking track, taking you entirely along quiet country roads and bike paths. On the way, you pass through picturesque little towns, where the church spires usually also marks the next cafe and a chance to rest your legs. You also pass over the ubiquitous Dutch canals and touch on plenty of history, including ancient burial sites and WWII monuments.
Cycling South to Maastricht
Other options include heading south to Maastricht, with its well preserved old city center or north to the province of Friesland, where you can follow the bike equivalent of the grueling "Elfstedentocht." In the winter, this 200km tour of 11 cities is completed in one day by skaters on the frozen canals. For you, it won't be a race but a chance to trace the same route on bike paths, over the course of a few days. Along the way, you can stop to admire the harbors filled with sailing boats and fields dotted with Friesian cows.
These are just a few ideas for bike trips in a country with hundreds of possibilities. If you are having trouble deciding there is also the option to simply turn up, buy a good cycling map (bookstores carry a wide selection), and follow your nose.
Cycling Tips in the Netherlands
Wherever you go, the following tips will help make your cycling trip in the Netherlands easier and more enjoyable.
Stay In Cyclist-Friendly Accommodations. If you do nothing else before you come to the Netherlands, join Vrienden Op De Fiets. For just 8 euros (10 euros if you live outside of Europe), you will have website access to over 5,500 addresses of Bed & Breakfasts that cater exclusively to cyclists and walkers. The cost is never more than 22.50 euros for the night (less than a youth hostel). Campers can also make use of free tenting campsites, which are only accessible to non-motorized travelers. These campsites are often small and tranquil tenting sites, usually in the woods with spots saved especially for cyclists. You will not be turned away if you arrive before 7 p.m.


Use Bike Parking In Cities. One of the usual difficulties with bike travel is where to put your bike and all your bags when you want to do some sightseeing in a city. Guarded bike parking is the solution in the Netherlands. In bigger train stations and city centers you will find secure areas to store your bike for the princely sum of between 50 cents and 2 euros a day.


Prepare For Shortened Open Hours. Dutch shops tend to follow the European tradition of shorter opening hours than their North American counterparts. They open late on Monday (sometimes not until the afternoon) and generally close by 6 p.m., except on Thursdays when a few stay open later. Bigger supermarkets offer more flexible hours and some are even open on Sunday—but not all. The more rural your destination, the more likely you will have to do your shopping on Saturday.


Put Your Bike On The Train: No one said you had to cycle every mile. It is very easy to take your bike on the train in the Netherlands. All trains have a bike carriage and all but the smallest stations have elevators so you don't have to lug your bike up a flight of stairs. You do have to buy a special ticket for your bike (6 euros per day) and you must travel after 9:30 a.m. on weekdays to avoid the morning rush hour.


Rent Or Buy A Bike: If you do not want the hassle of bringing your own bike to the Netherlands by plane (often a costly affair, since airlines almost all charge for bicycles), you can rent a bike for about 10-16 euros a day (see Mac Bike and Bike City for an overview of your bike options). The bikes are relatively basic but all come with a rear luggage rack, allowing you carry at least a couple pannier bags. You can also rent helmets and child seats. For trips longer than two weeks, consider buying a second hand bike from one of the many bike shops. Prices range between 100-300 euros but you can get much of this back by reselling it before you leave—or take your bike home as a souvenir. Whether you buy or rent, remember to allow a bit of extra time to pick up and drop off the bike at either end of your vacation.