How to Know You are Staying in an Authentic Italian Agriturismo
Sign pointing to one of the agriturismi (farm stays) which dot the countryside of Italy and are wonderful places to experience enjoyable cultural immersion.
"We're staying in an agriturismo in Avola (Sicily)," I told my husband. Memories of other stays in agriturismi flooded my mind, from the baskets of vegetables willingly provided to the tours and tastings in family-owned wineries. We were eager to reach the lemon orchard of Tenuta Don Paolino near Avola. With over 2,000 lemon trees, we anticipated strolls in the orchards of this agriturismo.
Agriturismo? Si! o No!
So what exactly is an "agriturismo"? The literal translation is something like "holiday farmhouse" or "farm house resort." My family and I have stayed in a variety of agriturismi in Tuscany, Piemonte, Le Marche, and Sicily. It is a truly authentic way of traveling and getting to know the real people, the "salt of the earth," who make their living from agriculture.
Arriving at Tenuta Don Paolino, I eagerly told our host, Paolo that I anticipated writing an article about agriturismi and asked if I could interview him. I said that we were happy to be staying at his family's agriturismo. Now, mind you, this was all in Italian, and when he looked at me quizzically, I thought it might be that my Italian was male, bad.
Alas, it was not my Italian that was bad but my understanding of agriturismi. Indeed, this beautiful, modern, recently renovated farmhouse in the midst of a fragrant lemon grove was a Bed and Breakfast. Agriturismo? No. 
Over breakfast, Paolo explained to me that he and his father harvest the lemons and sell to local markets. The former farmhouse, now a stylish structure including a new second story, has five bedrooms and bathrooms, the limit for B&Bs in this area of Italy. Later in the week, I learned that Paolo is actually an architect, which explained the amazing structure he has created for guests. I was thrown off by the setting in the lemon grove and my assumption that tenuta, could be a Sicilian designation for an agriturismo. No, tenuta simply means "area" or "land." 
I began to question myself. Were the other "agriturismi" where I had stayed REALLY holiday farmhouses? I started asking questions. 
Writing to Chiara Andreis at Cascina Sant'Eufemia near Sinio, Piemonte, I posed the question to her: "What makes an agriturismo an agriturismo?" We had stayed at Cascina Sant'Eufemia for a week amongst the grapevines and hazelnut trees, watching the daily comings and goings of Chiara's husband Paolo and her father working the land. We enjoyed huge, leisurely breakfasts, a lovely apartment that included an antique bed belonging to Chiara's grandparents, two evenings at local trattorias with Chiara and Paolo, and unexpected treats prepared by Chiara for afternoon snacks. Agriturismo? Si! Yes!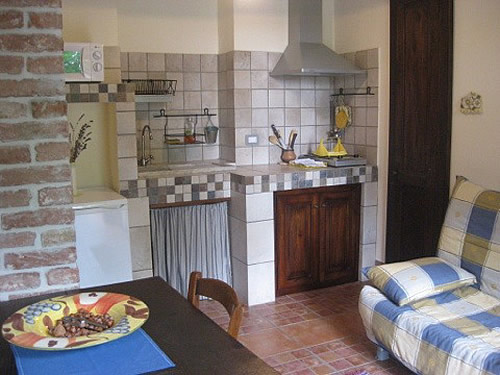 A kitchen in the apartment of agriturismo Cascina Sant'Eufemia allows you to cook up some food with local produce or from a local market if you so wish.
Here is what I learned from Chiara about the legalities of agriturismi:
According to the national law (Legge 20 febbraio 2006, n. 96) the conditions to qualify as an agriturismo in Italy require:
51% of income must come from farming.
A farmer must run the activity.
The tourist activities of an agriturismo (maximum 49% of income) are several:
Owners may offer one or more of the above. If meals are offered, foods must include products produced by the farm or by local cooperative of which the farm is a member. Families are not required to live in the agriturismo, although most do. 
There are tax incentives for being an agriturismo, but also some limits, specified by regional laws. So I understood that what Paolo in Sicily and Chiara in Piemonte were telling me was slightly different because the regional laws govern specifics.
Flipping through my mental Rolodex, I reviewed the other agriturismi in which I had stayed. Palazzo Bandino near Chiancano Terme, Tuscany remains indelible in our memory. At the end of our stay our first grandchild arrived a bit early in the U.S. Our hosts shared the excitement and presented us with a bottle of their own sparkling wine to celebrate, even though it was only 8 a.m.! After nearly a week here with multi-course dinners, baskets of vegetables and olive oil for our apartment use, and lazy afternoons at their pool, the bottle of bubbly finished our first agriturismo stay in grand style. Agriturismo? Si!
Free roaming chickens can be found around agriturismo La Tavola Marche.
The name La Tavola Marche, Farm, Inn, and Cooking School, really says it all. Run by two energetic ex-pat Americans, Ashley and Jason Bartner, our one-week stay in the Le Marche region included a cooking class with fresh vegetables gathered from their fields, a wine and olive oil tour to places we'd never find ourselves, a visit to local mushroom and truffle festivals, and the motoraduna, motorcycle festival in nearby Sant'Angelo in Vada. Ashley is la padrona di casa, the ultimate hostess, while Jason creates epic dinners that include prosciutto and sausages he produces, fruits and vegetables from the huge organic garden, and chickens that once pecked at our door! Agriturismo? Si!
Over two stays at Nascondiglio di Bacco near Offida in Le Marche we watched the metamorphosis of the farm run by Dwight Stanford and Raffaele Paolini. Their agriturismo boasts vineyards, onsite winery, and the new PS cantina (PS for Paolini/Stanford). We have walked the vineyards with Bacco, the resident flat-coat retriever, marveling at the new vines, the olive trees, and the amazing amount of hours it takes to develop an organic vineyard. Dwight has literally jumped in our car, taken the wheel, and driven us over the countryside to cheese shops, a communist bar, and an historic coffee shop. Agriturismo? Si! Listed online as a B&B? Si! 
How does one find an agriturismo? It is quite simple, really. Ashley Bartner of La Tavola Marche suggests using any search engine to discover the agriturismi in the region, since collective sites charge a fee to the farm owner. For example, "agriturismo Le Marche Italy" will reveal the names, contact information, and a map for those farmhouses that have websites. Also try searching "rural retreats," "farm holidays," or "farm stays." The adventurous can drive the back roads and follow signs that lead travelers to the unexpected gems not advertised online. 
Agriturismi can be grand enterprises, fit for weddings and large events, or humble abodes with one or two guest rooms. When you are seeking authenticity, look no further than a stay at an agriturismo. Then you will be saying, "Si! We stayed at an agriturismo!"
Agriturismi in Italy
Agriturismo.net lists a wide variety of farmhouse accommodations throughout Italy.
La Tavola Marche (Farm, Inn, and Cooking School) is nestled near the town of Piobbico in northern Le Marche, a slowly-being-discovered-by-Americans gem. Be sure to book a cooking lesson and dinner. Then loosen your belt!