Cultural Travel in South Tyrol, Italy
Exploring the Austrian-Influenced Region in the North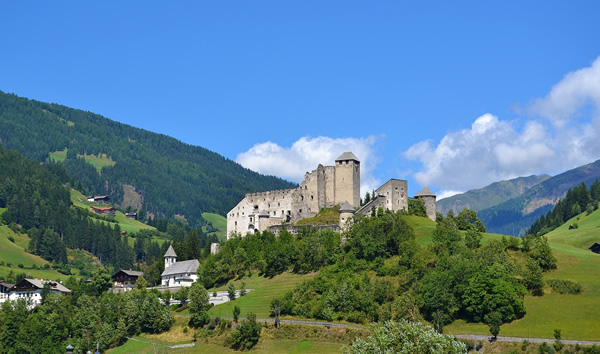 A castle in pastoral South Tyrol, Italy.
The scenery changes drastically where the large plains in northern Italy meet the southern rim of the Alps. The plains give way to tall mountain peaks that tower over quaint towns, while vineyards and orchards cover the picturesque valleys and slopes. In the heart of this southern alpine region lies the province of Alto Adige or South Tyrol. Although Italy is among Europe's top travel destination, South Tyrol is far from Italy's main attractions and is largely overlooked by international travelers. But travelers who pass through this remote corner of northern Italy will discover a pristine mountain region with a unique local culture and history that is well worth a visit. If you arrive from other parts of Italy, the first thing you will notice that it is not only the scenery that changes, but also the culture, language, and traditions.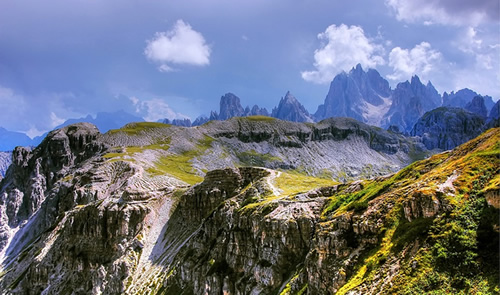 The southern Alps make South Tyrol a popular outdoors destination, with the spectacular Dolomite mountain range as a backdrop.
The Austrian Heritage
South Tyrol is an autonomous region that shares its history, culture, and language more with the Austrian province of Tyrol to the north than with the rest of Italy. German is widely spoken here, and the cultural traditions and customs are more closely related to Tyrol than to the neighboring Italian provinces. For over 500 years South Tyrol was part of the Duchy of Tyrol and the Austrian empire and so was often caught in the middle of conflicts between Europe's major powers. The fortresses and castles scattered across the mountainous landscape offer evidence of the region's turbulent history. Many of castles are now regional history or art museums.
South Tyrol's main towns were once wealthy centers of mining and trade, and most of them have maintained their historic flair to this day. Medieval houses line narrow cobblestone streets, and at every turn visitors discover historic and artistic treasures, from beautiful arcades to oriel windows, medieval frescoes, Gothic town halls, and tall bell towers.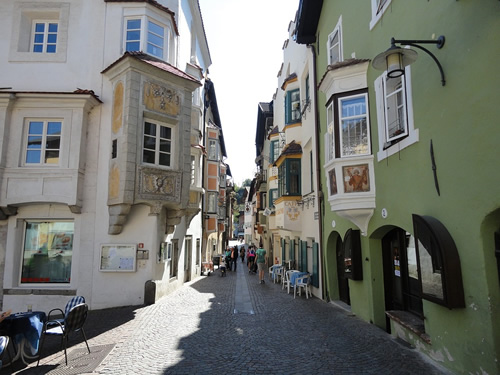 A walking street in a typical village in South Tyrol, with the Austrian influence clear in the architecture.
Isolation Keeps Culture and Traditions Alive
Due to the region's geography of isolated valleys separated by tall mountains, South Tyrol has not only maintained its traditional livelihood based upon agriculture, but also its age-old customs and traditions. Folkloric groups and brass bands are popular everywhere, and each village has its own traditional costumes, favorite folk dances, and traditional dishes. If you are lucky you might be there in time to attend a village festival or celebration dedicated to a local patron saint, which is a great way to learn about the traditional customs. In addition to religious festivals based on the Catholic calendar, there are many other cultural events worth attending, especially in early fall. This is not only wine harvest season, but it is also the time to bring the cattle back into the valleys from the high alpine summer pastures. This event is celebrated in many towns and villages all over South Tyrol. People dress up in traditional costumes, brass bands play traditional music, and dance troupes perform folk dances. The head bull is lavishly decorated as he is led back from the mountains ahead of the herd. The largest of these events is held annually in early October in the village of Meransen just north of the town of Brixen (Italian: Bressanone). The end of the harvest season is also the time to show off the products of South Tyrol's rich agricultural cottage industry. There are festivals and fairs dedicated to dairy products, sheep, horses, chestnuts, pumpkins, apples, dumplings, cured ham, and wine.
Toerggelen
Tasting young wine in early fall is among South Tyrol's most typical cultural traditions. Known locally as "Toerggelen," this popular celebration—which takes place in September and October—commemorates the end of the harvest and the tasting of young wine. The word Toerggelen has its roots in the word "Torggel' which means winepress. The tradition originated in the Eisack Valley (Italian: Valle d'Isarco), which dissects the central part of South Tyrol from north to south and is the region's most fertile wine-growing region.
Although Toerggelen has become an international tourist attraction with tour buses shuttling groups of tourists to large commercial festivals, traditional Toerggelen is still popular among the locals. Toerggelen dates back to the 15th century, when farmhands, family and friends were served a festive meal and young wine after the completion of the harvest. Today, Toerggelen is celebrated in a similar fashion by walking from village to village and tasting young homemade wine at farmhouse inns along the way. Guests are served young wine together with roasted chestnuts and several other local delicacies such as smoked meats, cheese, sausages, and rustic bread. What makes this tradition a great experience is the fact that it combines wine and food tasting with walking on picturesque hiking trails before the dramatic backdrop of the Southern Alps.
Toerggelen is also celebrated in small village festivals throughout the region, which are attended mostly by locals. Wine and food are sold at market stands, and people sit on large wooden benches, drink wine, eat roasted chestnuts, and watch the performances of traditional brass bands and folkloric groups. There are also booths that sell local food specialties and local handicrafts–a great opportunity to find authentic souvenirs while supporting the trade of traditional artisans.
Brixen (Italian: Bressanone), the largest town in the Eisack valley (Valle d'Isarco), is one the best bases for Toerggelen walks, since it is located in the heart of the region's wine growing area. Other great starting points are Bozen (Bolzano), Klausen (Chiusa), Tramin (Termano), Kaltern (Caldaro) and Eppan (Appiano).
Rustic Alpine Cuisine
Just like the culinary traditions of other Alpine regions, the cooking in South Tyrol is rustic, hearty, and based on locally available ingredients. South Tyrol is a densely cultivated region with a rich agricultural tradition. The thriving community of small farmers prides itself in its cottage industry that produces not only wine but many other local specialty foods and delicacies. Among the region's most famous products are a variety of delicious cheeses, smoked sausages, cured meats, preserves, and liqueurs. Perhaps the best known delicacy is the locally produced "speck," a salt-cured, lightly smoked and aged ham, which is available as an appetizer at restaurants and served at farmhouse inns throughout the region. You should also try the different local bread varieties, such as "Vinschger Paarl," a double roll made from rye flour, and "Schüttlbrot" (shaken bread), a flatbread made from grape seed flour. Many small farms sell the products of their cottage industry at farmhouse inns, weekly farmer's markets, and at South Tyrol's festivals and food fairs.
Outdoor Activities
In addition to the easy walks from farm to farm which are a big part of the Toerggelen tradition, South Tyrol's pristine mountain environment offers many other great outdoor activities. There are numerous hiking trails that lead up high above the tree line into the alpine meadows as well as strenuous mountaineering routes for experienced climbers. Mountain biking and horseback riding are also popular activities, and there is an extensive network of trails allowing visitors to explore the region on a bicycle or horseback.
When to Go
Fall is the best season to visit South Tyrol, not only because of the many festivals and cultural activities, but also because of the mild weather. When the northern Alps experience the first frost, the Southern Alps in South Tyrol are still sunny and warm. The high season is over by early September, which means that there are fewer tourists and prices are significantly lower than during the summer months. This is also great time for hiking and other outdoor activities.
Where to Stay
Farm stays are a great way to learn about the local culture and farming traditions. Red Rooster, a site created by South Tyrol's farmer's union, is the best portal to find farm stays in the region. There are also many affordable bed and breakfast establishments in South Tyrol. Look for "Zimmer Frei" (Vacancy) signs along the main roads, or ask at a local tourist office.
Resources for Exploring South Tyrol
Südtirol.info is the most useful website with much information about the region's attractions, festivals, culture, and outdoors activities.
Meranerland.com is a tourism portal for the region around the city of Merano.
Suedtirol Bolzano is a travel guide for Bolzano and environs.
Vipiteno-Racine covers tourism in Sudtirol.
How to get there and around
There are flights from the UK and Germany to several airports in northern Italy, such as Verona, Innsbruck (Austria), and Bergamo, from where you can reach South Tyrol by train, shuttle bus, or rental car. Try airlines such as Ryanair, Eurowings, and Tuifly.
You can get to South Tyrol by train from several cities in Italy and the neighboring countries, such as Munich, Innsbruck, Zurich, Venice, Verona, and Milan.
South Tyrol offers a convenient transportation pass that lets you travel on local buses, railways, and cable cars for either three days or seven days.