Culinary Tours in Prague
Exploring Czech Food on Foot and on a Budget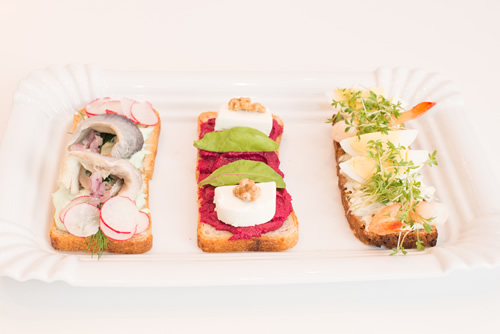 Culinary Sisters chlebíčka is one notable part of the food scene in Prague.
While Prague might be a perennially popular destination, the Czech capital is hardly famed worldwide for the excellence of its cuisine. However, while stodgy fare like potato dumplings and pickled sausage is still the mainstay of many pub menus, there are tasty hidden gems to be uncovered—if you know where to look. And unlike more obvious foodie destinations such as Paris or Rome, Czech traditional food is largely unknown outside the country's borders, so those bold enough to go off the beaten track are guaranteed some unique flavors to savor.
Eating Prague Tour
While Prague's public transport system is both affordable and efficient, the best way to explore the maze-like network of cobbled streets that makes up the famed Old Town is on foot.
If you would rather be guided by a local expert than track down those authentic local eateries alone, the Eating Prague Tour is definitely worth considering. I recently participated in a tour led by food blogger Jan Macuch, who is passionate about Czech cuisine and knowledgeable about the city's culinary scene. Highlights included discovering Hořice rolls — cream-filled wafers introduced to Bohemia during the Napoleonic Wars. According to EU legislation, the rolls may only be produced in the Czech Republic. The sauerkraut soup, which sounded distinctly unappetizing, turned out to be tangy but yet surprisingly delicious.
We saved the classic dumplings and meat combo until last. First, we savored svíčková, (braised beef in a creamy sauce with a cranberry compote) with fluffy white bread. Goulash might be more widely known, but the dish originated in Hungary; svíčková, however, is truly Czech.
Lighter Bites: Chlebíček (a.k.a Czech Open Sandwiches)
Chlebíček — an open sandwich consisting of ham, potato salad on white bread—is the traditional Czech alternative to more familiar foreign interlopers like the baguette and the panini.
You will find an array of such sandwiches on sale in bakeries served on paper trays and enjoyed while standing up at counters. Libeřské lahůdky on Vodičkova, has a decent selection; they also sell some very pretty marzipan animals. The branch of Pekařství Moravec on Biskupský dvůr street is a good option if you are in the Old Town: they have a small number of tables inside as well. As the name suggests, Príma Chlebiček specializes in the Czech open sandwich: choose from over thirty different varieties, including cream cheese with sundried tomatoes, "roast bif," hummus, and "dark caviar." All are priced at around 20 CZK (US$0.80). You enjoy your sandwich standing at the metal counter by the window, or if weather permits, take a selection as an excuse for an impromptu picnic in the nearby square on I.P Pavlova where there is a regular farmer's market.   
Queen of the chlebíčka has to be Sisters Bistro. Located on Dlouha Street, Sisters is owned by local food writer Hana Michopulu. Michopulu made it her mission to give the humble chlebíček an upmarket makeover while sticking to her basic philosophy: make food that is simple and fresh. The results, while a little pricier than the standard versions, are delicious. On my last visit, smoked salmon topped with thinly sliced half-moons of radish and sprigs of cress was the tasty addition to the menu.
I enjoyed the beetroot puree with goat's cheese topped with a tiny sugarcoated walnut, but the Prague ham, gherkin and potato salad is a tasty take on the most popular kind of Czech open sandwich. There is also fresh soup on the menu: most of the clientele opted for a combo of a generous bowl of broth and a couple of sandwiches. Seating inside is limited, so if you're planning to stop by at lunchtime, get there early—i.e. before 11.30 a.m. —to beat the rush.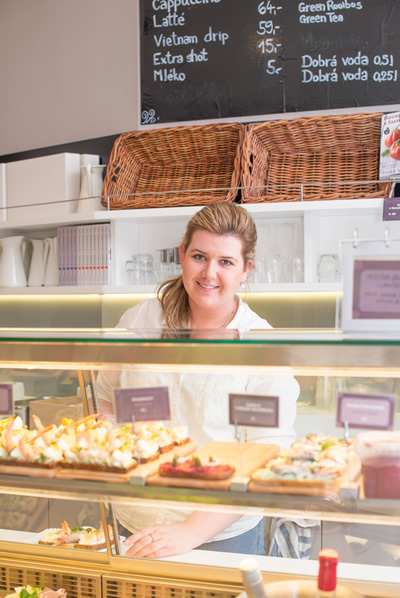 Chlebíčka are a common snack in Prague.
Meat, Meat, and More Meat: Naše Maso
Right next door to Sisters Bistro are the artisanal butchers at Naše Maso (which translates as "Our Meat"). The mainstay of the typical Czech diet remains meat, especially pork, but as salaries remain below the European average, quality considerations often comes a poor second to price. However, all the products here are top notch: the layout means that you can see staff at work chopping, slicing, and hanging hocks of ham in the window. Best of all though, the shop has a small seating area where hungry carnivores can savor a quick bite. My Czech partner and I ordered the buček (braised pork belly) and a burger. You can also try pub classic vepřové koleno (pork knee) or some frankfurter style sausages.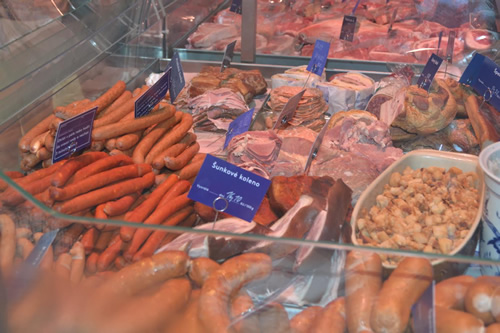 Meats of all kinds galore, a huge part of the Czech diet.
Underneath its crisp layer of crackling topped with a layer of caramelized onions, the buček has been cooked slowly and gently overnight so that it simply falls apart when teased apart with a fork. Ignoring the accompanying serving of dark bread, this is food perfection. Once the pork belly disappears, and it does not last long, we pour our own beers from the brass faucets in the corner and wait for our burger to arrive. It comes served in a houska, a traditional Czech bread roll topped with poppy seeds and dressed with gherkins and mustard. The beef patty is medium rare, substantial and moist; at 115 CZK (US$4.50), the same price as a fast food burger, which is excellent value for money.
Jídelna
Increasingly, we travel the world to have an "authentic experience": to live, eat and do things the way ordinary locals do. In Prague, sometimes that holy grail of modern travel — the "authentic culinary experience"— is only accessible to carnivores with guts of iron. Still, if you are feeling adventurous and happen to be on a tight budget, then try lunching in a jídelna. A jídelna is a canteen frequented by construction workers in overalls and men in suits nearing retirement age who are nostalgic for the gristly goulash and rib-sticking dumplings of their youth. Typically, you order at the counter, have your choice briskly ladled out onto a plate, and consume it standing up. With the rows of metal benches and white tiles, the setting at Jídelna Štěpánská, located at 1 Štěpánská Street,is a little clinical. However, there is a decent range of options —mostly served with dumplings, naturally.
Vegetarians need not despair: the Czech chain of organic food stores, Country Life, has meat-free canteens. Load a bowl with fresh salad and hot stews for 90 CZK (US$3.50), or if you are having major hunger pangs, opt for the large 139 CZK (US$5.45) plate. Tucked away in a cobbled lane not far from the Astrological Clock, the Melantrichova street store is an excellent cheap stopping off point if you are in the vicinity of Old Town Square.
Cake, Coffee and Ice-Cream: The Cukrárna
As someone with an incurable sweet tooth, the cukrárna is my favorite Czech culinary institution. A version of this ice-cream parlor and cake shop combo exists in every town in the country—it is a neighborhood hub where you will find grandmas meeting up to exchange gossip and mothers with their children eager for a sugary treat. They are a great location for observing Czechs in their natural habitat.
For crazy kitsch décor, huge sundaes, and cakes made with real fresh cream, you cannot beat Italska Cukrárna on Vodičkova. If the weather is hot and sticky, grab a cornet to go. A short walk from Wenceslas Square, Ovocný Světozor is something of a local institution: while the lines extend out of the door.
To experience the best cukrárna in town, you will need to hop on a tram towards Letna where Cukrárna Alchymista awaits you. The interior is replete with quirky retro details, the crockery is decorated with the café's logo, a wizard, and the homemade desserts offer appealing names: how could anyone resist a slice of Amelie gateau? The showstopper, however, has to be the garden — a stunning urban oasis.
If you want old-world charm but need to stay close to the center, try Cukrárna Šlágr, a First Republic style café near Náměstí Míru with comfortable sofas to lounge upon and over 50 different varieties of cake.
Only Here for the Beer?
Czech beer is world renowned and rightly so. The microbrewery trend sweeping many parts of the world has taken time to catch on in Prague, but in recent years it has begun to gather pace. Pivovar Marina, located in up and coming neighborhood Holešovice, has an appealing outdoor terrace where you can enjoy Přístavní svělté výčepní, a light lager, or a stronger dark beer on the menu, the Marina tmavý special. Note that in the Czech Republic you drink by degrees: 12° is the most typically consumed and contains around 4.5% alcohol. If you are prepared to take a trip to the suburbs, Pivovar Hostivař is well worth the trip. Established by a collective of around 100 locals who decided that they deserved a decent pub with beer brewed on site, Hostivař is a refreshing antidote to the smoky, unappealing dives that often constitute a truly "authentic" Czech neighborhood bar. If you do plan to pay a visit, it is worth making a reservation for a table in advance, since the locals are passionate supporters of their microbrewery project.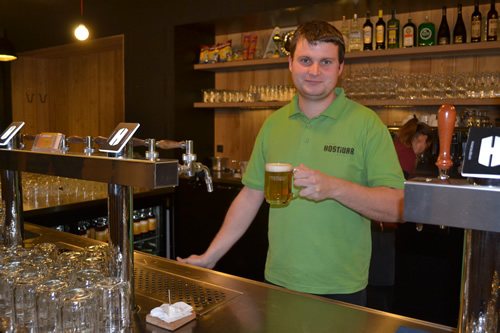 For really fine beer in a country renowned for its great beer, visit Pivovar Hostivař.
Information for Foodies Visiting Prague
| | |
| --- | --- |
| | Lisette Allen is a Prague-based freelance journalist who has contributed to the New York Times, easyJet Traveller, WIZZ! (Wizz Air's in-flight magazine) and other publications. |