Olive Picking and Traditional Cooking in Hidden Andalucía, Spain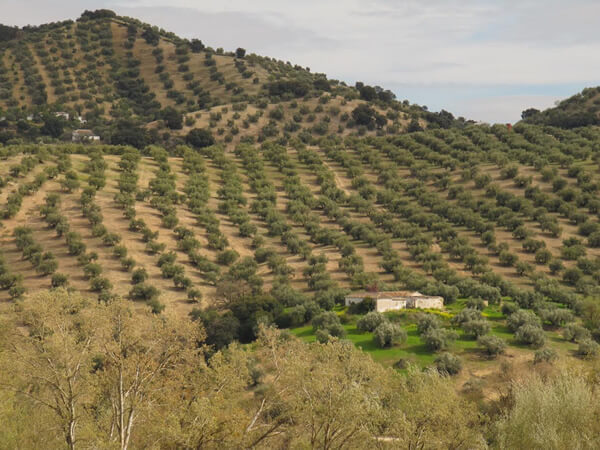 Olive groves cover much of the region of Andalucía in the south of Spain.
"Al lado," explains Pablo, as he swings the stick along the sides of the wispy branches, rather than directly against the stems, and a hail of dark olives showers to the ground. He hands me the long pole and I try to replicate the same stroking motion that dislodges ripe fruit from the tree without damaging the young buds that will form next year's crop.
"Más fuerte," urges Pablo, encouraging me to use more force, although I'm anxious not to harm the tree, which has been producing olives for over a century and a half. And this is a relative youngster. Not far away towers a 1,700-year-old tree that was planted in Roman times and continues to produce olives in profusion; others are even older.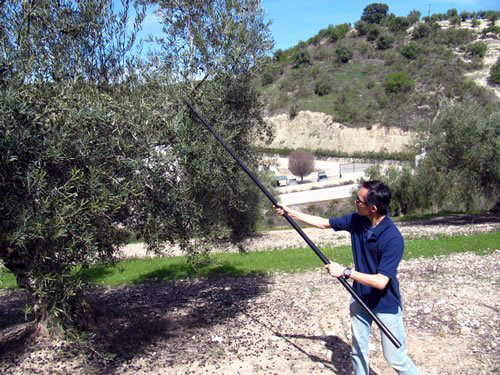 Using a pole to shake down the olives on a tree in Andalucia.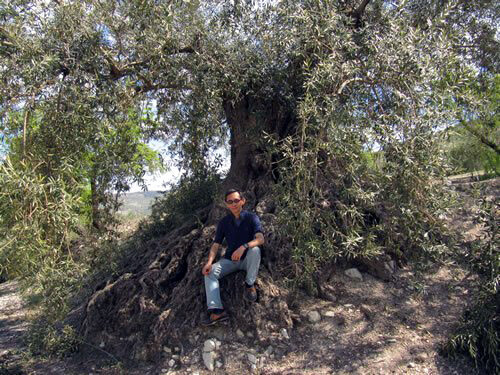 A 1,700-year-old olive tree, of which there are many and older, in the olive groves of Andalucia.
I'm deep in the Spanish countryside near Córdoba in Andalucía, participating in the spring harvest of olives. Andalucía's seemingly endless olive groves cover an area the size of a small country and carpet the province's hillsides with distinctive, evenly-spaced dark green foliage, which from a distance appears fluffy and ball-like. Spain produces some 40% of the world's olive oil and Andalucía accounts for 60-70% of this.
However, more notable than the sheer volume of output, this region of Andalucía produces some of the finest olive oil in the world — highly prized for its delicious, intense fruitiness.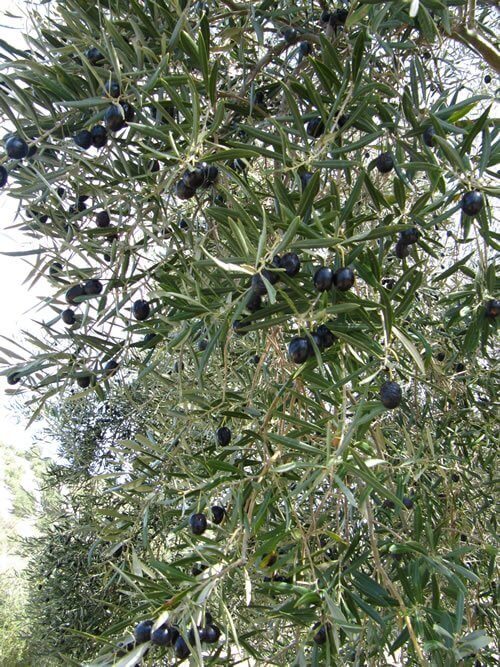 Ripe olives hanging from the tree.
Pablo left school recently to start working the sun-drenched olive groves his family has tended for generations. He enlists the help of a mechanical tree shaker to speed up progress as I continue to thwack away at the vibrated branches. After we've darkened the arid soil around the tree's stumpy trunk with a circle of glistening dark purple olives, we rake the fruit into piles and shovel them onto a large canvas sheet using plastic trays. The harvest will then be transported the short distance to a co-operative plant to be washed, first with air and then water, mashed, and strained.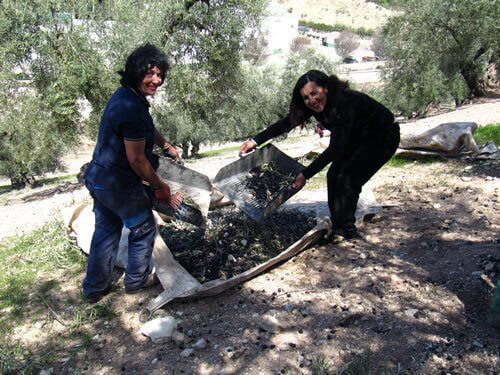 Raking up the olives shaken from the trees.
Olive Oil Tasting in Priego de Córdoba
After my brief introduction to the physicality of the harvest, I enjoy some respite from the fierce sun in the nearby whitewashed Moorish town of Priego de Córdoba. In the cool, cavernous hall of an oil producer, Antonio Torres explains what to look for in a good olive oil. He should know as he's one of the panel of experts whose job it is to determine which olive oils are "extra virgin" — and as such have no defects — and which are "virgin", which are still high in quality but have a small number of imperfections.
On the table before me await three small spherical vessels, intentionally made out of dark blue glass since the color of olive oil is irrelevant to its quality. I smell the first for several seconds, unable to answer Antonio's question of whether it's good or bad. "Okay," he nods understandingly, "try oil number three instead." I do and am immediately hit by an intensely delicious aroma of fresh fruit — something similar to a green apple. With Antonio's help I also detect hints of freshly-cut grass.
It's difficult to stop inhaling from the good quality oil but returning to the first glass, Antonio explains that this is "rancid," having stood in too much light or at too high a temperature (above 25 C). Sadly, on reflection, this is the aroma I have mostly associated with olive oil. With it being easy — even for a beginner like me — to distinguish good olive oil from bad, I determine never again to tolerate poor or rancid oils.
Returning blinking into the afternoon sunlight, I head into the heart of Priego's Moorish quarter with the energetic Aisha Yazadi, who is Pablo's aunt and whose husband's Aceites Vizcántar olive oil has just won a major award in Barcelona. The streets here are very narrow — it's easy to touch the houses on opposite sides of the street as you walk along — so as to keep out sunlight during the long, hot Andalucian summer. To brighten up the obligatory whitewashed stonework, local residents hang attractive pots of flowers along the walls outside their houses.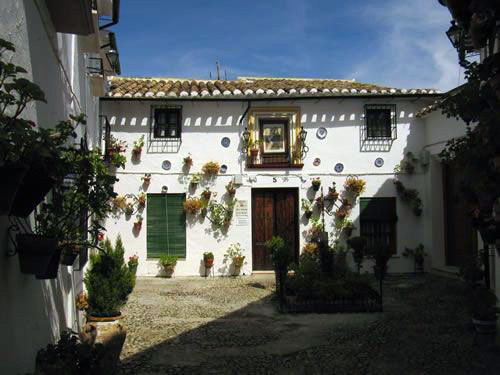 Courtyard in Priego de Cordoba.
Eating Traditional Food in Andalucía
Aisha leads me to a small restaurant near one of Priego's several ornate churches. Overhead hang a tempting array of cured Serrano hams. On any other day I would have ordered at least one plateful without a moment's hesitation, but Aisha advises me instead to try the jamón asado (spit-roasted pork) — this delicacy is normally only available in the evening but is unexpectedly on the menu this afternoon.
As we watch — and better still smell — the joint slowly roasting, we start with a plate of fried squid, which is today's fresh fish, and some tomatoes with anchovies. Of course we also eat bread dipped in olive oil. Using my new-found knowledge, I declare this to be high-quality oil, although that's not saying much. In a town of olive oil aficionados, no-one would get away with serving anything less.
Nevertheless, I enjoy once again inhaling and tasting the delicious fruity aroma of the region's olive oil. Aisha explains that when buying oil, I should look for a "use by" date around two years ahead. This would indicate the youngest, freshest oils.
Meanwhile, the waiter has been carefully carving thin slices of succulent roast pork, which marinate briefly in a combination of olive oil and pork juices, and taste every bit as good as the roasting meat smells.
Enjoying the Countryside
After lunch I bid farewell to Aisha and drive back into the countryside towards the tiny village of Los Juncares. The narrow road twists and undulates and it's difficult to concentrate on driving given the constant companion of the beautiful patchwork of olive groves interspersed by occasional isolated farmhouses. There are few other vehicles on the road, although I occasionally have to navigate around tractors hauling heavy trailers laden with olives.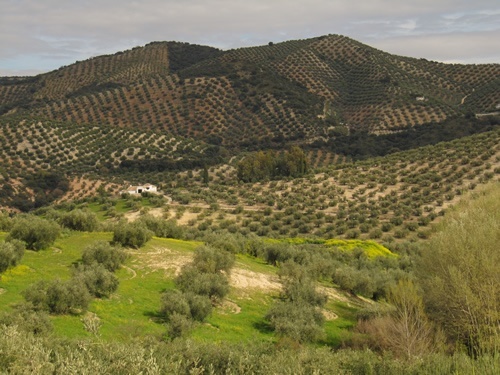 Endless vistas of olive groves in every direction on the rolling hills of Andalucia.
Lodging and Learning Traditional Cooking at Finca Las Encinas
I'm starting to wonder if I'll ever arrive given how often I have to stop to take in the scene, but I eventually turn up a steep driveway to Finca Las Encinas, a traditional whitewashed farmhouse clinging to a hillside. I meet my friendly hosts, Maki and Clive, having already been greeted by the advance welcoming party of two friendly terriers with furiously wagging tails and keen muzzles.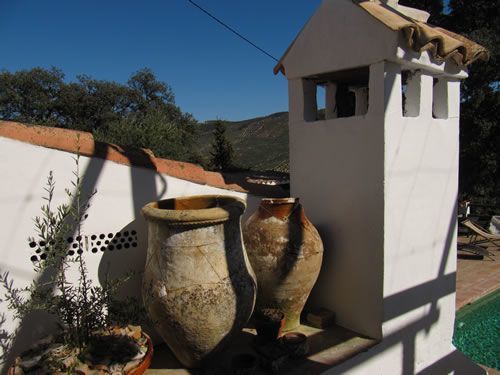 Outside whitewashed Finca Las Encinas.
The terracotta-tiled farmhouse is around 220 years old, its thick walls designed to keep inhabitants cool during the summer months. The stepped interior is irregularly-shaped and the ceiling is held up by even more irregularly-shaped beams made of solid olive wood.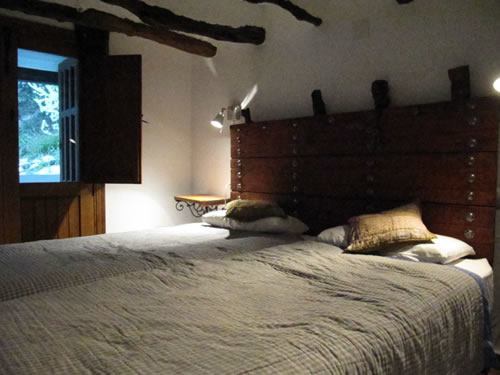 A country bedroom in Finca Las Encinas.
I'm here to learn traditional Andalucian cooking with Clive, a long-time professional chef, but first we need to draw some natural spring water and gather ingredients. As we stroll up the hillside with the playful terriers, Clive explains that citrus fruits, peaches, nectarines and pears grow abundantly here, as do almonds and walnuts.
Saffron, reputedly more valuable pound for pound than gold, grows like a weed on these hills. It's early in the year but we still gather bunches of wild asparagus and mint, and handfuls of oranges and lemons. Clive and Maki enjoy an authentic agricultural lifestyle, and with the full arrival of spring will be self-sufficient until November.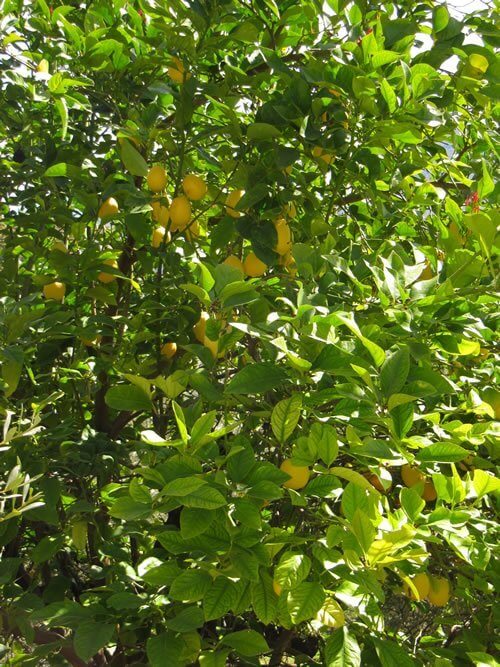 Lemons hanging and ready to be picked.
In the cozy kitchen of the finca, Clive cooks up delicious dishes including spicy monkfish soup with a manchego crouton; Andalucian garlic soup; chicken with oranges, saffron and sweet tender onions; and a stew of olives with a jointed rabbit caught that morning by a neighbor.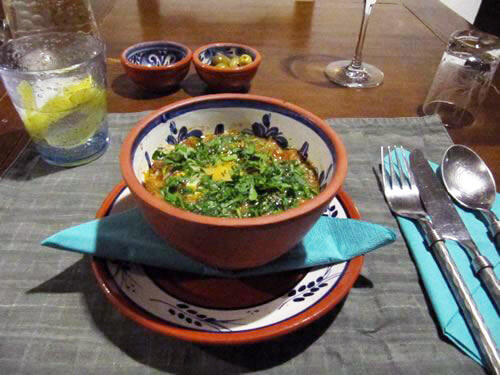 Andalucian garlic soup.
Clive shows me how to fillet a sea bass and then it's time for me to get to work as I try to follow his knife skills on a second fish. For a starter, I help make a simple but intensely delicious dish of clams cooked with garlic, fino sherry, chilies, and a secret weapon: chopped Serrano ham. An appealing aspect of cooking classes at the finca is that guests can end up cooking for other guests, which adds a little more pressure but a sense of achievement to the occasion.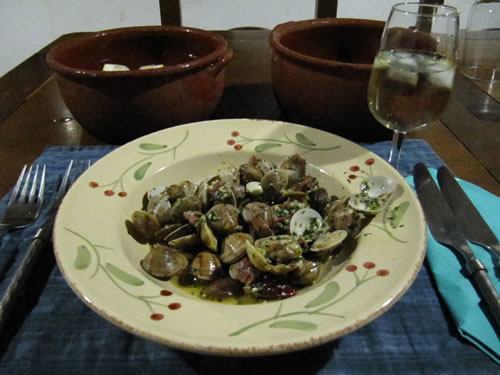 Dish of clams cooked with garlic, fino sherry, chilies, and a secret weapon: chopped Serrano ham.
The Quietly Spectacular End to a Great Stay
After a hugely satisfying dinner, I join Clive on the terrace to marvel at the night sky. Despite the dazzling sun during the day, the spring night is chilly and cooled further by a breeze that has blown over the snow-capped peaks of the Sierra Nevada, which lie beyond the opposite side of the valley. No matter. Not even the few village streetlights, which only arrived five years ago, detract from a dazzling star and planetary show that's enlivened further by several streaking meteors.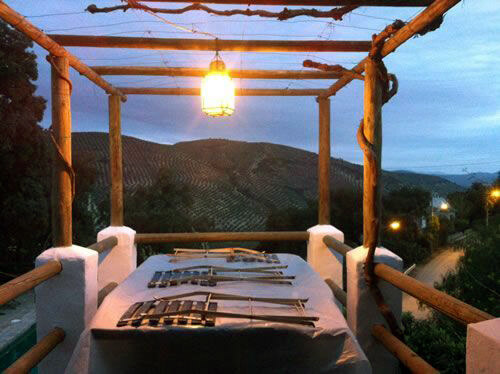 Terrace at the Finca overlooking spectacular views as the day comes to an end.
Sipping a gin and tonic scented with the flowery fragrance of a lemon we picked earlier that day, I feel very fortunate to be so immersed in this sleepy corner of Andalucía. This couldn't be further off the tourist trail: there are no tapas bars or staged flamenco shows, let alone an "English pub." I don't think I've met another tourist all day. The local people mostly speak only their thickly-accented Spanish dialect. This is raw, rural Andalucía at its unspoiled best, and I'm certain I'll be back.
Travel Information
Cooking courses at Finca Las Encinas run throughout the year (except Christmas and New Year) with the olive harvest generally running October/November to March, depending on the weather. The nearest airports are Málaga and Córdoba, and a hire rental is highly recommended to get to and enjoy the isolated location. For more details contact hellofincalasencinas@gmail.com or visit www.finca-las-encinas.com. See some other reviews if their website is down.
| | |
| --- | --- |
| | |