Biking the Baltics: Traveling through Estonia, Latvia, and Lithuania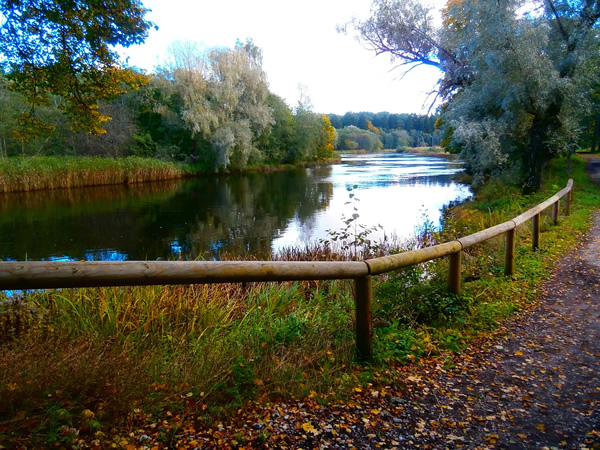 Biking in Estonia you will come across some beautiful countryside.
A winding country byway leads past ancient churches and a 14th century fortress. Further down the way, a field of young wildflowers slopes gently towards a quiet, undisturbed forest. Around the corner, rolling green hills culminate in a sweeping coastal view.
In recent years, such scenery has attracted a growing number of travelers to Estonia, Latvia, and Lithuania. And happily, traveling through the area is still affordable for even the most budget-conscious. With this in mind, it's worth your while to add a few days of exploration to your Baltic travel itinerary.
And if you've got that time, change up your mode of transportation, and trade in your bus ticket for a bicycle. In recent years, bicycling has become an increasingly popular way to explore the Baltic countries. And traveling the region on two wheels is not just fun and affordable, it's also very doable.
Jumping on the Bike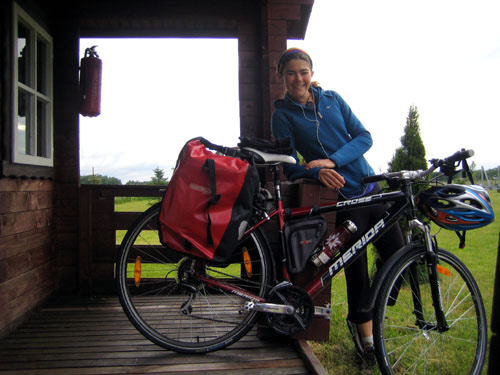 Author with her bike. Photo by Taylor Chase.
Geographically, the Baltic countries are perfect for bicycle touring. The entire area is smaller than the state of Missouri, and the highest point, Suur Munamāgi in Estonia, is only 318 meters above sea level.
Logistically, the countries are geared for this form of travel. Cycle routes are well, and regularly, signposted. For the most part, roads are in good condition and drivers are respectful towards those on two wheels.
The gentle pace of cycling makes it easier to more fully soak up the countryside culture. "We still have old preserved traditions and lifestyles here," says Toomas Lelov, manager of City Bike in Tallinn. "And people are friendly, especially in the small towns and villages."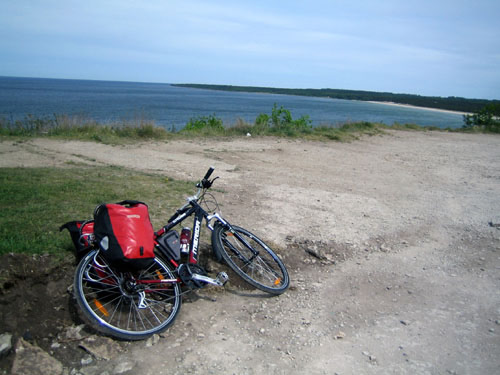 Just outside of Tallinn, Estonia. Already the country takes on a different feel from the capital. Photo by Taylor Chase.
Arranging accommodation in these small towns and villages is very easy. Numerous private individuals rent out rooms, or even full apartments, from their own homes. This is the most affordable and pleasant form of accommodation, and it gives you great contact with the local culture. Each town's Tourist Information office can help you arrange these stays.
If you didn't bring a bicycle on your trip, renting one is easily done in Tallinn, Riga, or Vilnius, the countries' capital cities. Fortunately, when you have finished your trip, there is no need to backtrack to return your bike to your beginning location. Most bike rental operators will arrange for you to leave your wheels at your end destination, or they will have you send them back via Cargo Bus.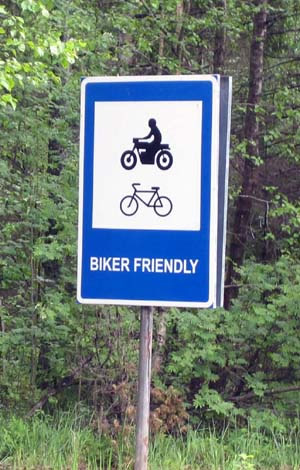 A roadside sign tells it like it is in the biker-friendly Baltics. Photo by Taylor Chase.
For these reasons and more, bike touring through the Baltics is growing in popularity. Lelov estimates that somewhere between 10,000 and 50,000 cyclists cruise through Estonia during the summer months. That number has increased during the past several years, and more bike tour companies are opening up to help facilitate travelers' journeys.
You can begin your trip from any point in the countries, but most cyclists opt for starting their trips in Tallinn or Vilnius. They usually work their way south or north from there.
Biking Estonia
One of the best things about Estonia, Toomas Lelov says, is that you can cycle the whole country and see pretty much everything in about ten days. And despite its small size, there is more than enough of interest to keep you occupied.
It's best to start your trip with a couple of days in Tallinn. Soak up the history and the sun of this laid-back northern capital, and stop into City Bike to stock up for your trip. Lelov and his team have been outfitting and advising cyclists since 2003. They can help you do everything you need for your trip — you can sign on to a fully organized bike tour, or rent a bike with panniers, or just grab an Eesti Rattateed route map to guide you on your way.
No matter the turn you take out of Tallinn, you won't have a bad ride through the rest of Estonia. Heading west of town on Eurovelo Route 1 will lead you to the sea coast and Estonia's major island archipelagos. There you can hop a ferry and explore the churches, windmills, and mysteries of Saaremaa and Hiiumaa Islands. Alternately, head east from Tallinn on Route 1 to get to the unforgettable natural beauty of Lahemaa National Park. Turning south onto Route 3 takes you through forests and along lakes to the beautiful city of Tartu.
Biking Latvia
The historical heritage and contemporary complexities of Riga. The ecological diversity of Kemeri. The hills of Sigulda, the beaches of Jurmalaa. Latvia is full of places to cycle and see.
The folks at Riga Bike Tours arrange organized and self-guided day tours around many such destinations. Tours include transport to and from the national parks and safety equipment. They also rent out bicycles and touring equipment.
The company's headquarters are at 28 Kalnciema Street in Riga. However, they can arrange to drop off your bike for you at designated locations in Riga and the surrounding area.
Biking Lithuania
When asked about his favorite place to cycle in Lithuania, Frankas Wurft, manager of Baltic Cycle in Vilnius, found it tough to narrow down his answer. "Sometimes I like to go to the sea coast, as the territory varies a lot from Estonia," he said. "On the other hand there is the east – forests, hills, and lakes in Gauja National Park."
His indecision is testament to both the diversity and the bike-ability of Lithuania's landscape. At his shop on Bernardinų Gatve in Vilnius, you can find out more about which direction might be most rewarding for you. Baltic Cycle offers self- and fully-guided tours of the region, and can also supply you with a mountain or touring bike.
If you've got a limited amount of time in Lithuania, the must-cycle spot is the Curonian Spit. Separating the Curonian Lagoon from the Baltic Sea, this sweeping, 98-kilometer sand dune was formed 5000 years ago. Today it ranks Category V on UNESCO's World Heritage list.
Curonian Spit National Park is accessible from the port city Klaipeda, about four hours from Vilnius. Paths run the length of the spit, and you can make a full day of cycling it. There are numerous restaurants and lodging options back in Klaipeda, where you can round out your Curonian experience.
For More Information
Planning a bike trip around the Baltics is easily done both before your trip and upon your arrival in the area.
Bike Rental in the Baltics
These sites feature information on bicycle routes and sample itineraries:
City Bike — Bicycle Tours and Bicycle Rentals in Estonia.
Riga Bike Tours — Bicycle Tours and Bicycle Rentals in Latvia.
Baltic Bike Travel — Fully-guided and self-guided cycling tours in the Baltic Countries (Lithuania, Latvia, Estonia), Russia (Kaliningrad District, Moscow and St.Petersburg Regions) and Poland (Gdansk/Pomerania region).
Tourist Information in the Baltics