Teen Volunteer Abroad Programs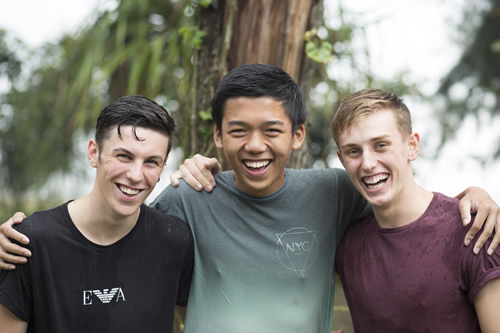 Teen volunteering is a transformational experience, where you see parts of the world you never imagine existed, make new friends with locals and fellow participants, learn what you cannot experience in school and will apply your entire life, immerse yourself in a new language, grow as you experience a new culture, and participate in a community that needs your service. You will discover ideas leading to what you may wish to do as a career, start building your resume through your activities, and begin to shape your future while changing the world one step at a time. Below are some of the most popular teen volunteer programs for many causes and in many locations.
Articles on Teen Volunteering Abroad
Broadreach Global Summer Adventures
Volunteer with Locals Around the World
Volunteer on meaningful service projects around the globe with Broadreach global educational adventures. Partner with local organizations to provide medical health care to villages in Ecuador, assist in sea turtle research and rehabilitation in the Mediterranean or become immersed in Peruvian culture as you help build schools and develop community spaces. Earn college credit and community service hours while gaining hands-on experience in the real world. Programs are 12-31 days long in June, July and August and are located in multiple countries including Italy, Belize, Peru, Greece and Ecuador.
Contact: Broadreach, 901 N. West St. Raleigh, N.C. 27603
Tel: 919-256-8200
Email: info@gobroadreach.com
Website: www.gobroadreach.com
ARCC Programs: Meaningful Service. Real Connections. True Adventure
ARCC Programs's Community Service Adventures offer a chance to give something back to the communities we visit while taking part in world-class service adventure activities. Service sections include teaching English to local school children, caring for elephants or sea turtles, and building much-needed facilities in rural villages. Adventures in Africa, Australia, California, Cambodia, Costa Rica, Dominican Republic, Ecuador, Fiji, Galapagos, Greece, Hawaii, Peru, Thailand, Turkey, and Vietnam. Lodging is in local guest-houses, small hotels, and occasionally camping depending on destination.
Contact: ARCC Programs, 242 Redwood Hwy, Mill Valley, CA 94941
Tel.: To get more information or request a catalog call our headquarters at 415-332-5075
Email: info@adventurescrosscountry.com
Website: www.adventurescrosscountry.com
GoEco Teen Volunteering Abroad
Volunteering abroad as a teenager is a great way to make new friends while getting real-world experience contributing to an important cause. Not only is volunteer experience an excellent resume builder, but it is also highly regarded among college admission boards and potential employers. We offer a diverse range of humanitarian, wildlife or environmental projects abroad where teens will have the chance to grow their knowledge and skills. We also offer a handful of fantastic "under-18" projects which are designed specifically for teenagers. Find a project that interests you and contact us to start planning your next volunteer adventure!
Contact: GoEco Volunteering
Tel.: US: +1 646 240 4545 UK: +44 203 318 4004 AU: +61 2 8014 9393
Email: goeco@goeco.org
Website: www.goeco.org
Global Works | Travel with Purpose
Authentic Service Travel for High School Students and Groups
Celebrating 30 years of community service-based adventure travel programs for high school students and groups! Choose from Community Service, Language Immersion, and Global Action, Homestay and Adventure travel opportunities. Programs are offered around the world for students looking for an enriching and life changing experience. Travel with Purpose!
Location: Worldwide
Contact: Global Works, 1365 Forest Park Circle, Lafayette CO 80027
Tel: 303-545-2202
Email: info@globalworks.com
Website: www.globalworkstravel.com
Teen Service Learning Programs in Africa, Asia, Europe & Latin America
Global Leadership Adventures (GLA)
GLA programs are like a Peace Corps for teens. Students on our programs explore historic and natural sites of significance in their host country, and participate in meaningful service projects designed to provide lasting benefits to the local community. GLA's goal is to provide life-changing experiences that cultivate a global perspective and open-mindedness in students that will inspire them to become great leaders and global thinkers who will seek positive change in their own communities.

Programs are offered in 16 destinations: Tanzania, Ghana, China, Thailand, India, Fiji, Bali, Peru, Guatemala, Costa Rica, The Galapagos, Argentina, The Dominican Republic, Belize, United Kingdom & Spain.
Contact: Global Leadership Adventures, 10509 San Diego Mission Road, Suite A, San Diego, CA  92108
Tel: +1 858-771-0645
Email: info@experienceGLA.com
Website: www.experiencegla.com
Animal and Wildlife Conservation Programs
Global Leadership Adventures (GLA)
Volunteer your time and energy abroad this summer to help elephants, giant tortoises, or rescue animals in their native habitats. In Thailand, you'll volunteer with local partners who care for elephants daily. In the Galapagos, you'll work to remove invasive species that are threatening the survival of its famous tortoises. In Costa Rica, you'll care for neglected animals at a rescue shelter. No matter which location you choose, you'll be making an impact on the lives of animals that don't have a voice of their own, all while being immersed in a brand new culture. Click on our link to learn more!
Contact: Global Leadership Adventures, 10509 San Diego Mission Road, Suite A, San Diego, CA  92108
Tel: +1 858-771-0645
Email: info@experienceGLA.com
Website: www.experiencegla.com
Make a Difference in Lives of Children in Africa, Central America & the Caribbean
Global Leadership Adventures (GLA)
Volunteer to help children, and make a difference in the lives of the youngest generation abroad. GLA gives you the opportunity to take part in meaningful service projects that are designed to have an impact on the lives of disadvantaged youth and the communities in which they live. Whether you're tutoring children in a classroom in Ghana, leading games with kids after school in Costa Rica, or building new learning spaces for students in Guatemala, your commitment to these children makes a difference. Click on our link to learn more!
Contact: Global Leadership Adventures, 10509 San Diego Mission Road, Suite A, San Diego, CA  92108
Tel: +1 858-771-0645
Email: info@experienceGLA.com
Website: www.experiencegla.com
Global Routes
Volunteer Programs for High School and Gap Year Students
Global Routes is a pioneer in the world of value-driven, experiential-based, international programming for high school and gap year students. We believe that authentic, fun and impactful programs abroad are directed by service, deepened through immersion, broadened with adventure and contextualized by leadership. Through this unparalleled combination, participants gain profound perspectives of another country, cultures, the world and themselves. Since 1967 we have partnered with over 10,000 volunteers throughout the world.
Address: Global Routes, One World Way, Windsor, NH, 03244 USA
Contact: Adam Aronovitz and adam@globalroutes.org
Tel.: 413-585-8895
Email: mail@globalroutes.org
Website: www.globalroutes.org
United Planet
Teen Volunteer Abroad Quest Programs
United Planet offers tailored volunteer abroad programs in five destinations for those under 18. The Teen Quest program combines language immersion, accommodation with host families, cultural activities and learning excursions. Volunteers may work at after-school centers, building homes or at environmental conservation projects. Destinations for 1-12 week Teen Quests include Chine, Ecuador, Peru, and South Africa. Candidates 16 years and older can apply, or travel with family or a chaperon.
Contact: Please give the United Planet Team a call at 617-874-8041 or email quest@unitedplanet.org.
More information can be found at: www.unitedplanet.org.
Feel free to visit us from 9 AM to 5 PM at United Planet, Boston Harbor Shipyard and Marina, 256 Marginal Street, Boston, MA 02128.
VISIONS Service Adventures
Summer Volunteer Program for Teens
VISIONS summer programs are built on the pillars of meaningful service, full cultural engagement and adventurous exploration. Our student volunteers work among Blackfeet and Northern Cheyenne people on Montana Indian reservations and with indigenous Athabascans in Alaska, as well as abroad in South America, and the Caribbean. Programs are 12 days to four weeks long, and some sites include Spanish or French language immersion.

Contact: VISIONS Service Adventures, 203 North Church Avenue, Bozeman, MT 59715.
Tel.: 406-551-4423
Email: info@visions-service.com
Website: VisionsServiceAdventures.com
Amigos de las Américas (AMIGOS)
Teen Summer Volunteer Programs in Latin America
AMIGOS operates in nine countries throughout the Americas —in Mexico, the Dominican Republic, Nicaragua, Costa Rica, Panamá, Colombia, Ecuador, Peru and Paraguay. With AMIGOS, you'll be immersed in another culture, collaborate with your host community on a development project, and work side by side with local youth meanwhile building your own leadership skills. AMIGOS summer projects range from 4-9 weeks and are open to students from 16-25 with basic Spanish proficiency. AMIGOS programs focus on youth leadership in the fields of public health, children's rights, environmental sustainability, creative expression, social enterprise and sports and fitness.
Earthwatch Institute
Teen Expeditions
Teens ages 15-18 can connect with leading scientists, learn new skills, and appreciate the power they have to change the planet through tailored volunteer projects.
GVI
Teen Volunteering Abroad
Traveling abroad is a great way for young adults to explore, learn about global citizenship, service learning and gain a better insight into the world and different cultures. GVI offers world-class, action-packed volunteering opportunities for teens aged 15 to 17 years olds. Our Under 18's programs are specially designed, intended to fully immerse and challenge students in a variety of different ways, providing ample opportunities for learning. Programs focus on wildlife conservation, marine conservation, construction, sports or animal care. Ready for the adventure of a lifetime? Visit our website for further details.
GoBeyond Student Travel
Global Service & Travel Adventures For High School Students
Backed by over 40 years of experience in the field of experiential education, GoBeyond Student Travel offers quality international travel, outdoor adventure, and community service programs for teenagers during the summer. Destinations include Australia, the British Virgin Islands, China, Costa Rica, Galapagos & Ecuador, Iceland, India, Peru, Spain and Sri Lanka.
Greenheart Travel
Teen Volunteering in Costa Rica
Immerse yourself in a vibrant culture and improve your Spanish through a service project in a wildlife rescue center in the heart of Costa Rica's rainforest! Learn new skills while you experience a new world and help those in need. Volunteers live with host families and assist with locally run volunteer projects in children's programs, education and the environment. Placements include room and board with carefully screened, welcoming host families. Our friendly and experienced staff in Costa Rica provide support and assistance throughout the program. Programs are open to participants ages 16+. Greenheart Travel is non profit founded in 1985 and run by friendly and seasoned travel enthusiasts who regularly participate in their own cultural exchanges.
International Biosphere Stewardship Program
Teen Summer Volunteer Service Camp in Bali, Indonesia
Set in Bali, Indonesia, the program inspires students to be intelligent stewards of our earth's biosphere. Students are introduced to the beauty of the Bali Barat National Park, hiking in the mangrove forest and monsoon forest and snorkeling on the coral reefs, learning about their value and the challenges they face. Students are introduced to the farm and the city and the concept of human activity as an integral part of the biosphere.
Students take part in hands on volunteer service work with the projects of the Biosphere Foundation. Half the participants are Balinese teens and there is plenty of opportunity for cultural exchange.
Smithsonian Student Adventures
For 170 years, the Smithsonian Institution has inspired generations through its steadfast dedication to the "increase and diffusion of knowledge." In a globalized world, it is more important than ever to promote the Smithsonian values of Discovery, Creativity, Excellence, Diversity, Integrity, and Service. This is why the Smithsonian, in collaboration with Walking Tree Travel, a premier service-focused student travel provider, is pleased to offer a new collection of dynamic programs for high school students.
Smithsonian offers summer service programs in Argentina, Australia, China, Costa Rica, Ecuador, France, Italy, Germany, Guatemala, Japan, Morocco, Peru, Senegal, Spain, and Thailand. See their excellent website for details.
The Road Less Traveled
Summer Community Service, Language, and Adventure Travel Programs for Middle and High School Students
Life-changing education travel that is relevant, collaborative, and responsible. Students connect with others different from themselves while exploring humanity and the world. We offer domestic and international programs that focus on community service, language, environmental, animal and marine conservation, cultural immersion, and wilderness adventure. Our aim is to cultivate leadership, openness, sensitivity and a sense of social awareness and environmental activism.
A variety of programs are offered throughout the summer as well as Gap Year, Family and Custom programs. Each program offers its activities such as Animal Conservation, Backpacking, Biking, Black History Education, Boat Exploration, Community Service, Cooking Lessons, Cultural Immersion, Environmental Service, Hiking, Hot Springs, Kayaking, Language Lessons, Marine Biology, Meditation Classes, Organic Farming, Rainforest Hiking, Rock Climbing, Safari, PADI Scuba Diving, Snorkeling, Surfing, Swimming, Teaching English, Whitewater Rafting and Ziplining. The Road Less Traveled offers travel to a variety of destinations (see the website for specifics), including in Canada, Costa Rica, Ecuador, Iceland, Azore Islands (Portugal), Thailand, Vietnam, Tanzania, as well as many themed trips located within the United States of America.
Volunteers for Peace
Teen Volunteer Projects Worldwide
Short-term programs, also called volunteer work camps, welcome teens in countries worldwide, including special projects for those under 18. Placement fee starts at $500 (over 18) and $650 (under 18) for a 2-week project.