Spanish Language Schools in Spain
Learn at Language Programs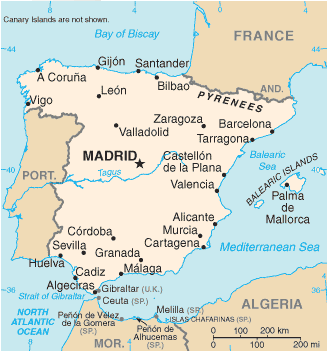 Featured Articles on Learning Spanish in Spain
Learn Spanish in Spain
We offer immersion Spanish courses all year round at special prices, jobs in hospitality management all around Spain, affordable internships in different cities throughout Spain, culinary arts in top hotels, field trips for schools and colleges, unpaid volunteer programs, Spanish online courses, and Dele preparation exams.
Academia Berceo
Intensive Spanish Language School in Salamanca
Standard, intensive, immersion and business Spanish language courses and preparation for the DELE exam available for students of all ages in Salamanca.
AIP Language Institute
Learn Spanish in Valencia
Enroll in a Spanish language course along with a complete program of possible internships in Valencia.
Bacelona University UAB
Learn Spanish at a University in Bracelona
We offer students the opportunity to book Spanish language courses and accommodation at the University of Barcelona UAB in Spain.
CLIC
Learn Spanish at Language Schools in Seville, Cadiz, and Malaga
Learn Spanish with CLIC in beautiful and interesting locations in Spain, and improve your day-to-day knowledge of the Spanish language at all levels.
Carmen Cuevas
Spanish and Flamenco School in Granada
Spanish, Flamenco, and Spanish and Flamenco combined courses at all levels. A Spanish language school recognized by the Instituto Cervantes and as a Flamenco Center.
Cervantes International
Learn Spain at a Language School in Malaga
Cervantes International Spanish language school of Malaga offers you a wide range of courses and levels to suit your abilities and to ensure successful understanding and perfection of the Spanish language.
Delta Language School
Learn Spanish in Santander
Our Spanish courses teach Spanish where it is actually spoken. We have Spanish programs that teach at a level that provides you with an academic and highly communicative knowledge of the Spanish language. Study Spanish in Santander, a beautiful and elegant resort city with beaches and mountains, a perfect year-round site to learn the language — mild temperatures, beautiful scenery, and a pure Spanish accent. We are a well-equipped school with experienced teachers and small classes. On the premises we have a cinema and provide numerous activities, excursions, and get-togethers with local Spanish people. Accommodations can be arranged with selected host families, hotels, or apartments. Choose one of our specialized courses: commercial Spanish, Spanish for business, lawyers, medical, and DELE exams...
Escuela de Idiomas Nerja
Spanish Language School in Nerja
Our teachers are philologists, specialists in the various courses we offer, who form an enthusiastic, well coordinated team, qualified to help you to learn in the most effective manner possible. The courses we offer are tailored to satisfy the students necessities, both with regard to the language in general terms, and in the specific fields of management, commerce, business, Spanish teaching methodology and official examinations.We combine our professional experience with the most up-to-date technical methods (videos, projections, slides, audio).
Escuela Internacional de Español
Spanish in Cadiz
Courses designed to satisfy the specific needs of students who wish to study Spanish for any period of time, including intensive. The Academic Director will work with the studen to design a program that best optimizes the time of your stay.
Escuela Montalbán Granada
Spanish Courses at Language School in Granada
Escuela Montalbán offers Intensive Spanish Courses for students from all over the world in Granada since 1986. The school is recognized by the Spanish Instituto Cervantes as a "Centro Acreditado" and is a member of TANDEM International.
Estudia-España
Estudia-España offers Spanish courses at over 40 language schools in Spain and Latin America. Save up to 10% on ALL Spanish immersion courses from 1 to 52 weeks in length. Study Spanish and combine it with flamenco, cooking, tennis at many of our schools, or take your Spanish to another level with a DELE exam course — recognised by employers all over the world.

Estudio Hispanico
Learn Spanish in Spain
High quality spanish language courses throughout Spain, taught by native speaking teachers. All levels welcome. Accommodation and cultural activities available.
EUREKA
Learn Spanish in Madrid
Learn in the center of Madrid in a school whose sole objective is teaching Spanish as a foreign language. Intensive courses are offered in small groups with a maximum of 8 students per class. A variety of other courses are offered, including courses for 50+, one to one, private lessons, language with an internship, and more.
FU International Academy Tenerife
Learn Spanish in Tenerife
Learn Spanish under the sun of Tenerife! Many different courses offered and exams can be taken on site. Visit our website to see for yourself!
Hispania, Escuela de Español
Spanish Courses in Valencia
Study Spanish in Valencia, all levels, small classes (10 person max), no inscription fee, qualified teachers, affordable, activities, preparation DELE exams, Spanish for special purposes, flexible timetable, free internet service. Accredited by Instituto Cervantes and EAQUALS.
Hola!
Spanish Course in Sitges (Barcelona)
A small-medium sized personal school which has been open in Sitges (Barcelona) for the last 10 years. At Hola! Sitges you are treated as an individual; we have a very friendly warm approach to teaching as well as a social program for our students. Groups are multinational and small, with an average of 6 students and maximum of 8, enabling teachers to give attention to individual needs.
Instituto Hispanico de Murcia
Intensive Spanish programs in Murcia
Fifteen different Spanish courses year round (D.E.L.E. Erasmus, intensive, super intensive, professional, individual) ranging from one week to one year. Day trips and scuba diving also available. Accommodation is offered either with host families or apartments.
Instituto Mediterráneo Sol
Learn Spanish in Granada, Andalusia
IMSOL offers Spanish courses in Granada during the whole year and for all ages and levels. The wide range of Intensive Spanish Courses we offer, the type and also the number of Spanish lessons per week, will make your choice easier whether you are a professional or a University student, a teenager, a retired person, or simply someone who wishes to study Spanish in Granada just for fun. We take care of all the aspects of your stay: Spanish classes, accommodation, activities, transfer...
International House Madrid
Spanish Language Courses in Madrid
Spanish courses for young learners, students, adults, professionals, in Madrid, with one of the most reputable language learning centers in the world - International House. Accommodations available.
Inhispania
Spanish Courses in Madrid
A language school offering a variety of Spanish courses in downtown Madrid. Activities and accommodations are also available.
LAE Madrid (La Aventura Española)
Madrid Spanish Language School — Intensive Courses
With this course you will study Spanish intensively with a small group of other students. The hours are 9:30 to 13:30 Monday to Friday. The Spanish Adventure Program (cultural activities) is included in the price for this course which takes place 3 times a week. Many other courses are available including Spanish DELE Exam Preparation, Part-Time Spanish, Business Spanish, as well as an Internship Program.
Malaca Instituto
Spanish Language in Malaga
Widely recognized to be one of Spain's leading language schools, Malaca Instituto-Club Hispanico S.L offers language and cultural programs at all levels for adults of all ages. Qualifying American students can apply for academic credit. Courses qualified by the Univ. of Alcala. EAQUALS guarantee of quality (see www.eaquals.org). Accredited Center of the Instituto Cervantes.
Speakeasy
Learn Spanish in Barcelona
We are a Spanish school offering high quality intensive Spanish courses with an effective study program at cheap prices in the center of Barcelona!
University of Malaga
Spanish Courses
Varying in length and intensity as much as type and group size, all to fit your every needs. Check the website for up-to-date detailed information.
University of Salamanca
Spanish Language Courses
There is a wide availability in Spanish Language Courses, online, from intensive- to summer courses, from semester to yearly courses, from personalized studies to study with Spaniards courses. Also provided is help with accommodations, and our office is ready for any questions at any given time. Check the website for full up-to-date program information.