Study Spanish in Costa Rica

Language Schools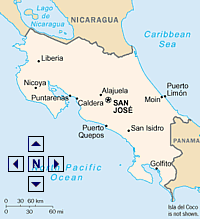 Language Immersion Vacations WORLDWIDE!
Costa Rica (Heredia, La Fortuna, Monteverde, Manual Antonio, Flamingo Beach, Playa Tamarindo, Playa Dominical, Turrialba, Samara Beach, San Jose — Spanish)
We offer a variety of language courses worldwide for all ages and budgets. Immerse yourself in the local culture, pick your accommodation type and enjoy many cultural activities with international students from around the world. We enjoy what we do and that's the difference!
Visit: Language Vacation, 1056 Masters Lane, Minden, Ontario K0M 2K0 Canada
Tel: Toll Free 1 888 494 3974 / 705 745 4697
Email: info@languagevacation.com
Website: www.languagevacation.com
Featured
Intercultura Costa Rica
Vibrant Historic Heredia & Tropical Samara Beachfront
We offer year-round Spanish and Cultural Immersion Courses for all ages and interest groups: Adult Spanish Courses; customized programs for families & kids, teens, school & university groups, summer or semester abroad, 50+, or combos such as Spanish & Volunteering, Spanish & Surf or Spanish & Dance. Combine both locations in order to experience the best of Costa Rica and the diversity of activities offered at each campus. All teachers are university trained and credentialed to teach Spanish as a second language. Students can participate in free daily activities including Latin dance, yoga, cooking, zumba, arts, and excursions. Academic credits available.
Email: spanish@interculturacostarica.com
Website: www.interculturacostarica.com
Phone in Costa Rica: (011-506) - 2260-8480 / 2656-3000
Phone in U.S.: 1-8448-SPANISH
Toll Free (Europe): 4420-7993-0822

Featured
CEEP Costa Rica (Personalized Spanish)
Spanish Language School in Tres Rios, Costa Rica
Maximize your Spanish learning experience at an award-winning Spanish language school, where we design individual programs just for you. Courses include private and group Spanish as well as Spanish for children. Internships also available.
Christian Immersion Spanish Academy in Costa Rica
Offers the Regular Program which has been designed for students who would like a general and overall experience of doing both Spanish lessons and some community service within the Voz Que Clama Mission in Costa Rica. Also offers the Children's Program which is designed for families with children between the ages of 4-12 years old. The children are given the opportunity to be involved with learning Spanish in the school, as well as take part in the mission activities.
CPI Language Immersion School in Costa Rica
(CPI) is the only Spanish immersion school in Costa Rica that lets students study at three separate campuses, in three distinct regions of the country - Heredia, Monteverde, and Flamingo Beach.
CRLA — Costa Rican Language Academy
Learn Spanish, Travel and Much More at CRLA Spanish school in Costa Rica
CRLA language school offers Spanish immersion study abroad programs in Costa Rica. Spanish courses, Latin dance classes, cooking classes, homestays, volunteer work, educational travel, and customized group programs.
ICADS Costa Rica
Online, Full Semester, Summer & Spanish Month-long Spanish Courses
For over 30 years, ICADS has provided community based study abroad programming in Central America.
Both Fall & Spring Semester Programs include seminars and Spanish classes.
LOGOS Language Institute
Spanish Language School in San Jose
Students have again ranked Logos the #1 Spanish School in Central America. We focus on fun and enjoyment, (inter)action and professional language training, have super friendly host families, offer you great excursions and the very best locations.
Maximo Nivel
Learn Spanish in Costa Rica
Maximo Nivel offers high quality Spanish language immersion programs. Spanish classes are available in San José and at Manuel Antonio National Park (beach and rainforest).
Tico Lingo
Learn Spanish in Heredia, Costa Rica
Small adult, teen summer camp, and online classes available. Located in the heart of Costa Rica's Central Valley with access to the rich culture. Heredia is a great location allowing access to the countryside, coffee farms, natural waterfalls, and various volcanos.
WAYRA Instituto de Español
Learn Spanish in Costa Rica at the Tamarindo Beach Language School in Costa Rica
WAYRA operates in a pristine environment and offers an ideal setting for people interested in learning Spanish by following a wide variety of full immersion programs, as well as courses allowing you to obtain the DELE certificate.