Spanish Language Schools in Argentina
Learn at Language Programs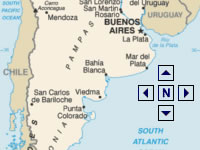 ABA Academia Buenos Aires
Spanish Courses in Buenos Aires, Argentina
We are a renowned and professional, independent Spanish-language institute in the heart of Buenos Aires, Argentina. Our aim is to offer you an efficient and pleasant way of quickly improving your Spanish language skills through customized teaching and a full immersion in the Argentine way of life. You can choose between individual and group learning, on all levels from beginner to highly advanced, you will be sure to find a course that fits you.
Expanish
Learn Spanish in Argentina
Courses of 20 hours to 30 hours per week. Classes with an average of 6 students and no more than 10. Available for Beginners-Advanced. During these classes Spanish will be spoken throughout with only English offered to aid the student. These has been proven to be an extremely effective way of prompting the learning process of our students. Group, Crash Course, and Business classes also available.
La Montaña Spanish School
Learn Spanish in Patagonia
We offer small group classes and private classes at all levels year round. Also the possibility of a homestay, volunteer work, and participation in afternoon activities.
Verbum
Spanish School in Buenos Aires
Verbum school offers a variety of Spanish language courses, personalized attention and a friendly environment. The school offers from short-term to semester-long courses and general Spanish courses as well as courses for specific purposes (business, medicine, etc.). We also offer accommodation, tango classes and volunteer opportunities. Group courses are small (average 4 students and maximum 7). Our school is an authorized examination centre for the International Diploma of Spanish (Fidescu) and students can take this exam at the end of their courses. Immerse yourself in the local culture and enjoy Buenos Aires. We are open all year round.