7 Tips for Student Travel in Europe
Have a Memorable Time on a Budget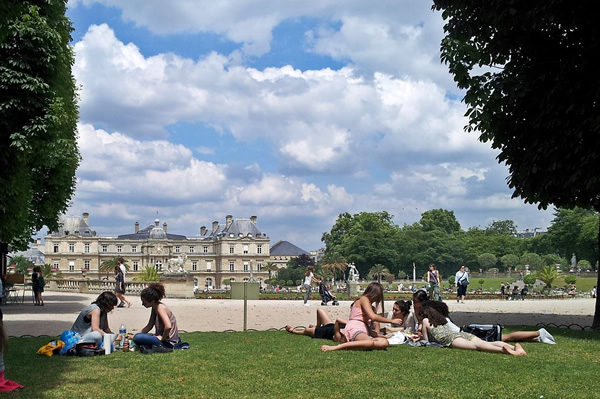 The Jardin de Luxembourg, in the center of Paris, is a popular meeting place for young people in Paris.
What some call "budget travel" in Europe is much more than just the search for low- or lower-cost travel. For students, it is an entirely different way of experiencing the old continent compared to their more elderly traveling counterparts. While students often visit the main sites seen by travelers of all ages, they also tend to wander away from their own groups into areas where local students hang out. In neighborhood haunts, some visiting students reach out to make new contacts and sometimes friends, speak the language, and discover the vibrant life led by locals their age and older. The student years tend to be part of an exciting period of boundless curiosity. Traveling in Europe offers the young a chance to see themselves and others in a new light. Students from abroad come to realize that total immersion overseas often goes hand-in-hand with living on a tighter budget as many local students do. We explore here how students who are living and traveling in Europe can best manage their budget to extend their trips and make the most of what is often a life-changing experience.
Student travelers tend to take local transportation instead of booked bus tours. They are more likely to take a chance to eat and drink off-the-beaten-path, rather than tourist cafés, pubs, and restaurants. Not surprisingly, they seek out and participate in cultural events and nightlife geared towards local youth. As a student in Europe, you not only gain a unique perspective about major destinations, you can also take advantage of the many discounts available to those in high school, university, and young people under 26 years of age in general.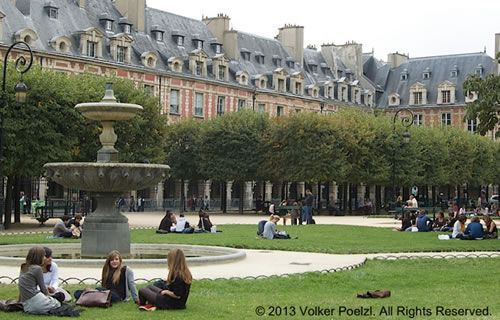 Parks of all sizes in big cities and small are great free picnic spots for students. Photo by Volker Poelzl.
But a few discounts for museums, railway passes, and concerts alone are not enough to offer significant savings and keep your travel expenses low. Budget travel not only involves developing smart spending habits, but also results from some advanced planning. That's why we have compiled a few useful tips for students traveling in Europe this summer, or any season you plan to visit.
1. Start Your Planning Before You Go
In these days of ubiquitous connectivity and information at your fingertips, it is still worth your while reading up on your potential destinations. Having a clue where you are going means you don't need to walk around the streets gazing at a guidebook or an app, having already done the background guidebook studying, related reading, and watching of films—in addition to web research. Shared stories from other students can be very useful, but such information is often anecdotal by comparison to in-depth reading. After all, students are generally traveling due to a deep and strong interest in the culture(s) they are visiting. Ironically, you can often find the best deals simply by researching off-the-beaten-track locations before you go by all sorts of available media.
Planning does not preclude spontaneity and having fun while studying in Europe. On the contrary. Knowing when and where you can find some of the best free or cheap places to see, eat, go out, enjoy festivals, or even get off-the-beaten-track, expands your possibilities. A summer or semester in Paris, Rome, Florence, or Barcelona provides plenty of time to explore free or cheap activities and neighborhoods while enjoying some of the many great walking and partying cities in Europe.
2. Know Your Budget and the Current Exchange Rate
When setting up a budget for your trip to Europe, there are a few major financial factors to consider:
The exchange rate between the U.S. dollar and euro. Check your favorite online exchange rate calculator and learn the best ways to get a good exchange rate without excessive charges.
Enjoy the bargain destinations in Europe that have joined the euro zone before they become more expensive. Many of what were considered central and eastern block countries in Europe, such as Poland, Bulgaria, Romania and the Czech Republic are much cheaper than the more expensive countries in Scandinavia for example. Even Prague is still relatively cheap compared to many cities in the U.S., though prices are rising.
Tailor your spending accordingly; this may be the first time you have had to live on a strict budget since you are away from home.
With fewer cheap places in Europe to choose from, students need to resort to extra-smart travel strategies to see Europe on a shoestring. Before heading to a low-cost destination in Europe, make sure they aren't planning to adopt the euro as their new currency just before your trip. Croatia, for example, joined the euro zone in 2013 and converted its previous currency, the kuna, to the euro. The cost of traveling and living immediately went up.
3. Avoid the Tourist Hot-spots During High Season When and Where Possible
When planning your itinerary, keep in mind that Europe's best-known, best-loved, and most-visited destinations are not surprisingly the most expensive ones. London, Paris, Rome, Madrid, and Berlin are not only capitals and in some cases the most interesting cities in their countries, but will quickly consume your money as a visitor. One of the best money-saving budget travel tips for the peak season—so often during the summer period students have off—is not to spend all your time (and money) in these pricey and crowded tourist hot-spots where you often see less natives than fellow travelers. Overtourism is a reality as every year more and more people worldwide travel to the same locations. Yet there are many creative and satisfying ways you can be an explorer and avoid overtourism issues.
For example, if you fly to London, plan a few days to explore and take in as much as you wish. Then get out of the city and explore other interesting and much cheaper destinations in the U.K. If you like Paris, consider staying in a hostel if you don't mind sharing a room, or stay in the outskirts and take a commuter train into town. Spend as much time as you can afford to explore some of what intrigues you most in the culture-rich central city of France—it is not going away... Then visit several of the smaller and cheaper places in France, such as Montpellier, Lyon, and Bordeaux. There are also many other beautiful and lively towns such as Arles, and the great student town of Aix-en-Provence that are easily accessible via the great transportation system.
Even better, if you are already studying abroad, explore some of the many highlights of Europe during the off-season, when everything is generally much cheaper, daily life returns to closer to normal, and the ratio of locals to tourists is minimized. Overtourism during the prime summer months makes off-season travel even more attractive, since locals tend to be much more friendly when they are not overwhelmed by hordes in their cities and towns.
4. Use Railway Passes and Buses to Save Money
If you plan to travel a lot by what are generally very pleasant and efficient train systems in Europe (Americans don't get to experience "bullet trains" at home), you can get one of the youth railway passes from Eurail Global Pass and a variety of more targeted passes if you are under 27 years old and travel in over 33 member countries. You can also get a single-country rail pass for youth, depending upon your travel plans. RailPass also offers several other different types of customizable rail passes for youth that are worth checking out. If you travel long distances, rail passes offer a significant savings over regularly priced tickets. RailPass sometimes has sales and special discounts if you buy your rail pass in advance. Plan your trip early and you will save. European railroads also offer a plethora of discounted one-way or return tickets for students and young people under 27 years old. This is a great option if you don't plan to travel a lot by train.
In response to the increasingly higher costs of rail travel, low-cost bus service is rapidly gaining popularity all over Europe. With a little research, you can find out about local and international bus routes at a fraction of the price of railway tickets. Check out Busabout, and Eurolines—to name a couple.
If you are interested in sharing rides in private vehicles, there are safe and easy alternatives to hitchhiking. Many university student unions across Europe have bulletin boards where students exchange information about ride sharing. This is a cheap and often enjoyable way to get around. You not only save on transportation, but you also meet new people. Rides are also advertised at hostels and other meeting places for young people and students, such as internet cafés and coffee houses near universities. There are several ride sharing services across Europe, which refer travelers to drivers going to the same destination. For a small fee and shared fuel costs, you can get a ride within a country or across borders that takes you where you need to go. Check out Blablacar.com, which lists rides all across Europe.
5. Use Youth Hostels, Couch Surfing, and More to Save on Accommodations
Hostels are ideal for single travelers because you only pay for a bed, not an entire room. Europe has many youth hostels, many are members of the International Youth Hostel Association (with discounts for members) and many that are run independently. A bed in a hostel dormitory in Paris will cost you around $30-$40 per night, but if you have a travel companion, you can get a double room at the same place and sometimes pay less per person depending upon whether you want a private room. When it comes to lodging, it really pays off to travel with someone else. Hostelworld.com is one of the websites where you can make bookings at a hostel ahead of time.
Bear in mind that lodging fills up very quickly in the summer months, so if you travel without reservations, make sure you contact a hostel, guest house, or hotel in the morning to have a better selection. If you arrive in the afternoon, you may not be able to find cheap lodging, not even in a big city. Where hostels are not available or filled up, consider sharing a hotel room with a fellow traveler. It's easy to meet other travelers on the train or around town, and sharing a room for a night or two can save a lot of money.
6. Take Advantage of the Many Student Discounts in Europe
Find out where the discounts are and use them. Contact a student travel agency in your hometown and find out about discount fares. Get an International Student Identity Card (ISIC) before you leave, and show it wherever you go, at hostels, ticket counters, restaurants, museums, etc. You'll be surprised at how many discounts you will get in Europe just by showing a student I.D. Also, keep in mind that some sights offer group discounts. So if you are with fellow travelers, you might want to join up for a day as a "family" to get reduced admission to an attraction, sight, or event.
And here's an insider tip: don't underestimate the persuasive power of a friendly chat. If you talk to the right person and spend some time in friendly conversation, you may get a discount just for brightening up the vendor's day. This won't happen at the Louvre in Paris where it is often advisable to book tickets online in advance, but is quite possible at a less popular attraction, where a bored ticket vendor might be looking forward to a friendly conversation with a visitor.
7. Enjoy the Many Free and Fun Things to Do Across Europe
Ask at the local tourist information booth if they have a calendar of events or a brochure for young people, so you know what's going on at your destination while you're there, or do a search online before you leave or at the many WiFi hotspots that are now almost everywhere in Europe. Many cities and towns across Europe offer summer festivals including free events, such as concerts, fairs, exhibits, and more. And even if there is a highbrow and costly classical music festival at one of your destinations, most cities will offer free events to the general public at the same time, or steep discounts for students if interested.
Cities all over Europe hold free outdoor concerts in parks and squares in the summer. You just have to find out beforehand where the action will be, and make sure you get there ahead of time. But you don't have to look for a scheduled event to have something free and fun to do. Many sites across Europe attract crowds of young people, and there's always fun to be had for free: street musicians, jugglers, acrobats, magicians, painters—all of them offering some form of entertainment, and some of it is very high-quality. There is plenty of information on the many festivals in Europe, and some even plan their trips around visits to festivals for a guaranteed great time.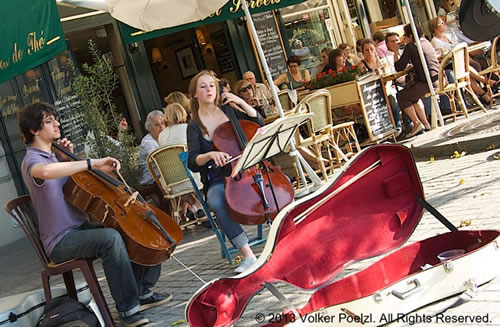 Free street music, sometimes played by students, lets you experience Paris and Europe in general in a different light. Photo by Volker Poelzl.
In sum, if you follow these basic tips, while Europe remains expensive for travelers by comparison with many parts of the world, you can enjoy a great spring, summer, or fall break.
Should you have some of your own specific ideas and experiences, please feel free to share them in the comments section below.