Why Study Another Language Abroad?
10 Immersion Schools Where You Can Study AND Volunteer in Latin America
After studying Spanish from middle school through my sophomore year of college, I took the plunge and headed to Madrid, Spain for my junior year abroad. Where I had to, you know, actually talk in Spanish.
I shook with nerves when I walked into a tiny store on my first day in Madrid to ask for a stamp.
Ten months later, I could fluently converse in Spanish about anything from American politics to Spanish cinema. My transition from a person who knew a lot of Spanish into someone who could speak Spanish came from need. I lived with a Spanish family, studied history, literature and women's issues in Spanish, and hung out with a lot of Spaniards I met rather than simply sticking to the other international students in my program. The obligation to think on my feet in Spanish, to reinforce neural connections by pulling up vocabulary studied in class in real-life conversations, to interact with a variety of Spanish-speaking people and not just my language teacher, meant that my language skills exploded. I was experiencing what is now often called full "language immersion."
Trying out a new language can be nerve-wracking, but the reality is that even the most bumbling efforts are typically met with appreciation.
A few words in the local language will almost always get you a friendlier smile.
Basic conversation skills can help you to get directions, or place an order at a restaurant.
More advanced language skills can open the door to everything from a new job to a new social life. You're much more likely to get an invitation to a party or event if your host won't have to worry about translating for you all night. And the chance to dine in someone's home, to exchange thoughts on subjects from politics to cinema, is what gives you get the opportunity to really get to know another person and by extension, better know another culture. If (1) getting to know other people and cultures isn't motivation enough, studies also tell us that language learning results in (2) brain growth, (3) better memory and mental flexibility, as well as (4) delays in the onset of dementia and Alzheimer's.
If you're considering heading overseas to learn or improve another language, you're headed in the right direction. But if your interactions outside of class are primarily with English-speaking taxi drivers and hotel staff, fellow language students or your travel partners, you will miss a golden opportunity for language learning and cultural immersion. One excellent way to create opportunities for conversation and cultural exchange is through volunteering. Another is by choosing a homestay over a hotel. Whatever you do, get out there and speak!
The following Latin American language schools all offer volunteer programs, and most of them arrange homestays as well:
Bolivia
Sustainable Bolivia, in the city of Cochabamba, SB offers Quechua as well as Spanish. Some of the lowest prices around for private lessons.
Costa Rica
CPI Spanish Immersion School has three locations around Costa Rica, with the possibility of combining classes at two or all three sites.
Ecuador
The capital, Quito, is home to numerous language schools and volunteer agencies that offer a combination of the two activities. Three recommended organizations are Ecuador Volunteer Foundation and Ecuaexplora.
Mexico
Becari Conzatti is located in Oaxaca and offers courses in Zapotec as well as Spanish. Registration fees are donated to the agency where the volunteer is placed.
Panama
Habla Ya Panama has two campuses, one in Boquete, in the western mountains, and the other in the archipelago of Bocas del Toro.
Peru
Excel Spanish School in Cusco is affiliated with the non-profit Aldea Yanapay – volunteers receive a 5% discount on fees at the school.
Language learning resources and tips can be found on Twitter and Pinterest; try the hashtags #languagelearning and #learnspanish (or whichever language you wish to study). For live language practice prior to departure, look for a language practice group near you on Meetup.com, or an online conversation partner such as italki.
Many nonprofits and placement agencies also combine volunteer vacations with language lessons; a more detailed listing can be found in my guidebook Volunteer Vacations in Latin America (Moon Handbooks).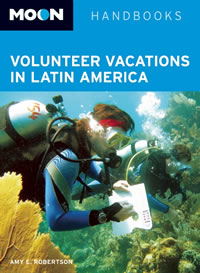 Amy E. Robertson is the author of Volunteer Vacations in Latin America (2013, Moon Handbooks). Her writing has been published on NPR, Vice MUNCHIES, Budget Travel, Delta Sky, National Geographic Traveler, Wall Street Journal, Christian Science Monitor and Travel + Leisure, among others. Amy has lived in six countries and traveled in more than 60. Her volunteer experiences include building houses in Washington State and Honduras, monitoring presidential elections in Ecuador, working with youth on social documentaries in Bolivia, and serving lunch at soup kitchens in Seattle and Beirut. She has a background in international development and nonprofit management and has worked in both the private and nonprofit sectors.

You may see Amy's many articles for us, her numerous books, and her expanded bio page here.