How to Survive Hoesik in South Korea
Food and drink of the kind enjoyed during a hoesik in South Korea.
I attended my first hoesik the day I arrived in South Korea. After a 13-hour flight, a 3-hour bus ride, followed by a full day introducing myself to a few hundred excited teenage students, I was looking forward to a good nap. But my principal had something else in mind. I still needed to meet and greet the other teachers at Cheongyang Middle School. After all, I was the only foreigner on staff. So, after school, we all piled into cars for some off-campus bonding.
Most schools and companies in South Korea have hoesik at least once a month and sometimes weekly. Literally, hoesik (pronounced HWAY-shik) means dinner with co-workers. But it also often means drinking with them, and often substantially. Mondays are a big night for company dinners as are Wednesdays and Thursdays. I've become used to seeing groups of men in suits strolling, arm-in-arm, in and out of the pubs and restaurants on my walk home most weekdays. But as a new expatriate, I didn't know what to expect.
My first hoesik was brutal because of fatigue, but future ones were easier to navigate. In fact, I came to look forward to the opportunity to get to bond with my South Korean colleagues outside of the office. Long hours in our school made it difficult to bond in the office. The real conversations happened over kimchi stew and acorn jelly. The lively dinners were where I was gradually welcomed to the fold. The cultural practice also gave me a window into the culture, helped me acclimatize, and staved off loneliness during my adjustment period.
The rules on attending are generally the same as the ones on going to work every day in South Korea: You show up unless you're dead or in the hospital in critical condition. If you're invited, bowing out isn't polite.
What are the best ways to survive hoesik? Here's what I learned:
Work Hard, Play Hard
The country is full of beautiful areas to see and explore when not working.
South Korea, also known as the Republic of Samsung, has some of the longest working hours in the OECD, although the rules don't apply to foreigners who work in the government schools as I did. Foreign teachers work hours akin to those in Western countries. The work environment for South Korean teachers is generally more stressful, given the very long hours spent with their students, so stress-relievers are always on tap.
My school's hoesik was always preceded by a team-building activity that required exertion. Bowling, playing softball or hiking the surrounding mountains. Teaching in rural South Korea was the first time I'd played soccer, kickball, or dodgeball since grammar school and there were no students on these teams. Such activities were teacher-bonding time, but it was also competitive as we often played against other schools. Even though my 2-bedroom apartment was a short walk away, I kept a T-shirt and shorts in my drawer at work to be ready for any unforeseen activity my agile principal might have cooked up. Most of my colleagues were in their 40s or 50s like me, but they all seemed to excel in every sport imaginable while my fitness waned after university.
Hiking has long been popular in South Korea, but recently it's become part of the nation's identity. In a normal month, about 1/3 of South Koreans hike more than once. In the first few months, I learned just how serious hiking was. It makes sense as 70 percent of the country is covered by mountains. Even in cosmopolitan Seoul, on most weekends, scores of couples with matching hiking outfits or groups of men with walking sticks pile into the subway cars to head to the nearby mountains. Stores in South Korea sell the most stylish hiking gear I've ever seen, and hiking fashions are on placards at almost every train station. South Korean hikers are dressed to impress, even for the tamest of trails.
It shouldn't have been a surprise that my first hiking excursion with my colleagues, weeks into my stay, was a bit of a struggle. Out of breath, I dragged behind as my smartly dressed colleagues practically skipped over rocks. When I caught up, everyone sat down on rocks and shared dried squid or grapes. The hikes down were shockingly just as brisk. I thought it would help if I sped up. My tumble down the hill was the topic of conversation at the water cooler the next day. I couldn't make out everything my colleagues said in Korean, but I heard my name followed my snickers and applause. I laughed along as well. I was the only native speaker in my school and was almost 7,000 miles from home, but I was more comfortable in my skin than I'd been for some time. And thankfully, the national health insurance plan is great.
Hiking South Korea's peaks—along with my study of the national sport Taekwondo in a class for adults—helped me get in shape, for which I became thankful. Friends at other schools bonded in other ways, most often during hours of karaoke, or noraebong as it's called in South Korea, after their dinners with colleagues.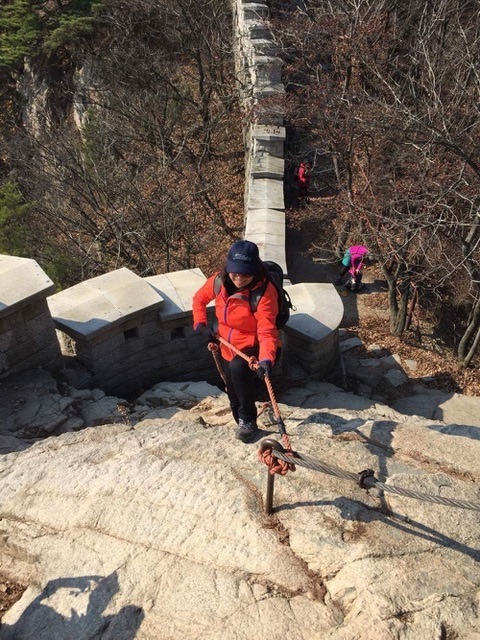 Hiking is also a favored activity in South Korea that is part of team-building with co-workers.
Being Comfortable Collectively
A collective cooling down period always followed rigorous workouts with colleagues. Traditional Korean restaurants require that you take off your shoes and leave them in a cubbyhole near the entrance.
My character socks, which I bought to show off to my impressionable middle-school students, came in handy during the collective cool down. I stocked up for $1 a pair in the local stores and subway stations. They were also a great souvenir for my pre-teen nieces back home.
At restaurants, once you're in socks or stockings and seated on the warm floor, or a floor cushion, you're treated to banchan. The spread consists of a variety of side dishes, including steamed eggplant, stir-fried zucchini, or seasoned spinach. South Korean culture emphasizes sharing—whether on a hiking trail or at a restaurant table—so colleagues will get their chopsticks and waste no time starting to eat. Banchan, which comes free with every meal, are eaten with or before the main course at traditional Korean restaurants. Rarely is dessert served, but by the end of the meal, you'll be too full to care.
Foreigners get bonus points for comfortably sitting cross-legged on the floor, eating with metal chopsticks (rice is eaten with a spoon), and boldly sampling a variety of spicy kimchi without coughing. Surprisingly, I was never offered Korea's famed gochu pepper, which resembles a chili pepper that was grown in my farming community.
A typical food spread, including kimchi.
Work Hard, Drink Hard
Once everyone is seated in the restaurant, it's time for a toast or two. South Koreans drink more hard liquor per person than other country in the world, according to the research firm Euromonitor, about 14 shots of liquor a week. While the local brews Cass or Hite are readily available, beer isn't the primary beverage of choice. It's soju, made from rice and tastes like a watered-down vodka. Don't be fooled by the weak taste. On average, it has an alcohol content of about 20 percent, which makes it at least three times as strong as beer and half as strong as most hard liquor. The heartiest of drinkers will chase it down with a shot glass of Cass or Hite beer.
At hoesik, the boss or a senior colleague will fill everyone else's first shot glass with soju. Local etiquette says you should hold the class with both hands. When he's done, take the bottle and fill his or another colleague's but don't drink until the boss has already done so. When you drink, turn your head or back to your senior colleagues as a sign of respect.
If you're not a lover of soju, don't worry. Many times I managed to sip from the same shot all night, or discreetly dumped it out when no one was looking and refilled the glass with water.
Being a teetotaler is acceptable, especially for a woman, but a glass of liquor draws fewer questions and less suspicion.
Bottoms Up
Alcohol is cheap and available 24/7 at 7-Eleven and other South Korean convenience stores, a sign of how central drinking is to the culture. Because of the easy access, it's not uncommon to see women stumbling arm-in-arm on the streets, colleagues leaning on each other, and nicely-dressed men napping on the sidewalk. Once, I saw a man face down in the shrubbery outside my apartment building.
There's no reason for alarm, however. Public tipsiness doesn't raise any eyebrows in the Land of the Morning Calm. The stumbling drinkers are harmless, and the slumbering will find their way home when they awaken.
Magic Cures
Hangover cures abound for those who might overindulge. Old-school Koreans swear by bean sprout soup, which is on the menu at most South Korean restaurants. Instant noodles also are popular. At the pharmacies and the many convenience stores in the country, drinkers can also find "hangover gum," pills, or jellies. Last year, a local convenience store chain introduced a grapefruit-flavored ice cream bar, specifically created for hangovers. The name, Gyeondyo-bar, translates to "hang in there."
Regardless of how much you or your boss do drink, you can be certain that everyone will be on time at work the next day.
Learning the Language
My only regret about my time living in South Korea is not learning more of the language and not learning it sooner. Living as one of the few foreigners in a small town did help me pick up the language at a faster pace, however, since my students, colleagues, and townspeople were eager to assist. I immersed myself in Taekwondo and all things K-pop—G-Dragon, 2NE1, PSY and the like—to bond with my teenage students. In retrospect, in-depth study of the language would have allowed me to develop deeper friendships with my colleagues who didn't speak English. At my first hoesik, the principal asked me to say a few words. Most of my colleagues didn't speak English so my efforts to thank them for hosting and working with me might have fallen on deaf ears. When I was leaving after my contract ended a year later, I stood teary-eyed in the center of the room and thanked them, in Korean, for their hospitality and friendship. This time, they all applauded.
For More Information
To secure a job teaching in South Korea, you'll need a bachelor's degree and a TEFL/TESOL certificate. Teaching experience is not required. You must also hold a valid passport from the United States, Canada, the United Kingdom, Ireland, Australia, New Zealand or South Africa and enjoy being around children. Getting a job outside of teaching is a bit tougher. It's best to go through a multinational company or apply within the country.
Getting a TESOL-Related Certification
Other sources for certification—some including on location and online courses of study available—include:
Where to Find Jobs Teaching in South Korea
Some notable recruiters include:
Where to Find Non-Teaching Jobs
How to Learn to Speak Korean
| | |
| --- | --- |
| | Monica Williams is an editor in Seoul, South Korea. Previously, she worked as an English teacher at rural Cheongyang Middle School. |