Living in Mendoza, Argentina
The Best of Both Worlds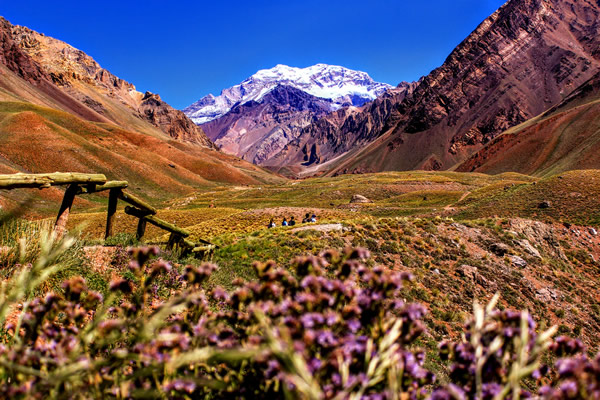 Aconcagua Park, Mendoza, Argentina.
Imagine living at the base of towering mountains, amongst vineyards, in a place that puts community first. Mendoza, Argentina—both the city and the province—offers many advantages for those choosing to live abroad. The natural environment is spectacular and it offers a rainbow of leisure activities. The economic conditions provide an opportunity for adventurous entrepreneurs and those that have good business sense. And the infrastructure is well established, providing excellent health care, European architecture, and metropolitan adventure.
Mendoza city, the capital of the province and fourth largest urban dwelling in Argentina, is a hotspot for many foreigners. The metropolis is home to nearly 900,000 people and offers gourmet dining, exciting nightlife, and an energetic atmosphere.
Outside of the city is the high desert province. The Mendoza valley is interlaced with vineyards, olive tree and plum orchards, expansive ranches that give meaning to the word tranquil, as well as magical natural habitats that remain empty most of the year. The open landscape is peppered with bustling towns, like San Rafael, 232 kilometers south of Mendoza, that offer a more close-knit way of life.
South America's Wine Capital City, Mendoza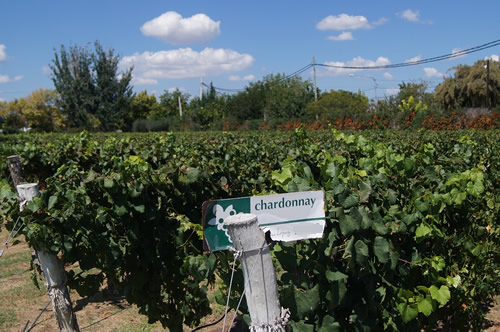 One of the many vineyards in Mendoza.
The metropolitan center of Mendoza is a fairly simple place for foreigners to integrate—especially if you come first to lay the ground work for what kind of life you wish to live. David English, the owner of English and Associates—a firm dedicated to assisting foreigners purchase and operate agricultural land—originally came to Mendoza in 1999. His first trip was not only worthwhile but life changing. "I had visited previously and made some initial contacts which I knew would be helpful to me in setting up my own business in Mendoza. I had considered other parts of Argentina, but Mendoza made the most sense to me because of my existing contacts, the diversity of the economy and the overall attractiveness of the province."
Finding a place to live is comparable to doing so in any large city. It is important to research and check out neighborhoods and companies for which to work. Riyad Anabtawi—a global citizen having lived in 11 countries and a nine year resident of Mendoza—finds his overall quality of life excellent but warns newcomers, "Mendoza has lots of crime. I would tell everyone coming to live here to insure their property, use anti-theft alarms, etc. It is important to have everyone sign contracts and make sure you have a genuine lawyer. Get a good lawyer; it should be your first step when moving to Mendoza." Martin Mendel, a representative of Departmentos Mendoza, a local company assisting foreigners in short- and long-term rentals, has advice along the same lines, "Make sure that you contact reputable, professional companies in this market and not some offer off the street. Be cautious of the legal aspects of properties, as well as the contract of sale, etc. I give the same type of recommendations for Mendoza as I would for any city in the world."
The most popular and safe areas for foreigners include el microcentro (the heart of city center), the 5th Section (an area a few blocks off Plaza Independencia, Mendoza's main city square) and the suburban area, Chacras de Coria. There are hundreds of real estate agencies in the city center that specialize in sales and rentals. According to Mendel, a one bedroom/one bath, unfurnished house starts around $1,000 Argentine Pesos (US$330) per month. An entry level 2 bedroom/2 bath house can be found for $1,300 Argentine Pesos (US$430). The common arrangement throughout Argentina is a 2-year lease for long-term rentals. Sometimes these agreements can be arranged more on a month-to-month basis, depending on the owner. Mendel calculates apartments with furnishing that are based on shorter stays to start around $165 Argentine Peso (US$53) a night and rise to approximately $500 Argentine Pesos (US$167), depending on the apartment and the location. These rates are applicable to a discount depending on length of stay.
For purchasing in the urban metropolis, prices are a fraction compared to United States cities such as Chicago, Denver, or Dallas. ApartmentsMendoza.com, a real estate firm assisting foreigners with purchasing and renting, as of September, 2008, is offering a 3,500 square foot, 5-bedroom/3-bath house in Chacras de Coria for US$180,000. Another, more modern 2,600 square foot, 3-bedroom house with a pool, in a gated community, is being offered at US$277,000. A one bedroom/one bath, brand new apartment in the city center is on the market for $62,500.
Finding work in the urban jungle can be frustrating if trying to earn the local currency. Many foreigners, being used to higher wages abroad, have turned to entrepreneurial skills such as assisting foreigners with travel, teaching English, or offering guided trips (both in the fields of wine and mountaineering with Aconcagua around the corner). For English, he found that depending on his own skills was the best way for him to earn a wage while living in Mendoza, "I realized when I first came to Argentina in 1999 that working for the locals was not a viable option due to the low pay and poor working conditions in general. So, it was obvious that in order to survive here I would have to be an entrepreneur. That's why I founded my own consulting company in December of 2003 that advises foreign investors and manages their assets for them in a reliable and honest way."
If teaching the English language is a more feasible work for you, it is important to come with an appropriate resume, applicable teaching certifications, and references, if possible. The more experience that you can show, the easier it will be to improve your income. There are multiple established schools in the city that are looking for native English speakers. Unfortunately, employment listings via the internet are basically non-existent. Showing up in person at the schools or studying the local newspapers—such as Diario Uno, Los Andes and The Grapevine—for leads will be the quickest path to employment.
Living in the Countryside
Beyond the city and suburban life, the rules remain the same in regards to paying attention to whom you are working with, the land purchased and the team created to assist you in the future. Foreigners have been known to find farm properties over the internet and fall in love sight unseen, buy them, and then lose their money because of soil issues, unpaid taxes attached to the property or issues with water rights. All of the above issues are approachable and emendable, but they take time, investigation and require finding trustworthy people to work with. Jamie Schectman, a self-admitted ski bum that decided to change his life and purchased a farm in San Rafael, found out the hard way, "We bought our farm with over 65 acres, a brand new house and an operable vineyard for under US$100,000. It was a no brainer to buy it. But we were much more knowledgeable in drinking wine than growing it, so we decided to hire a management company to assist our caretaker. The company, who was used to working with absentee owners, began to add extra hours to fees and purchased inferior products, saying they were buying the best, and then pocketing the difference. If we hadn't been on the scene and had a good verbal communication with our caretaker, it would be safe to say that we would have lost a lot more money than the few months of working with this management team cost. We ended up giving the reins to our caretaker. His knowledge turned the farm into a thriving investment. If you are looking into buying a farm as a means of living in Argentina, make sure that you pay attention to your team at all times, find people you can trust and follow your intuition."
Purchasing a farm, understandingly so, is much more involved than buying an apartment or house in the city. There are a few issues about looking into farmland that are vital for a worthy investment:
First, be sure to have a reputable escribania check the title for any liens and tax issues. While he is digging in the paper file, have him look into the status of the water rights. Make sure that the past owners are completely paid up on past bills and are legally using their own hours of water rights.
Second, it is smart to have an unbiased company evaluate the soil of the property. There are horror stories floating around the farming communities of Mendoza and San Rafael of companies that have sold unusable land to naïve foreigners.
Third, it is imperative to create a good relationship with the caretaker that you choose to have associated with your farm. Argentine laws are strongly in the favor of the employee. For the sake of not being taken to court by people posing as employees or ex-employees suing for additional money, everyone that works on the property needs to have a paper trail of how many hours, what was paid and when. It is very common for employers to be taken to court by fake and real employees and the only thing that helps the owners is their paper trail. Schectman learned that through various employees, "I was sued by two different people. One was an employee; the other was a neighbor saying he had worked on the farm. Being completely in the white saved me from a lot of headache."
Farms can range in price from under US$75,000 up into the millions. The spread in price depends greatly on the quality of structures, the health of the crops and the water rights associated with the property. Another variable is other cash revenue sources. Many properties are sold with a diversification of crops. Bradley started out working with grapes, but is now involved with plums, olives and alfalfa as well. Olives have become his favorite, "I'm finding the best luck with olives. I am getting 150 to 200 kilos per tree and two pesos per kilo. The olives haven't fluctuated in price, unlike grapes. Since 2005 the olive prices have only gone up. It was 90 centavos (Argentine cents, US$0.30) a couple of years ago."
Enjoying Living in Mendoza
Whether established in either the city or outskirts of Mendoza, the region offers a multitude of outdoor recreation options.
Beyond the metropolis of the capital city is the valley leading to the mighty Mount Aconcagua. At 22,841 feet, it is hailed as the highest mountain in all of the Americas and its ominous presence becomes more impressive with proximity. The national park, located at its base, offers a fabulous view of its grandness. Near Aconcagua is another natural phenomenon, Puente del Inca. This is the site of ancient Inca healing grounds and where nature has created a sulfuric bridge that stands above a raging river.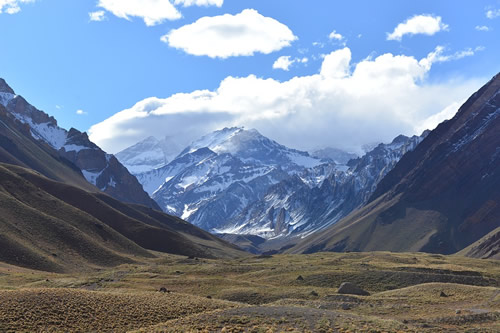 22,841 foot Mount Aconcagua.
San Rafael's natural environment has a rainbow of fun, including the Cañon de Atuel, a miniature version of Capitol Reef in Utah, the Valle Grande offering horseback riding, rock climbing and river rafting, as well as access to Las Leñas, South America's most advanced ski area two hours away.
Community Acceptance
The Mendoza region is considered to be the campo (farmland) of Argentina. It is known for being more traditional and close-knit than, say, Buenos Aires, yet also has the reputation for being much friendlier. English found both good and bad in his transition to living in Mendoza, "Mendocinos are essentially conservative and closed people. In five years, I have been invited to only two weddings, while my Mendocino counterparts are invited to ten or twenty per year. I would say that one is not truly accepted in the community unless he or she is born here, even though I am now quite well known by the locals. But the overall quality of life here is very good due to the climate, walking lifestyle, business environment (for foreigners), etc. While I don't have many friends who are locals, the small but close expats community is a real plus."
Bradley feels that to become a part of the community there are two attributes to expats that have not survived the move to San Rafael, "Number one, so many of the people that come here don't speak the language and don't want to speak the language. And number two they just don't get the Argentine way of doing things. Anybody that moves down to San Rafael, needs to move down with an open mind. The foreigner who comes here thinking they will change it into another America will be greatly disappointed."
As with moving anywhere abroad, it is important to learn and integrate the culture, language and way of life into your routine. But then why move to another intriguing country with a beautiful culture and try to change it? Moving abroad, no matter where in the world, involves culture shock.
Mendoza offers a good quality of life. For English what he has discovered in Mendoza has given him something that he hadn't seen for a long time, "What's wonderful about Mendoza is that you have a real sense of community here. That's something we lost in the United States in the 1960's with "white flight" to the suburbs. I like walking down the street and seeing someone I know in each and every block."