Living in Okinawa, Japan
Experiencing Island Fever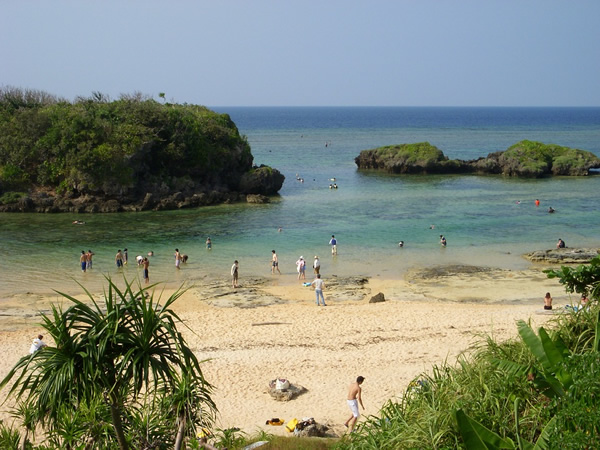 Beach scene at Iriomonte Island, Okinawa.
I grab onto the rope tightly and stabilize my footing. I'm preparing for a hard pull.
I'm not the only one. Next to me is an 8-year old, who looks up with a sparkle in his eye. On the other side is a woman wearing a pink flowered kimono. In one hand, she clutches the same rope. In the other is a small dog.
We're a strange mishmash, but together we are assembled to participate in the world's largest Tug of War.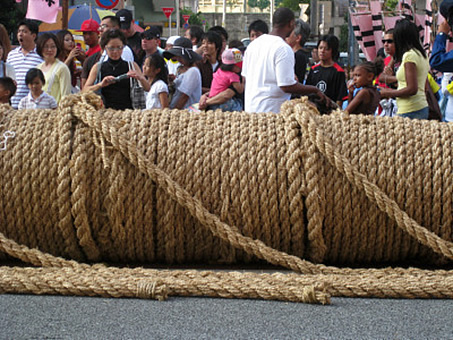 Famous giant rope in the Naha Tug of War.
Photo by Mary Richardson.
Each October 10, thousands of residents of Okinawa reenact this tradition going all the way back to the 1600s. Originally, the ritual represented opposing powerful rulers of east and west districts in the days of yore. Today it's symbolic of the island's commitment to ancient traditions.
On the count of three, a horn blasts and we strain, clenching teeth and digging in heels. Swaying back and forth, we meld into a mass of shared purpose. The coarse rope cuts into our hands and our faces grimace, but we continue to pull with all we have got.
Finally, something releases and for a second, there's silence. Then jubilation. Our side has won.
An Expat's Epiphany
Amid the cheering crowd and flying shreds of rope, my new life here hits me once again.
I'm an expat living in Okinawa, and today, I'm one of the locals.
Until that moment, I have to admit I'd been a reluctant expat. My estrangement stemmed from not choosing Okinawa as my new home. You see, earlier that year I had unknowingly changed my life when I walked down the aisle with a U.S. serviceman. Six months later, we were assigned to Okinawa.
So, unlike others who seek out life abroad, I found myself in a common yet rarely celebrated situation—when expat life is placed upon you by marriage.
Now that I've been here for over a year, however, I'm grateful for the transition. I am also pleased to be living on an island where I truly appreciate the basic ideology about life, community, health, and conservation.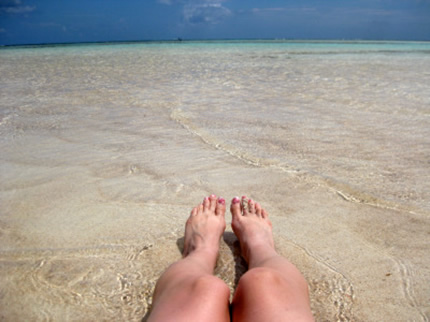 One of many crystalline beaches on the island.
Photo by Mary Richardson.
Integration of Cultures
Okinawa is a unique place in the world to witness the dynamic interplay of both Eastern and Western culture. The U.S. has maintained a presence on the island since the end of World War II, and as many as 50,000 Americans reside here at any one time.
One might assume that vast American presence "waters down" the foreignness of the island. On the contrary, it stimulates a unique hybrid way of life. Hundreds of children born here grow up bilingual, practice traditions from two distinct cultures, and develop an awareness of diversity from a young age.
A perfect example of this integration is a stir-fry dish called goya champuru. It combines a local vegetable called goya, or bitter melon and a U.S. import, SPAM. Strangely enough, this dish is so popular it shows up at every sports event, potluck, and picnic.
The Tug of War notwithstanding, Okinawa is a special place for involving foreigners in many thriving traditions. Yearly dragon-boat races encourage Okinawans and Americans to row to victory side by side. Karate studios or dojos bring together local and foreign children. And women's organizations share cooking tips and traditional arts. Any willing expat can find many opportunities to feel like one of the locals.
Livelihood and Education
Unlike many countries around the world where job availability is limited to ESL teaching, Okinawa has a range of employment in different sectors. There are six self-sustaining American bases, offering any number of jobs in health, clerical, food service, environmental, and education industries. Salaries on the bases are paid in US Dollars. In my case, I am lucky to share my enthusiasm for the island now by guiding tours to cultural and historical sites.
In addition to employment on the bases, English teaching jobs are widely available on the economy. When I'm not conducting tours to one of the 11 World Heritage Sites located here, I also teach English classes at a local daycare center.
For expats who wish to continue their education while they live abroad, there are several American universities with satellite campuses on the island. While residing here, I'm planning to get a degree in Japanese and Asian Studies.
Island Life
Although Japan is one of the leading economies in the world, Okinawa is the poorest province of the country. Rural and subtropical, it goes without saying there is less infrastructure and neon than mainland Japan. What you do gain here, however, is a slower pace of life with an emphasis on healthy sustainable living. The air is unpolluted and natural beauty is respected. How many communities in the world these days can claim that?
Residents also boast the longest lifespan in the world. Due to the healthy diet, centenarians abound. Moreover, they are certainly not biding their time in nursing homes. We learned that one day last week when we stumbled on highly competitive senior citizen put-put golf tournament.
In addition to being health conscious, Okinawan people are also socially responsible. They practice an ethic of conservation in all they do. For example, the island maintains an aggressive approach to recycling and trash disposal. All residents and foreigners must abide by the strict guidelines or face fines. One funny particular is that the trash-collectors play a whimsical tune similar to an ice-cream truck as they make their rounds. The first time we heard it, we ran outside and found neighbors dutifully handing over their rubbish in neat packets, without a creamsicle in sight.
Also, locals prefer to line dry clothing rather than using a dryer. This practice is so much a part of the lifestyle that the local news broadcasts a daily "laundry" report- "folks, it will take only 56 minutes for your sheets to dry between 1:00 and 2:00 pm."
Countless other examples of sustainable lifestyle choices worthy of emulation exist here. Farmers markets selling healthy fresh local produce are more popular than gleaming grocery stores. Local salt and farming industries practice no-waste policies. And traditional crafts such as pottery and glassmaking are kept alive by local government.
For someone serious about living "green," Okinawa is an ideal setting to adopt habits into an expat lifestyle
The Question of Island Fever
The most striking feature of living on Okinawa is the size of the island. Only 65 miles long and averaging five miles wide, it is extremely difficult to go incognito, if that were your intention. On several occasions, I have randomly encountered friends and work colleagues in the most remote spots.
It also goes without saying that some times I feel a bit isolated from the world on this southernmost Japanese Island. But on those days that I feel antsy, I go for walk around my neighborhood and breathe in the fresh air mixed with the scent of jasmine flowers and fresh laundry.
It turns out that there are many upsides to living in such an unpretentious locale. Gorgeous vistas of the East China Sea and Pacific Ocean are everywhere. That means you are constantly surprised by glimpses of crystal glittering ocean every time you take a short drive around town. Or you can easily choose to live in an apartment with an ocean view at a fraction of the rent it would cost in another country.
Moreover, many activities and sights are within close driving distance and there is no shortage of mountains, forests, caves, and beaches to explore. If you are bored with land, the turquoise ocean beckons with all its snorkeling and scuba diving opportunities.
Perhaps the island's small stretch is actually its best asset. An expat who gives in to its charm can't help but feel at home.
Despite my initial reluctance to living on Okinawa, now I can't imagine my life without this experience of goya and SPAM, dragon boat racing, and laundry reports.
In any case, come October 10th you will find me in the jumbled masses again clutching the rope and expecting blisters in the Tug of War. And this time, I might just wear a kimono.
Information for Living and Working in Okinawa
General work opportunities on Okinawa exist.
The following link provides information about government jobs: USAJOBS in Okinawa
Certified teachers should review job announcements for teaching grades K-12 in Okinawa at Department of Defense Pacific Schools.