Moving Abroad to Cancun, Mexico
Living Out a Family Adventure Abroad
Classmates in Cancun, Mexico.
In a chaotic rush, a torrent of 5-year-olds plunder the candy and toys pouring out of the decapitated piñata. Barely a month after our move to teach here in Cancun, my daughter still clings to my skirt, culture-shocked and timid under the palapa in this heat. Her twin brother, however, emboldened by the sudden enthusiasm of his peers, throws himself into the ruckus. "Can I eat one now?" he asks by rote, simultaneously popping a candy into his mouth. Not a moment later, it is in the garbage. "It's spicy! Why is the candy spicy?" By this point, the other children are eagerly picking out all the spicy candies from my son's pile.
Welcomed in Mexico
Kids and parents alike gather around the cakes and sing a Mexican birthday song, which, in my newly acquired Spanish, translates to something about the moon, birds, and waking up. All the children chant "Mordida! Mordida" as we look on blankly. Finally, a neighbor explains, "They want you to take a bite." Our children dutifully sink their faces into the tres-leche cakes to the sound of appreciative applause and hooting.
My husband and I let out a relieved sigh. We wanted our kids to feel comfortable here, and we could see that the other parents would go out of their way to welcome us. Neighbors patted our children on the heads and affectionately called my son hijo (son) and my daughter Guera or blondie, even though her hair is a closer to brown. A mom next door checks out a slight wound on my son's knee. "No pasa nada," she comforts. Do not worry about it. Living in Mexico, we witnessed the whole concept behind the idiom "it takes a village" come to life. A parent or a grandparent slipped into the role of caretaker for another child as easily as they did for their own.
In the months that followed, our entire family was invited to celebrate many a child's birthday. We were surprised by the lavish preparations parents dedicated to these affairs for their 5-year-olds. Buffet tables were heaped high with carne asada and freshly caught snapper, barbecued in a bright orange, Mayan, tic-n-xic style. Parents danced—to the embarrassment of some of the young children—to the brazen, jaunty melodies of the hired mariachi band. Parents held down the tablecloths in the breezes that swept the palm trees and the powdery white sand at a beach party. The parties lasted hours, as guests dined, played, drank, and often languished long past midnight. This was a far cry from our previous Seattle party invitations, with the typical 2-hour time frame accompanied by strict instructions for parents to drop-off and pick up their kids on time. We supposed that because we taught at a private school, these doting, indulgent festivals were trappings of the elite.
But we found that money did not limit the dedication of Mexican parents to please and celebrate their children. A fellow teacher invited us to her child's party in the barrio, where we found their modest, 1-bedroom house harboring fifty or so guests, spilling out into the neighborhood. A gigantic pot had been set on a makeshift fire built in the small courtyard out back, and a pungent, meaty dish, flavored generously with jalapeno peppers, was stewing. We laughed, ate tamales, drank horchata and cold beer until the wee hours, celebrating the little girl in the princess dress on her fifth birthday.
Adapting to a New Life
Family time in Mexico was enjoyed languidly. On a typical day, our neighbors would arrive home for a mid-afternoon siesta followed by a full family meal. Then, dads, moms and kids would gather outside for a stroll, to kick around the soccer ball dressed in local team colors, to play in the swings together at a nearby playground, or to practice baseball with the "Norte Americanos." Our family, with our rigid U.S. timetables engrained so deeply into our systems, had some difficulty adjusting to this new family pace made necessary by the midday heat.
As teachers, my husband and I have always enjoyed the luxury of extra family time after school. But in Mexico, in our neighborhood, where the warm weather dictated that days begin and end earlier, afternoon family time was a given for many. Dads relished this dusky twilight, playing with their children long before bedtime hours. In the States, it was commonplace for parents to get home weary from work just in time to put their kids to bed. Here, year round, the community tumbled out onto the sidewalks and playfields each afternoon as the sun began to wane. Grandparents held hands with a newly walking toddler on the apartment complex's neatly trimmed lawn. Siblings chased one another. My kids found themselves participants in dance classes offered by adolescents under the central palapa. The word "neighborhood" took on a new, comfortable, meaning of shared community and family togetherness.
Community Help and Mutual Reliance
In the days preceding the approach of Hurricane Dean, relying on our community was an imperative. A few years earlier, Cancun had been debilitated by the destructive forces of Hurricane Wilma, and the citizens now took precautions to be ultra-prepared. Our son's classmate and his family, who lived nearer to the threatening ocean, moved into our tiny apartment, bringing along full garrafons of water and canned food. The city had turned off all gas and power lines. Light poles, stoplights and electric lines lay preventatively prone on the streets, and police officers stood in the intersections waving confused drivers through at random intervals. Our community sprang to our aid, helping in the creation of a list for emergency groceries, telling us to fill our sink and tub with "brown water" for bathing and dishwashing, driving my husband to buy wood boards to secure our windows, checking the dimensions, and screwing the boards into the concrete façade of our building with borrowed power tools. We thought that driving inland before the storm would be wise, but our neighbors convinced us to stay in Cancun, where our community would be here to support us.
As it turned out, the eye of Dean hit farther South, near Tulum. In our downtown apartment complex, we lost little: one downed tree and a cracked window. The tourist zone, however, was a wind-wrecked mess. The day after the hurricane, my family stared gape-mouthed at the beach. Debris, garbage, and seaweed littered the resorts. Workers with rakes, buckets, and wheelbarrows spent weeks putting the sand back on the beach, planting palm trees and repairing the properties. The tourist trade took a big hit for the next few months.
Tourist Cancun and Family Cancun
We Cancunenses were all back to work and school the next day. Because there really are two Cancuns: Tourist Cancun and Family Cancun. In one, sunburned honeymooners and sport-fishing retirees play at the giant resorts on the pristine beaches. But most of us who live here reside in centro, among the concrete buildings, the looming International Cchain stores, the mom-and-pop tire stores, and the playgrounds and schools.
Family is Central in Mexico
The value of the family as central to Mexican culture surfaced each day in so many simple ways. We found kinship with other parents in a Sunday stroll in the park: a father pointing out a herd of marauding raccoon–like coati or a ubiquitous gecko to his wide-eyed child. We were welcomed to the ways of another culture as my children began to lose their first teeth: a neighbor slyly passing us a cute plastic mouse to secure the tooth under a pillow in wait for the Raton de Dientes. We found parents passionate about teaching stewardship to their kids: catching and saving crabs from their cross-highway journey as they made their way from the lagoon to the ocean under the full moon.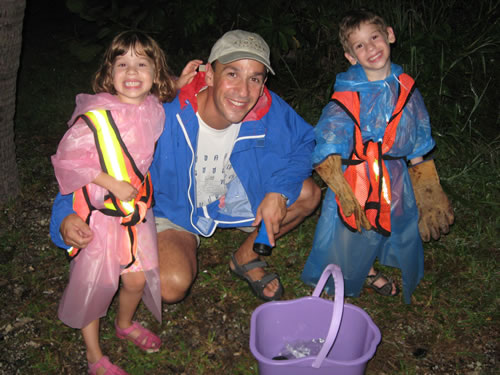 Father resuing crabs with children in Cancun.
In short, it was not Mexico, but Mexicans, who made us feel at home. More than strangers in a foreign land, as parents we shared camaraderie and a community with other moms and dads. No matter that my children's Spanish improved exponentially while mine dragged along. The language spoken in all the homes was the same: that common, ancient tongue shared by parent and child: Love.
For More Information
Find out about living in Mexico as well as tips on living with kids abroad at Mexperience.


Read Transitions Abroad's articles and resources on moving to and living in Mexico.


Check with your foreign employer. Not all jobs include visas for your children in your contract. Look for country specific visa information and tips provided by the U.S. State Department.


If you are a teacher, apply to ISS for teaching positions abroad and subscribe to their useful newsletter.


What to bring from the States for your kids: Five point harness car seats and English language children's books.