Welcome to a New Life in Berlin
The Story of Freelance Writer in a German City of Artists
Warschauerstrasse.
I came to Berlin in October with a 3-month tourist visa, one suitcase, and no idea what I was doing.
To most of my friends and family, Berlin seemed a random and slightly insane choice for starting my post-graduate life. But to me, it was the only choice. In 2013, I had traveled through France, Belgium, the Netherlands, and Germany on a writing grant from my college. In Frankfurt, for the first time, I met the family of my grandmother who had passed away when I was a baby. My great-uncle, aunt, and cousins were so kind and welcoming to me, and yet before long it became clear that not speaking German was a barrier to getting to know each other. I needed to learn German. With my bachelor's degree in English and headstrong desire to become a writer, the intense and inspiring art scene of Berlin made it the natural choice.
Before I left, I booked a cheap hostel for five nights, thinking this would be adequate time to find a place to live. I was sorely mistaken. October is just about the hardest time to find a place in Berlin, since so many students are arriving for university. Additionally, it's hardest to find a place when it is also the first time you arrive in Germany. Without a German bank account and Schufa (i.e., German credit score) people are less likely to rent to you. But you can't get either of those things until you have a place to live! Dealing with such closed circles can be frustrating, to say the least.
I spent hours sitting in the bar of the hostel (the only place with Wi-Fi) sending out hundreds of messages inquiring about rooms. After almost a whole month at the hostel, I finally landed a place. I found it on Facebook. It was a short-term sublet of one room, sharing an apartment with one other guy in Wedding. I occupied a part of it called a "Durchgangzimmer." In English, this translates roughly to "walk-through-room." My flat-mate had to walk through my room in order to get his room, and my bed was technically just the couch. Not very glamorous, but without any previous connections in Berlin, no German, and only a limited supply of money, my options were limited.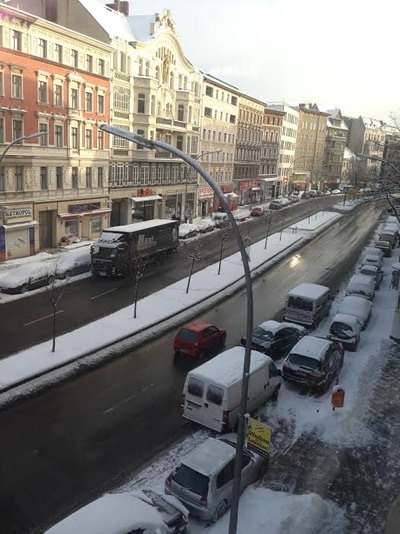 Badstrasse in Wedding.
After signing the contract, I was able to go to the Buergeramt and get my Anmeldebestaetigung. This little piece of paper proves that I'm registered as living in Germany, and is required for just about everything else (e.g., opening a bank account, signing up for language classes, getting a transportation card).
It turned out to be a great decision. At first, living with a stranger was awkward, and we tiptoed around each other without ever engaging. But after a few weeks, my French-Canadian flat mate and I bonded spectacularly over our " North Americanness, " our love of 90's pop divas, and our drive to master the German language.
The "Artist" Visa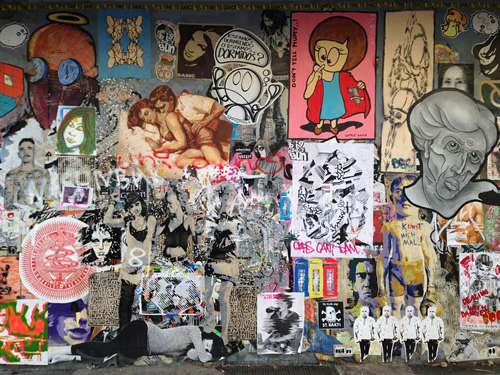 Street Art in Friedrichshain.
There is no way I would still be in Berlin if I hadn't asked for and accepted help right from the beginning. A chatty American at the hostel told me about the " artist visa."
"It's for any type of freelance artist—musicians, deejays, graphic designers, writers. I met a guy who went into his appointment with just 1, 000 Euros in his bank and an amazing portfolio and he got it on the spot. Three years." 
This was what I needed. The only problem was that I had never actually worked as a writer, beyond typing obituaries for my college magazine and writing two measly articles for my grandma's local newspaper.
I made my appointment at the Auslaenderbehoerde, and was given a date three months later. (Since my tourist visa was going to expire before my appointment, this meant I had to leave the Schengen zone on a few short trips in order to add days. The Schengen Zone includes most of the EU, excluding the U.K.)
The Auslaenderbehoerde (i.e., foreigner's office) is a one of the unfortunate aspects of being a foreigner in Berlin, as is the Buergeramt (i.e., citizen's office). Legally living in Germany requires much paperwork and waiting in line. It also requires some basic German. The office workers at the public offices in most cities do not to speak English, so if your command of German is nonexistent, bring a friend or hire a translator.
Learning German in Berlin
Once I had registered my apartment and set the date for my visa apartment, I signed up for German classes. I chose the Volkshochschule, which is a public college that offers cheap language classes—and classes in just about everything else. Unfortunately, the A1.1 level German classes fill up quickly, so I was on a waiting list for a month and a half. During that time, I focused on collecting the required documents for my visa and getting to know the city, but made little effort on my own to learn the language. My flat-mate reminded me why I had come to Berlin in the first place.
"If you want to learn German, you need to make German a priority. You should be on DuoLingo, Babel, whatever. Make flash cards, practice. If you don't make the effort, it's never going to happen."
People have suggested to me that as a location Berlin was not the optimal choice to learn German. A massive English-speaking community exists in the city. Start with all the expats from English-speaking countries, then add in all the other foreigners who speak English better than they speak German, and then on top of that you have the bi-lingual, as well as not-so-uptight Germans who have no problem speaking English with you. In fact, a lot of them would rather speak English than help you stumble through your toddler-level Deutsch. It just saves time for everyone.
It is a hard language. The first several times I ordered coffee or asked for directions, people couldn't tell at all what language I was actually speaking. But the only way to improve is to practice, even though you might feel like a fool initially. You have to be willing to accept the fact that some people are going to be rude to you and may even laugh at you. And such might always be the case, even when your German gets better.
I'm still in my intensive course at the Volkshochschule, every Monday through Friday from 8:30 AM to 12:45 PM. There are about 18 of us from all over the world. I am the only American, although there is one Canadian, and an English girl. It's exhausting, especially since I've started working, but it's incredibly rewarding. Every conversation with a cashier or someone on the U-Bahn feels like a tiny victory.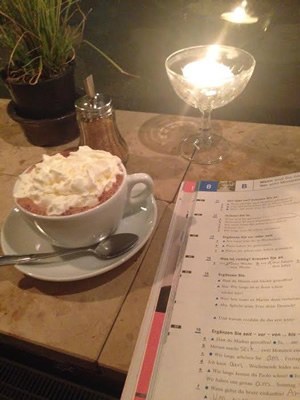 Studying German.
Transportation in Berlin
Getting around Berlin is fast and easy. Within Zone A and most of Zone B, you're almost never more than a 10-minute walk from a U-Bahn or S-Bahn station, and bus stops are even more frequent. Two different companies run the main train systems, the S-Bahn and the U-Bahn. Deutsche Bahn, a company that operates trains across the rest of Germany, owns the S-Bahn, which includes the Ring-Bahn that circles around Zone A at the very middle of the city. The U-Bahn is essentially the subway, and is owned by a company called BVG. Both are interconnected, and when you purchase a day ticket or other long-term ticket, it works for both S-Bahn and U-Bahn, as well as buses and trams. Berlin also accommodates bicyclists well. Just remember to buy a bell and a good lock.
Unlike the transport in almost every other part of the world, in Berlin (and other cities and Germany), you ride the train/bus/tram on the honor system. At every station or stop, there is a machine to buy tickets—with instructions in a dozen different languages—and a separate place to stamp them. But you don't have to scan or swipe anywhere before getting on the train. It's quite possible to walk onto the train with no ticket, and ride to your destination.
My second day in Berlin I rode the U-Bahn to a bookstore in Neukoelln. I paid my E2.70 for a 1-way ticket, stamped it, and went all the way to my stop. On the way home, however, having just spent 12 Euros on books, I asked myself a question: Why should I waste three more Euros on a ticket I don't even need? I stepped on the train and leaned inconspicuously against the wall in the wobbly place that connects the two cars. A girl about my age stood next to me, and across from us was a man in a puffy black winter coat. We briefly made eye contact and then I put in my headphones. I can do this. No problem.
All of the sudden, after one stop, the man in black threw open his coat and pulled out a mid-sized computer, black plastic and severe. "Die Fahrscheine, bitte." Oh no. Everyone around us started retrieving tickets from pockets and purses, and I became awestruck at the sheer number of law-abiding citizens. Every other person on this train had a ticket. When he came up to me, I rummaged through my bag out of instinct, and pulled out my old ticket. First, I apologized for speaking English, and then I feigned confusion over the mistake. The girl who had been standing next to me also had an expired ticket, but she was debating in a loud London accent that the ticket machine had given her incorrect information. For all her shouting and all my timidity, we both were hit with 40-euro fines. I've since gained a new appreciation for the honor system.
You Are What You Eat
When I was growing up, my mom constantly talked about the virtues of organic food, but saw it as more of a luxury item rather than a staple for our diet. Personally, I hated most everything aside from pasta and McNuggets.
The first time I came to Europe, one of the first things I noticed was the M& M's. They tasted different. Better. I checked the label, and realized the difference. Sugar. I'd never tasted an M& M made with real sugar.
Germans care a lot about the origination of their food. In general, most of them are skeptical (to put it mildly) of genetically modified crops, and put more emphasis on free-range and organic, or "bio" choices. There are bio-shops all over the place, and regular grocery stores carry bio options for everything. Even the food at McDonalds looks and tastes different: no dyes, and fewer artificial flavorings.
The good people of Berlin have opted for a more multi-kulti culinary scene than traditional German cuisine. There are dining options from every continent, and prices are generally reasonable. A dinner for two, including drinks, can easily be had for under 40 Euros—under 30 if you're not that fussy about ambience. And, of course, there are always Doener kebaps and Currywurst available for less than 5 Euros.
Gentrification in Berlin
Berlin is world-renowned for its street art, which is something I didn't discover until I was alongside it. Walking through Kreuzberg one morning, a friend of mine made us stop and turn around. Across a vacant lot were two enormous black and white murals. On one, two cartoonish figures reached for each other's faces, pulling at the masks they were wearing. On the other wall, in the same style, was the just torso of a man with hands raised across his chest, wearing bright yellow watches that doubled as shackles.
"Those were painted by an Italian artist, and those two guys symbolize East and West Berlin. There used to be a huge squat here in this lot, and now they're thinking of tearing the buildings down."
That was in late October. In the beginning of December, I sat at my desk, scrolling through my Wordpress reader to see images of the walls completely blackened. Most of the articles said that the murals had been painted over on direct orders from Blu, the artist. He claimed he didn't want his art to be used as a means to sell apartments and make profits for rich investors.
The primary reason Berlin became such a center for art was due to the low cost of living, which is ideal for artists and students. But artists and students tend to make an area extremely cool, and before long, everyone wants to be there. Wealthy investors see an opportunity, and rent prices climb. After a while, the people who lived there initially are forced out by the soaring prices.
I had vaguely understood the concept of gentrification before coming to Berlin. At the risk of sounding naïve and superficial, it had never occurred to me that it might be something people would want to fight. What are currently the " hippest" neighborhoods, such as Kreuzberg and Neukoelln, are only so hip because they used to be incredibly poor. After the Wall fell in 1989, there was an entire decade during which the city was so affordable that the art movement, techno scene, and anti-authoritarian vibe flourished like mad. Artists and students came in droves. The city earned a reputation. Berlin was wild, fun, and what the mayor would eventually call, "poor but sexy." Foreign investors capitalized on the cool factor and bought up huge amounts of the city.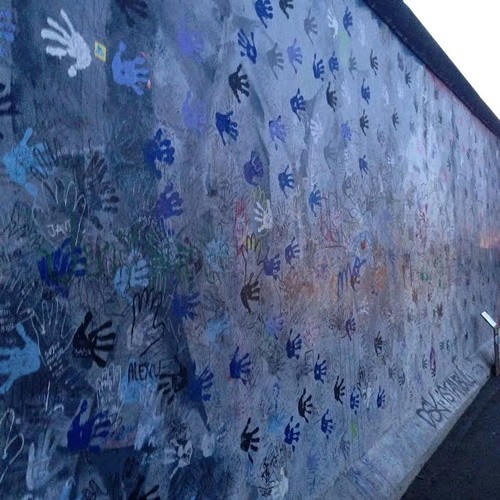 East Side Gallery.
Gentrification is an uncomfortable topic for me—a white, female, American writer. I feel a bit like a product and a symptom of the disease. I pay rent knowing it was not this price six months ago. It still seems cheap to me, thinking in terms of New York or London. Again, this is part of the problem. Berlin is not New York or London, and who would want it to be?
The Day of Reckoning
As my visa appointment drew closer, I became more and more certain that I wanted to stay and keep learning about this fascinating city. Yet no lust for German life would magically get me my visa. The stress was enormous. Everything would come down to one bureaucrat at the Auslanderbehoerde, who would get to decide whether I remain in Germany, living and working legally, or whether I just wasted all my savings on a fruitless—even frivolous—three and a half month expat experiment.
According to the application guidelines, I needed to compile at least two letters of interest. The guidelines were incredibly vague, but from what I gathered by talking to other people who'd gone through the same process, I needed job offers or letters from potential clients in order to show that I would be able to support myself in Germany. All the letters needed to be from German-based businesses.
Ultimately, I collected five letters, written in a mix of German and English, in varying degrees of specificity, all from firms or individuals registered as working in Germany. One tutoring job I found on Craigslist. One copywriting job I landed after meeting some people in a bar. One came from a citizen journal, and one from an unpaid city-blog. One last one was just a short email correspondence setting up a job interview for the following week. I put all my paperwork in a black folder marked with tabs, and bound a hardcopy of my writing portfolio. I booked a professional interpreter, put on a blazer, showed up one hour early, waited three hours in total, and then it was done.
I obtained my visa. For the next two years—at least—I get to call this phenomenal city my home.
Resources for Moving to Berlin
Translation / Interpreting / General Expat Services
Finding Apartments
Facebook: groups as of this writing such as "Berlin Startup Flats and Flatshares" and "wg zimmer wohnung in Berlin" are great. People post when they have a room available—usually in German and English.
History: I strongly suggest reading Anna Funder's Stasiland to learn what it was like living in Berlin during the GDR, and how that affects the city today.
Genevieve Van Voorhis is a freelance writer and editor, living and working in Berlin since October of 2014. Her other full-time job is learning German, and she can usually be found in cafes and libraries around the city, crying into her Woerterbuch. She is originally from upstate New York, and plans to remain in Berlin for the foreseeable future.