"The definitive book on the subject..."
— Arthur Frommer
"One of the richest resources for finding an overseas job - an outstanding guide to both short and long-term jobs abroad. My advice: don't leave home without reading Work Abroad. it will ... change your life."
— Ronald L. Krannich, Ph.D., author, Jobs for People Who Love to Travel.
"Whether it's for an interesting volunteer position or paid employment full or part-time, this indispensable guide is an ideal and instructive reference."
— The Midwest Book Review
"Details resources for overseas job seekers."
—U.S. News & World Report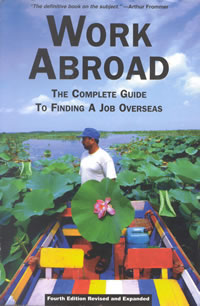 "…an extensive list of reference material dealing with working abroad."
—The New York Times
"The reference bible for international job hunters."
—The Shoestring Traveler
"Covers all aspects of international work."
—International Travel News
"Work Abroad: Always a tantalizing possibility, yes? Here's savvy advice on your chances, complete with suggested preparation and necessary connections, by region and country, right down to websites and phone numbers."
— Whole Earth