Teaching English in Central and Eastern Europe
Searching for a Teaching Job in a Tightening Market
By Susan Griffith
Resources updated 7/5/2019 by Transitions Abroad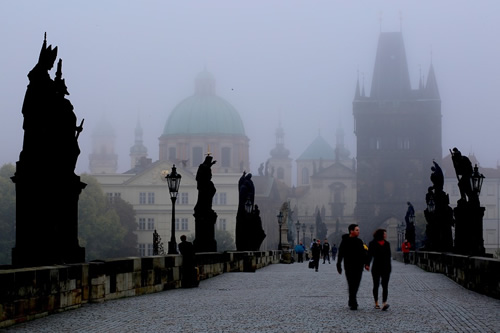 Teach English in magical cities such as Prague, in the Czech Republic.
With so much of Western Europe almost impenetrable to non-European passport holders because of visa problems, Eastern and Central Europe holds out more promise to the job-seeking English teacher. Hungary, Poland, Slovakia, Romania, Bulgaria, the Baltic states (Lithuania, Latvia, Estonia), Russia, Ukraine and other former Soviet Republics occupy a vast area of the globe, offering rich and varied traditions and magnificent scenery, some of it relatively untrodden. From the exquisite painted monasteries of Romania to the much photographed rooftops of Prague, the region has been a magnet for job-seekers since the fall of Communism.
Thousands of joint ventures have been launched and academic alliances forged in that time, as English has supplanted Russian as the foreign language of choice. Many of these nations have become flourishing and stable democracies that continue to welcome native English speakers for decades. Unlike in the early days, it is now virtually essential to have some ESL training and/or experience, or at the very least friends and contacts in situ, in order to get a full-time job as an English instructor in the major cities. Vacancies tend to be more numerous in the less appealing industrial cities and provincial towns. Membership in the European Union means that for immigration purposes, nationals of other EU member states have an advantage over North Americans who will have to jump through a number of bureaucratic hoops in order to be hired legally.
The demand for native speakers of English is still strong in some of the former satellite republics of Russia. In some regions, economic hardship prevails, which means that opportunities exist for expatriate teachers but remuneration is low. A handful of independent placement organizations and commercial companies in the U.S. and UK send teachers to Eastern European outposts. Such programs (some are listed at the end of this article) are designed primarily for individuals in search of a cultural experience who don't mind financing themselves.
Anyone with a relevant resumé should contact well-established schools in East European cities. To find the smaller schools on the spot, check the online Yellow Pages, local English language web notice boards, and seek out the expat community.
Russia and former Soviet Republics: TEFL Needs
The growing and prosperous middle class in Moscow, St Petersburg and other cities still clamors to master English for business and also as a status symbol. The mainstream international language chains continue to recruit native speaker teachers. For example the Wall Street Institute (with 450 centers in 28 countries) opened in Russia in 2008 and continues to expand. It is a condition of obtaining a work visa that candidates have a university degree and a minimum 120-hour TEFL certificate. Many employers expect teachers to have had at least one year of teaching experience in addition. Few schools can afford to advertise and recruit teachers abroad, thus internet advertising and skype interviews are becoming more common. Local sites such as www.expat.ru are especially useful as sources of current vacancy listings.
The development of the oil industry in the Caspian Sea has resulted in an economic boom—and therefore something of a TEFL boom—in the former Soviet republics of Kazakhstan, Azerbaijan, Uzbekistan, and Turkmenistan. The US investment in infrastructure has resulted in a preference for American English as the language of commerce. These destinations are no longer automatically considered hardship postings as they once were. For example Almaty, the capital of Kazakhstan—ninth largest country in the world—is now a relatively cosmopolitan city with international hotels and private language schools.
Getting a visa is still notoriously complicated for the employer. Language institutes that want to employ foreign teachers must be licensed by the local municipal government as an approved educational establishment and authorized by the Russian Foreign Migration Service to invite and issue work permits and contracts direct to teachers. The cost of a 12-month multiple-entry work visa is usually covered by the school and valid only for that employer.
List of Potential Employers in Russia:
BKC – International House, Moscow. Employs teachers from English-speaking countries, all with a recognized TEFL certificate.
EF English First, Moscow. Recruit for schools in cities throughout Russia.
Language Link Russia, Moscow hires teachers for more than 50 branches throughout Russia. Candidates without a recognized qualification may enter Language Link's Teacher Internship Training Program. Teaching positions at summer camps also available from June.
Sunhill School, Solnechnogorsk, Moscow Region. Like most employers of foreign teachers, this school (with another branch in Mendeleevo).
Windsor English Language School, Moscow. Year-round vacancies for TEFL certificate holders who have experience of teaching in Europe. Summer openings in Siberia.
Baltic States
Originally the most westernized of the old Russian states, Lithuania, Latvia, and Estonia are now members of the European Union. Unfortunately this means that employers prefer to hire European teachers since they must apply for residence permits for non-European staff which can be long-winded and costly. Second-generation Lithuanians, Latvians and Estonians from North America and elsewhere are sometimes made welcome to work in their countries. International Language Services in Tallinn, Estonia is willing to interview teachers from outside Europe.
Ukraine
The vast republic of the Ukraine has an EFL market that is no longer struggling to establish itself. Demand has increased since the turn of the century, especially among the young learner market. Ukrainians aim to increase their own earning power and that of their children by promotiong language learning. However it has not always been easy to attract enough teachers: the country's reputation persists for offering low wages and primitive conditions, though much has improved in recent years. International Language Center has a strong presence in the country with vacancies cropping up from time to time at its schools in Kiev, Lviv and other cities, i.e. Odessa, Kharviv and Dnipropetrovsk. Note: Recent conflict in the country should be considered before relocating.
Czech and Slovak Republics: Opportunities in Small Towns
In the decades that have elapsed since the Velvet Revolution of 1989, Western-backed language schools have been joined by many private schools run by locals in both the Czech and Slovak republics. While there seems to be an equal demand for English in both republics, the majority of TEFL teachers tend to gravitate to the Czech Republic, partly because there are more established language schools in Prague than Bratislava, most of them servicing the business community.
Unless you have a recognized TEFL qualification, it remains very difficult to obtain employment in the Czech capital because of the competition from other foreigners. The acceptance of both republics into the European Union in 2004 means that British and Irish passport-holders have an advantage in the job hunt. Qualified EFL teachers recruited (in decreasing numbers) to teach in primary and secondary schools, usually on a 1-year contract with low-cost or free accommodations and a gross salary of 15,000-25,000 crowns (about $750-$1,250) per month. The centralized contact is the Academic Information Agency (AIA) in Prague, part of the Ministry of Education. The AIA simply acts as a go-between, posting vacancies and in some cases circulating resumés of graduates from the US, Canada and other English-speaking countries. Vacancies are advertised and filled between spring and August, mostly for a 1st September start.
It is not difficult to find contact details for English language institutes in Prague and elsewhere. The most established schools which are externally vetted and their quality standards monitored belong to the Asociace Jazykovych Skol a Agentur CR (AJSCR) or Czech Association of Language Schools. Teaching and other job vacancies can be found on the site expats.cz. Good sources of addresses include the Yellow Pages (Zlaté Stránky) under the heading Jazykove skoly.
Potential Employers in the Czech and Slovak Republics:
TEFL Worldwide Prague offers certificate programs and helps with job placement in the Czech Republic and around the world.
Akcent International House, Prague. Positions for certificate-qualified teachers in and outside Prague.
ITTT Prague offers a certificate and job placement.
P.A.R.K School of English, Brno.
Philadelphia Academy. Openings year-round for native speakers.
Polyglot, Prague. Offers teaching positions in Prague and throughout the Czech Republic.
Poland: Plenty of opportunities in this large and populous country
Enthusiasm for hiring teachers from abroad has waned somewhat over the past decade, though the main teacher hiring sites like www.tefl.com continue to list a reasonable number of vacancies in Poland. Even the major cities like Warsaw, Wroclaw, Kraków, Poznan, and Gdansk are hopeful destinations for the job-seeking teacher, though the job hunt is predictably easier in lesser-known cities and towns, especially in southern Poland. Any number of commercial institute directors are delighted to interview native English speakers who present themselves in a professional manner.
Contacting private schools ahead of time may produce some interest, though it is much easier to find a job on the spot. Interested teachers should not expect to be snapped up unless they have at least a TEFL certificate and some sort of teaching experience.
The current average pre-tax wage in the private sector is between 2,500 and 3,500 zloties per month (equivalent of $750-$1,050) and private lessons usually pay up to 50 zloties ($15) an hour. The standard deduction is about 20 percent for taxes and contributions. As long as there's subsidized or affordable housing, this is enough for teachers working the standard 24 hours a week, though the cost of living is much higher than it used to be with increasing rents, expensive mobile phones and petrol. Most foreigners try to supplement their income with private tutoring on the side. US and Canadian citizens need to apply for a consular visa in their country of origin which enables them to apply for a work permit in Poland with the sponsorship of their employer.
Hungary: Opportunities Are Mostly in Provinces
Partly because the Hungarian language is so difficult to master and partly because of the success of the program to retrain teachers who taught Russian in the bad old days, many schools prefer native Hungarians as English teachers. Despite this, a demand for qualified native speakers still exists, especially in the business market. The invasion by foreigners of Budapest was never as overwhelming as it was (and is) in Prague, but Budapest still has a glut of teachers. More opportunities exist in the provinces though, even in the more remote parts of the country, formal academic qualifications are important.
Central European Teaching Program (CETP). Places native speakers of English in Hungarian state schools and a few in the Czech Republic. Volunteers must have a university degree and have completed a 40-hour TEFL Certificate (online or otherwise).
Angloville (Poland, Hungary, Romania and Czech Republic). Language exchanges where native English speakers are given free hotel accommodation and meals in Poland, Hungary, Romania and Czech Republic in exchange for conversing with learners all day and evening.
International House World Organization: Jobs, London, UK. One of the first language teaching organizations to operate in Eastern Europe, IH continues to be one of the most active and has expanded into the Central Asian Republics. International House now has schools around the world in 50 countries. Jobs are open to teachers with a Cambridge CELTA or Trinity TESOL Certificate (or equivalent). Vacancies crop up most often in Moscow, Almaty, Bratislava, Bucharest, Prague, Budapest and various cities in Poland and the Ukraine.
Peace Corps. Provides volunteer teachers on 27-month contracts to many countries in Eastern Europe, with the largest numbers in Ukraine, Bulgaria, Moldova and Azerbaijan. Candidates must have a degree and at least three months of teaching or tutoring experience in English or ESL. All expenses, including airfare and health insurance, are covered. Applicants are recruited to teach at both secondary and university level and to become involved with teacher training and curriculum development. .
SUSAN GRIFFITH is author of the book Teaching English Abroad now in its 16th edition. See Susan's bio for more information about her extensive bibliography or to purchase her book.